Forge World showed a little leg last week and we should all prepare for much improved Martians and Golden Bodyguards to hit the tabletop.
Last week, in a surprise, Forge World unveiled the 40K rules for a previously 30K only vehicle, the Termite.
Not only was it neat – the rules were SOLID usable by three factions, and many eyebrows have been raised.  The Ad Mech have been without a transport in 40K and getting a tunneller that is no slouch in assault has a solid transport capacity and can leave the guys inside is very spicy.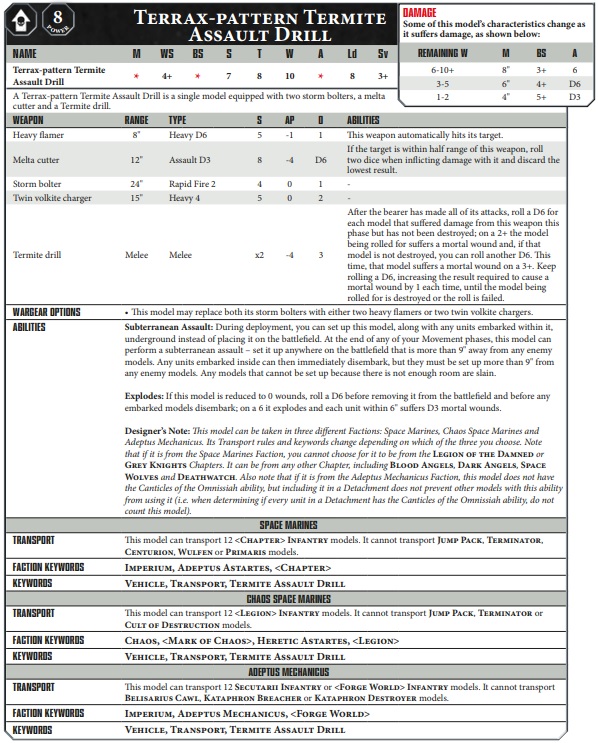 But the Rubicon has been cross and I think it's now only a matter of time before we see the entire 30K vehicle and non-character units make their way to 8th edition. After all, why not increase 40K sales and get these models flying off the shelves? Here's a quick tour of what this will mean:

Ad Mech
The 30K Mechanicum range offers a large variety of vehicles from battle tanks to transports (YAY), all the way up to the massive Ordinatus (probably Lords of War). In addition to the instant line of vehicles, you get a set of Battle Automota including the fearsome Thanatar and a handful of new infantry units including dirt cheap Chaos Cultist counterparts allowing for horde style armies. These would round out the already lean and mean Ad Mech army into a very capable force with a lot of flexible tools of destruction.
Ordinatus Ulator
Ordinatus Sagittar
Macrocarid Explorator
Triaros Armoured Conveyor
Karacnos Assault Tank
Krios Battle Tank
Myrios Battle Automota & Thralls
Adeptus Custodes
We get a big selection of units here considering the small amount of units int 40K codex. There are several "variants on a theme" like the Jetbikes and Terminators, but the big things to look for are the 4 vehicles ranging from the small compact Pallas to the giant Orion. The Coronus is a dedicated transport and the Caladius is a main battle tank. I assume all of these would have the FLY keyword and be armed to the teeth with nasty 8th edition weapon stats. The Sagittarum Guard are the ranged infantry of the army filling the roll of Marine Devastators, but with much deadlier and exotic weapons. Something the current codex is sorely lacking.  A Custodes army combining the current codex and these would be formidable indeed.
Aquilon Terminators
Agamatus Jetbikes
Sagittarum Guard
Coronus Grav-carrier
Caladius Grav-tank
Pallas Grav Tank
Orion Assault Dropship
~I can hardly wait!