Iron Studios and Chronicle Collectibles have recreated one of cinemas most terrifying scenes in 1:10th scale. Hold on to your butts, this diorama is epic and it could be yours!

While the opening scene was grand, the t-rex attack is what a lot of remember most. That first realization that the monsters were out there, and that CG could bring them to life. It's a scene that holds up nearly 30 years later.
Iron Studios partnered with Chronicle Collectibles to give fans a chance to own a bit of that with this giant diorama – all three pieces assembled are 63 inches long. It includes two Jungle Explorers, the ferocious T-Rex, four figures (Tim and Alex Murphy cowering in one care, and Alan Grant, and Dr. Ian Malcolm), and a full backdrop with the fence and jungle. All packed with detail.
Pre-order includes several different options for collectors – you can buy the two explorers before they get wrecked, the half with the t-rex, the half with Alan Grant, or the set listed below that combines the two with a middle section into one huge diorama. Any order received after July 20th will be put on a waitlist.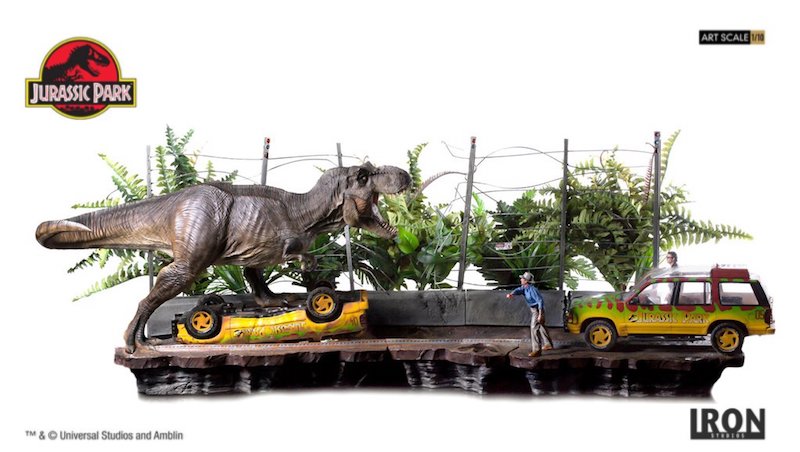 Jurassic Park T-Rex Attack Diorama (Set A & Set B combined) – $2,499.99
Made of Polystone, hand painted
Rain drops paint effects, broken glass, realistic puddle effects on the base
Car lights and inside car CD-Rom program LED light up
Guides, folder and maps from the Park included
Includes environment back base – fence, base, wire rope, plants
Includes Tim and Alex Murphy, Alan Grant, and Dr. Ian Malcolm figures
Includes T-Rex figure
Includes Jungle Explorer 04 (damaged) and 05 (right front door opens)
Includes middle base (connection between SET A and SET B)
Includes ArtWork and exclusive card based on the iconic cards from the 90's
Product dimensions with back base environment: 22.4″ (H) x 63″ (W) x 29.5″ (D)