After an incredibly long and painful gestation period, I'm proud to announce the release of Bell of Lost Soul's latest Mini-Dex: The Ordo Hereticus Strike Force. Inspired by an article written by Andy Hoare in Citadel Journal #49, this mini-dex allows you to create an elite and deadly Adepta Sororitas army list led by a tireless Ordo Hereticus Inquisitor Lord.
The Mini-Dex includes:
An Updated Version of Andy Hoare's Classic Sisters of Battle Army List
New Units, Special Rules and Wargear
Three (and a Half) New Special Characters
An OHSF Apocalypse Datasheet
A Special OHSF Mission
Plus Background and More!
Andy's original army list was a gem and it was a great pleasure updating it. Due to the nature of the army list, we extended our normal playtest period so we could make the list as balanced as possible for normal games (thanks again to our extremely talented and crafty test servitors!). I hope you'll be impressed by the results!
Although designed for campaigns and special events, this army list is a must have for every Sisters player. With a few small additions, you can experience your existing army in a completely new and fun way.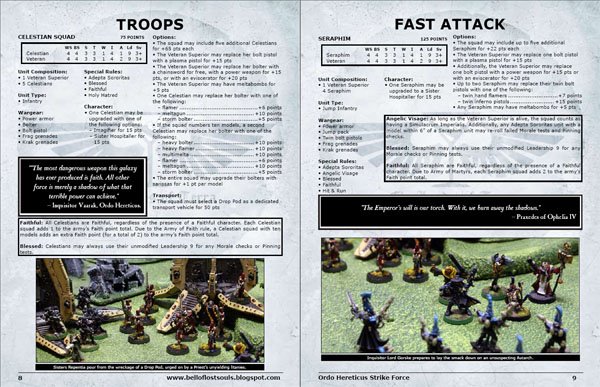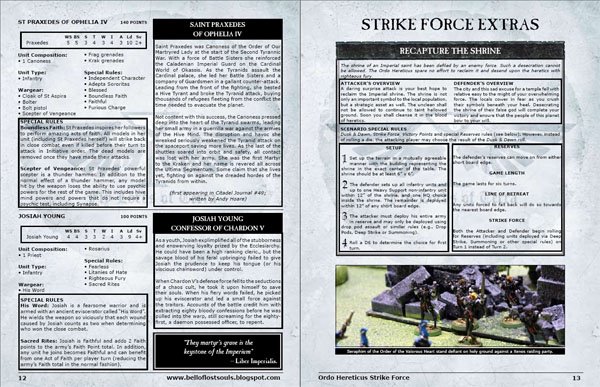 !DOWNLOAD THE ORDO HERETICUS STRIKE FORCE MINI-DEX HERE!
~ Although I'm glad to finally share this mini-dex with you, I'm sad to see the playtesting end; it was a lot of fun. But I'm jazzed to move on to something new for you guys (maybe some overdue tacticas or updating Gav's classic "Army of Death" list…). In any case, Enjoy! And, as usual, we love the comments and feedback!