Hi Everybody,
As promised, the Blood Angels Army of Death is upon YOU! The playtesters are all playtested out, the proofreader's eyes are sore and we've had a lot of fun with this one. Within this 10 page Warhammer 40k mini-dex you will find:
-Background
-Modeling section
-Army List
-2 Special Characters
-AoD Missions
-Apocalypse Datasheet
-Lots of cool fluff and Army of Death stories.
It has been pretty cool working on this list and tweaking it for maximum fun. Hopefully it will get some of those Blood Angel players who have been a little grumpy of late to unleash their Black Rage on the table. This is a newly invisioned list based on the old Army of Death White Dwarf list from way back in 4th Edition.
It is primarily an infantry list that takes no prisoners, and goes right for the jugular. If any of you miss the days of the old "electric football" World Eaters from the previous Chaos Codex, you will be right at home with this list. Games are nail-biters, with virtually every army in the game having to focus on the objectives, and fight and maneuver dearly to redirect and survive the awesome close combat power of the unhinged Blood Angels. If an AoD reaches your lines, you are finished. The art is in preventing it.
On the modeling front: if you have a Blood Angels army…you're done! Drop em on the table and start rampaging away like a madman. ~PS, this is the list that will make you read and learn the RAGE usr rules.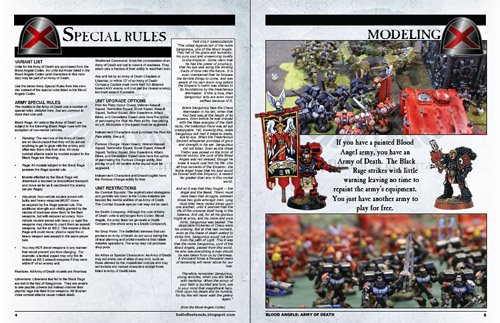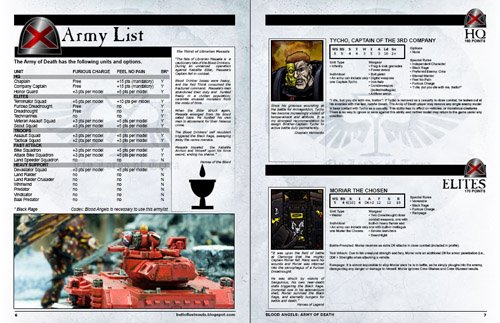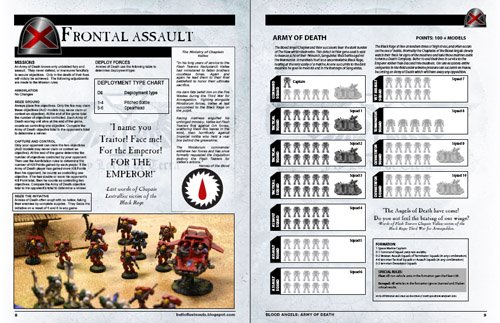 ~I hope all you Blood Angels fans (and Flesh Tearers in particular) have some fun with this. Enjoy and as usual, we love comments and feedback! What I think I enjoy most of all is the flexibility these PDFs give us. While we endeaver ot playtest the heck out of these things, they really are living documents. So enjoy, and by all means keep the feedback and comment coming. We really do read them!
UPDATE: v1.01 is up.