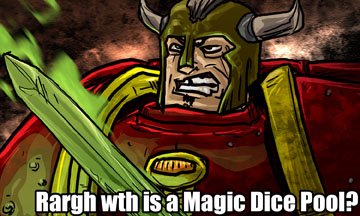 Hi, Goatboy here. We've had a nice week of editorials haven't we? This last week was a bit of a break from my normal walkthrough of a Warhammer tournament player's handbook of tricks and went into some of the reasons why I enjoy this game. Yes, even though I bring a tough game, I still enjoy it. The better the game is, the more fun I have. When I am playing the game I look forward to having a good time and having an exciting game. When one side is crushed by the other you don't get an exciting game. My 40k tactica articles are aimed at getting people to see how army lists can effect the game, as well as give ways to create lists that can compete, if you are looking for a competitive/tournament styled game. All right enough of that, lets get onto the meat of this article, breaking your habit of game mistakes.
Now we all will make mistakes when we play. It is part of human nature to forget something important. Ah crap, if I shot that unit there, then caused them to take a leadership test my guys might have not been left to get shot up. Oh no it is turn 5, I need to get objectives since the game might end. Did I put on deodorant this morning?
We all miss out on opportunities to create advantages in the game. The biggest thing is how do we learn to not make these mistakes. There are a bunch of options and I plan on going through some of them as well as give you an idea on how to create a refreshing way to get back into the game and hopefully minimize those game losing mistakes.
First of all, the biggest thing I advocate for anyone looking to up their game, is to always discuss the game afterword with the opponent. No one can see your mistakes more than your enemy who uses those mistakes to capitalize on. If I am testing out lists and army set up, I always go through different options and different ways the game can move and what would be the best choice with my opponent afterward.
Another method of improving your game is to write battle reports for the battle. This way, you can review what happened later, and see where things went wrong for you. I find this is a great way to learn from your games, as well as give other players a chance to learn from both your mistakes and good decisions. It also is a way to see how your units work and interact within your army.
The final method I liked to use, is to play a different game. Nothing can get you out of a rut in Warhammer 40k, like bringing in something different from time to time. You will notice that your old tricks in the game, probably won't work the same in the new one. This gets you to think in a different way, and can be a great help to refresh the game for you. This is what I did recently with the start of a …gasp… Fantasy Battle army.
Most game systems are different enough to cause you to try to think outside your normal box of game play. It might be how you look at the field, or maybe the use of trying to combo units into completing the job at hand. This break of the normal mental decisions helps you see what works and doesn't work in a game. Fantasy has really helped me enjoy 40k more, by giving me something different to chew on. It also lets me play a game I'm not min/maxing to death due to not being nearly as familiar with it. In fact, we call the new Fantasy players group (Big Red, Jwolf, myself, and other local players) the Fantasy Losers Club, since we obviously can barely crawl through the game; hehe! This Fantasy Battles talk leads into some pictures of my current army, Chaos Mortals.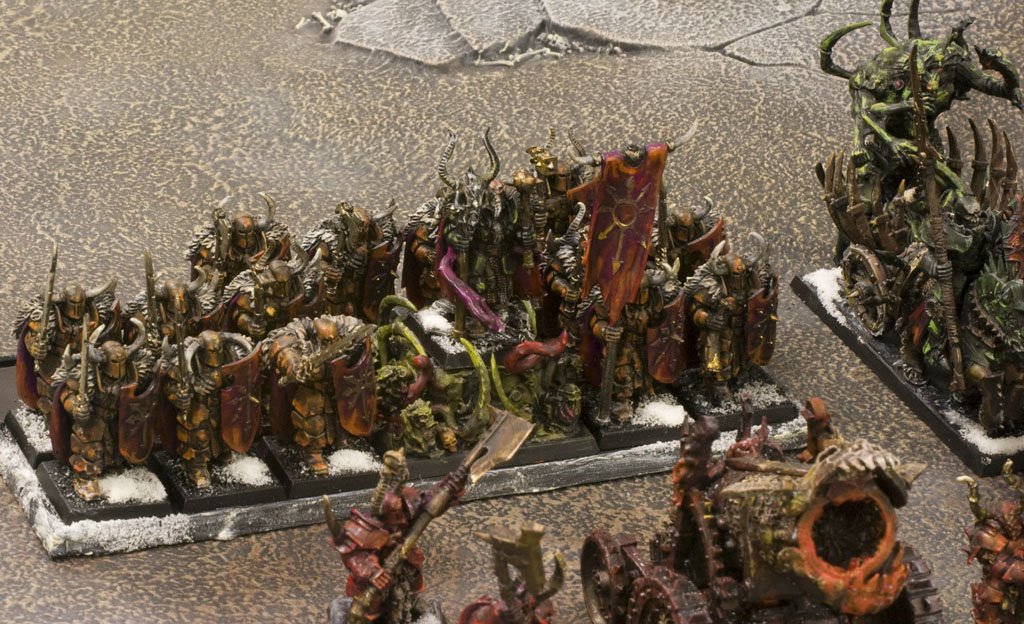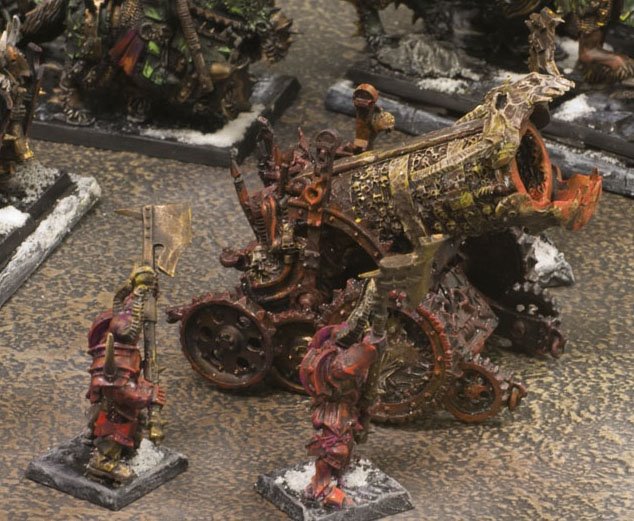 This isn't the entire army, but here are some of the more interesting units in the list. Right now I have 2 warshrines painted, another block of 5 Khorne like Knights, another block of warriors with a Sorcerer on a palanquin as well as some other random bits. My new army list is listed below.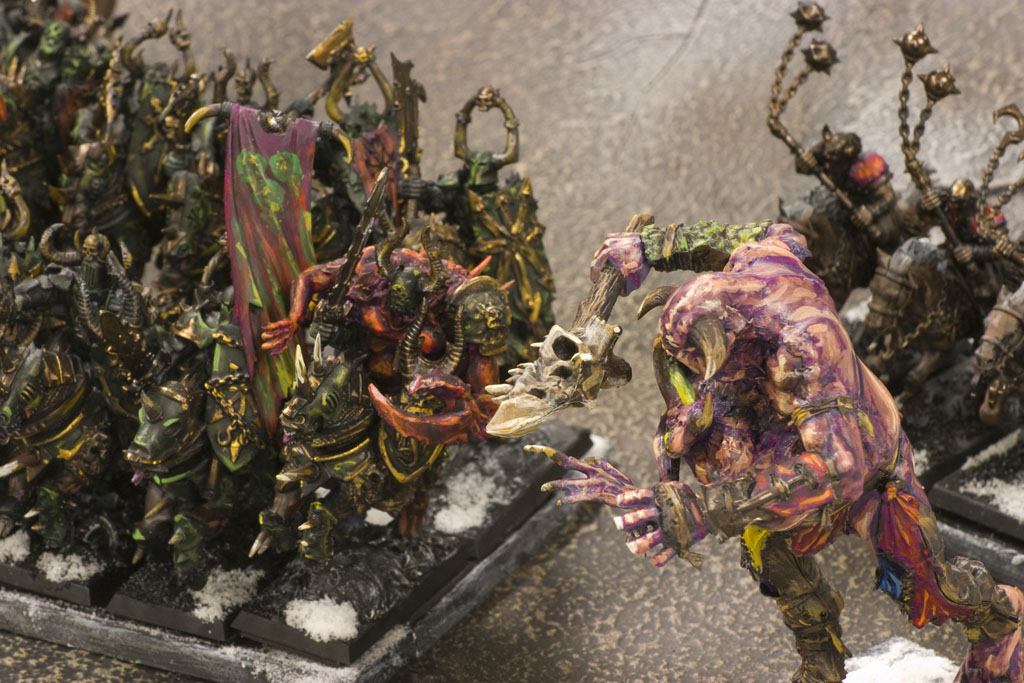 The Chaoslord is built off of a regular Chaos Knight with the upper body of a spawn, plus some green stuff. He is all plastic and I like how he is exploding off of the horse. The original build of the list had two warshrines based off of Chaos spawn. The visual theme of the list was that the lord had survived the mutations, but his two brothers did not come out as well so they are carried around as warshrines since the taint of Chaos is so strong. Paint time – 2 hrs on the lord 3 hours on the warshrine.
I originally had a giant, because I think the model is awesome, but through game play I find that they are not worth the points. It is very depressing to watch it go down to elf bow fire. His belly friend is called Steve, with the giant being named Bobby. Yeah, I went a little nuts with this guy. Paint time – 3 hours.
Here is my current Fantasy List:
HQ: Chaoslord, barded steed, Father of Blades, Armor of Damnation, Mark of Nurgle, shield
Hero: Exalted Champion, Mark of Nurgle, Barded Steed, BSB, Axe of Khorne, Shield, Favor of the Gods
Hero: Sorcerer, Level 2, Mark Nurgle, Dispel Scroll X 2
Hero: Sorcerer, Level 2, Mark of Nurgle, Spell Familiar, Power Stone
Troops: Marauder Horsemen (5), Flails
Troops: Marauder Horsemen (5), Flails
Troops: Chaos Warriors (15), Mark of Nurgle, Shields, Command
Special: Chaos Knights (8), Mark of Nurgle, Command, Blasted Standard
Rare: Hell Cannon
Rare: Hell Cannon
Pts: 2240 (Not sure where to put the 10 points)
You got to love cannons that run around and eat things. I went with Chosen to herd it around because a) I traded for my first Hell Cannon and he didn't have crew b) I had traded for chosen, but were never going to use them c) They look cool. I find the list fun and I enjoy smacking stuff with big ole angry dudes. I really can't go into strategy because well I really don't know a whole lot. I just roll dice and cast magic missiles.
Here are two other models I painted on commission. First is a better shot of the Defiler I built out of spare parts from my local storeowner. The next is the Forgeworld Bloodthirster. Paint time – Defiler 2 ½ hours and Bloodthirster 4 hours.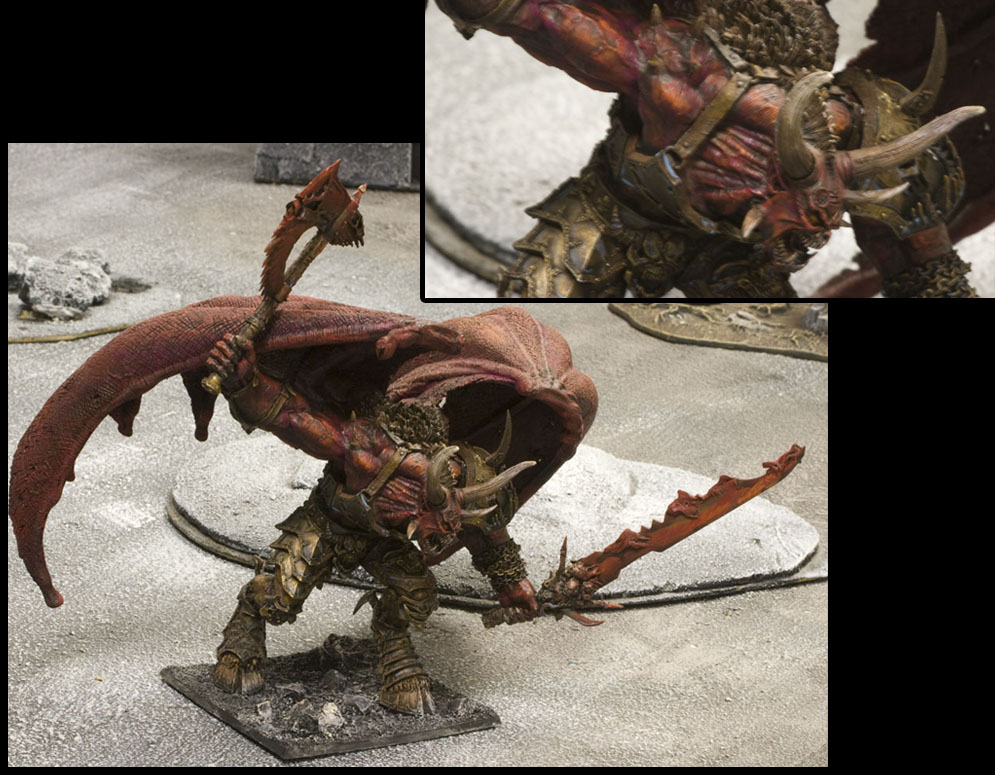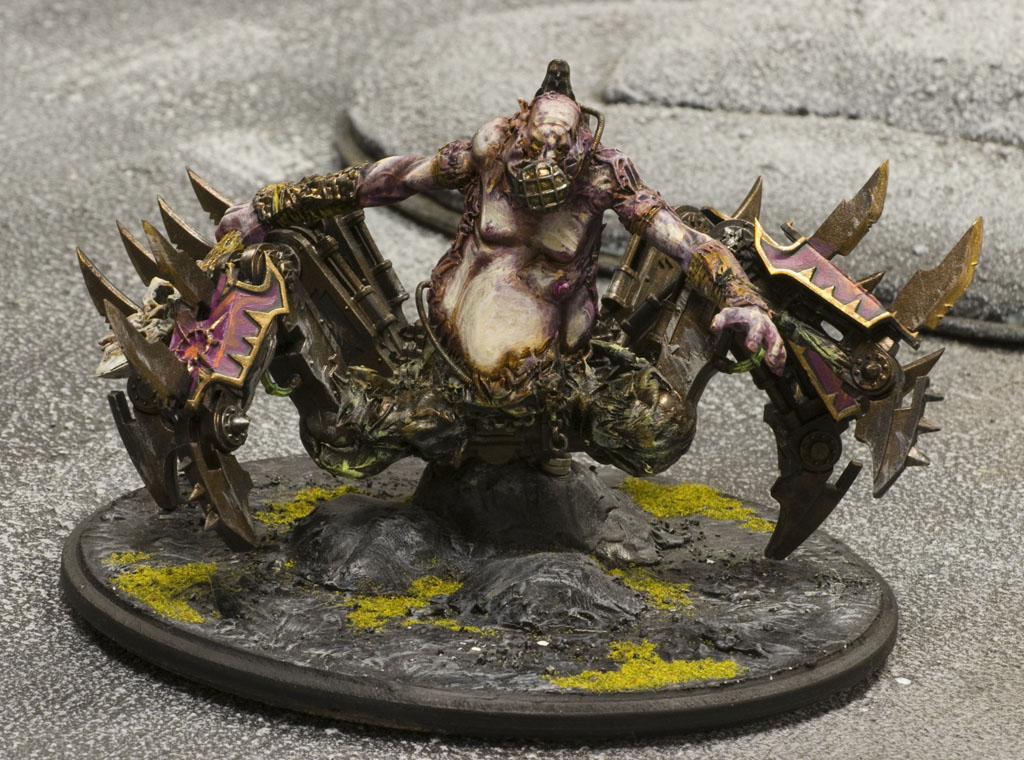 Look for some more painted pieces in my next articles, as well as some hints on doing effective speed painting, utilizing color choices as well as inks to create a unique look that has a lot of depth do to the non-opaque use of paints and washes. In fact, next week will be speed painting 101, with multiple options for different skill levels, as well as examples from my own armies.
Next weekend is a 40k hobby tournament down here in Austin and I plan on playing a Fabius Bile list. I just need to convert a model so he can be Bile or the "Father". I plan on dropping the Defilers and running a few more Oblits (1 or 2) and some other dudes who have been infected with different strains of his upgrades (ie different marks). It should be a fun, rhino running around list. I will post about it next week, after the tournament, with some pics and thoughts.
If anyone is interested in having me paint their miniatures, ask army list questions, or draw something, shoot me an email and we can chat.