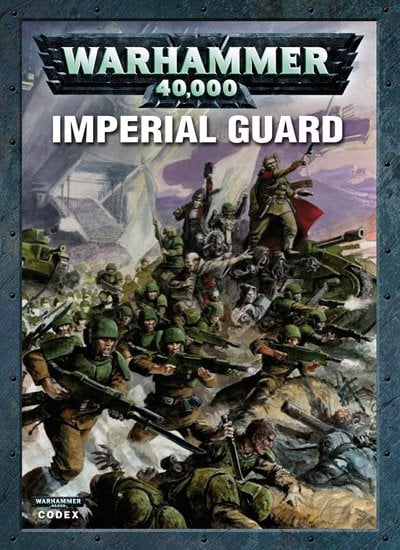 ~You all didn't think we were done did you? There is a ton of Imperial Guard stuff breaking over the last 24 hours!

HEADQUARTERS
Chenkov
-Is a Special Character Infantry Platoon commander
– Can upgrade the conscript squad in his platoon to allow him to use the order 'Send in the next wave' for 75 points.
– 'Send in the next wave': The squad is immediately removed and next turn comes from the table edge (like reserves) at full starting strength.
Al'Rahem
Allows a unit to Fire in the shooting phase and still run.
Instakills on a roll of a 6 in combat
Mogul Kamir
He and his unit are subject to Rage.
Sly Marbo
Deploys similar to a Callidus Assassin. Has a Demo Charge and always wound on 2+'s in assault. He also retains his Sniper Pistol.
There is a Tank Commander upgrade, called Sergeant (?) Pasc, he gives the tank a BS of 4 and has an additional special ability against tanks and Monsterous Creatures, he costs around 50pts.
Order Rules:
– HQ Commanders must order first, then Platoon Commanders, then Squad commanders (if they can)
– Done at the start of the shooting phase. If a unit does any action in the shooting phase before orders are given, they cant benefit from any order
– Vox allows a unit to reroll failed Ld tests for orders
– Company Officer can give 2 orders and may order any squad with a vox or within 12"
– Platoon officers can give 1 order and may order any squad in their platoons with a vox or within 6"
– Some squad leaders can order their own squad (Veterans?)
– Unit must pass a Ld test, Double one means they understand and can take another Order, passed Ld means 1 order, failed Ld means no Order and Double 6 means no Order and unit does nothing this turn.
– A double 6 on a Ld test will prevent any further orders in that turn.

List of Orders:
-Tank!: +1 AP against vehicles (possibly Tank Hunter)
-Fire in ranks: All weapons may fire 1 extra shot (May only be Lasguns)
-Down!: A unit which goes to ground gains an additional +1 Cover Save bonus
– Move!: A unit rolls 2D6 when running and picks the highest
– (HQ Commander only): Bring it down! Twin links weapons shooting at tanks, MC's etc.
– Rally: Instantly rallies a unit, can be used to lose the downside of using 'Down!'
-Basic Company Commanders are around 50pts.
-Officers are NO LONGER Independent Characters.
-The new Advisors, Officer of the Fleet, Master of Ordnance and Astropath are around 30pts each, Sanctioned Pyskers are no longer Advisor upgrades.
-Bodyguards are around 15pts and allow you to allocate two wounds which would affect their officer against them instead.
-Medics now give the unit the Feel No Pain USR.
ELITES
Stormtroopers are 16pts each, you may pick one of three missions, Behind Enemy Lines which grants the USR Move Though Cover, Recon which grants Out Flank or Arial Assualt which gives them a reroll of scatter dice for deep strike and Valkyrie disembarks.
-Sanctioned Psykers – Have a number of powers:
– The Psykers may drop 1 Ld from an enemy unit for every sanctioned psyker alive at the time. – Soulstorm is range:36 SX AP:d6 Heavy1, Blast. Gains +1 Strength per psyker in the unit.
– Comes as a Sanctioned Psyker unit, of 4-9 Psykers and a Commissar Handler.
-The Pysker Chior starts at around 60pts for an Overseer and 4 Pyskers.
– On any perils of the warp the Commissar will shoot D3 Psykers.
TROOPS
-Infantry Platoons consist of, Command Section, 2-5 Infantry Squads, 0-5 Heavy Weapons Squads, 0-3 Special Weapons Squads, 0-1 Conscript Platoons
-The 2-5 Infantry Squads can be marged into a single unit.
-Infantry Squad come in at 50pts, weapons options come in at 5pts for Mortars, 10pts for Heavy Bolters and Autocannon, 15pts for Missile Launchers, 20pts for Lascannon, 5pts for Grenade Launchers and Flamers, 10pts for Meltaguns and 15pts for Plasma Guns.
-Heavy Weapons Squads start at 60pts with 3 Mortars, and each weapon can be upgraded as follows, 5pts for Heavy Bolters and Autocannon, 10pts for Missile Launchers, 15pts for Lascannon.
-Special Weapons Squads are able to take 3 Demo Charges.
-Conscripts are Lasgun only units.
-Commissars come in at about 35pts basic.
-Veterans Squads may take Carapace.
~Standard caveats apply until the Fly Lords get some eyeballs on the Codex, but these seem very plausible based on all the other info we've seen. Stormtroopers seem a little on the high side, and either IG commanders will have to stay close, give up orders for distant units, or spend the points on voxes. I'm also thinking the new verb for IG codex will soon be "You have been Marboed".

UPDATE: This list is by no means complete. Don't assume that if something is not listed here it is not in the codex.