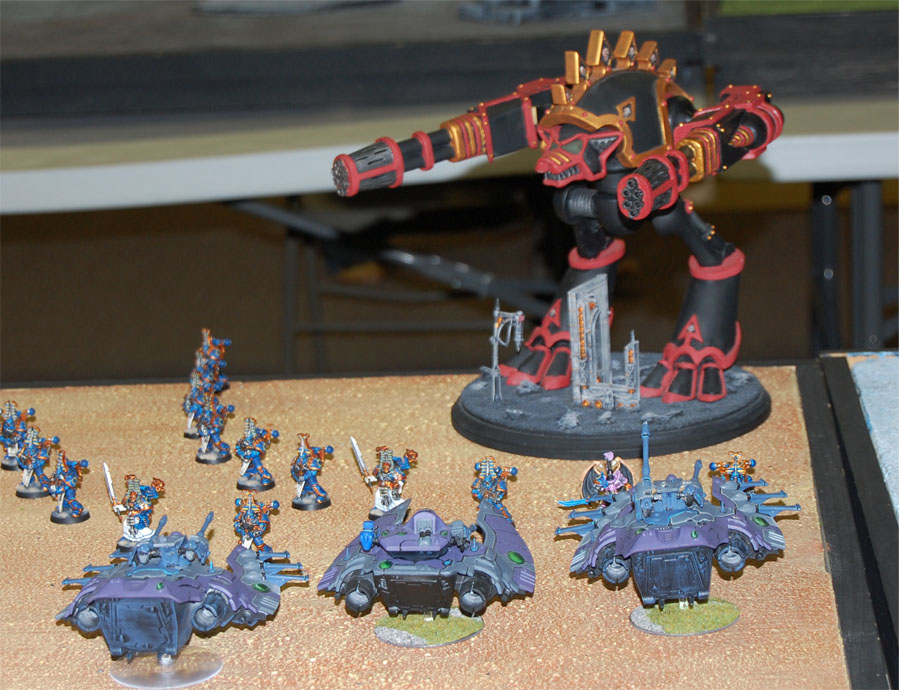 A guest post by Demosthenes,
Hi everyone, before I completely ruin my reputation on BoLS by showing you all my low-down, dirty trick, I feel I should introduce myself so you'll know who to throw dice at the next time you run into me at a GT/Gamesday/etc. My name is Rob Hodgson (Demosthenes on the blog) and although I started the hobby up in Grapevine, TX, I've been happily participating in it down here in Austin, TX for the past 4 years. You BoLS readers may also know me as the painter of my beloved Mordians.
Two weeks ago I went up with the BoLS guys to play in the 40K Gladiator event at Adepticon, using a Chaos Marine army with a warhound titan as my super heavy. It was in round three against an Eldar player that I committed what many around town are saying to be the most delightfully hideous war crime in 40K since Harlequins were a legal army. So, without further delay, here is a breakdown on The Triple Hodgson.
The Set Up
Mission 3 of the Gladiator was like any standard mission: Dawn of War with kill points and an objective to capture in each deployment zone. The one exception was that each player could equip one specific model with a vortex grenade. For me the choice was obvious; a deep striking Obliterator. I knew my opponent had some Fire Dragons and other stuff that could be nasty if they got to close to my titan, so I made a hole for it in the corner of my deployment zone, and put my Thousand Sons in concentric circles around it to make a barrier against my pointy-eared foe.
Turn 1
The Eldar player allowed me to go first, giving me absolutely nothing to shoot at. I walked the Warhound into the nook I'd created for it and walked the rest of my Thousand Sons and my other lash sorcerer onto the board. (I've left the other Thousand Son squad out of the pictures because of their lack of relevance to the maneuver).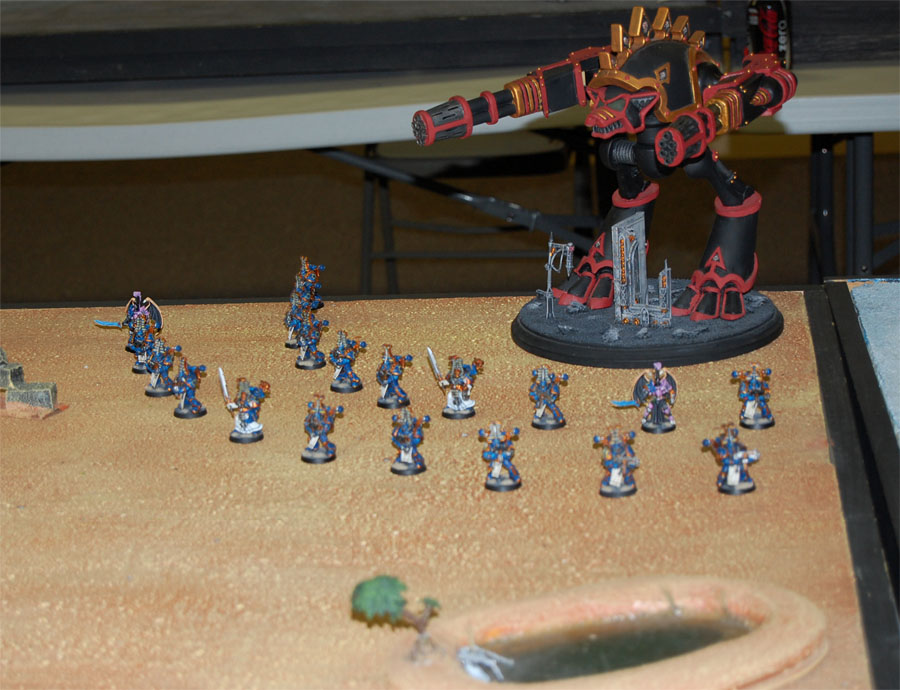 When my adversary came onto the board, he star engined his three skimmers in a tight, line abreast formation, as close as possible to me, under the cover of a Vampire raider, which put a hole in the outer defense perimeter of my formation.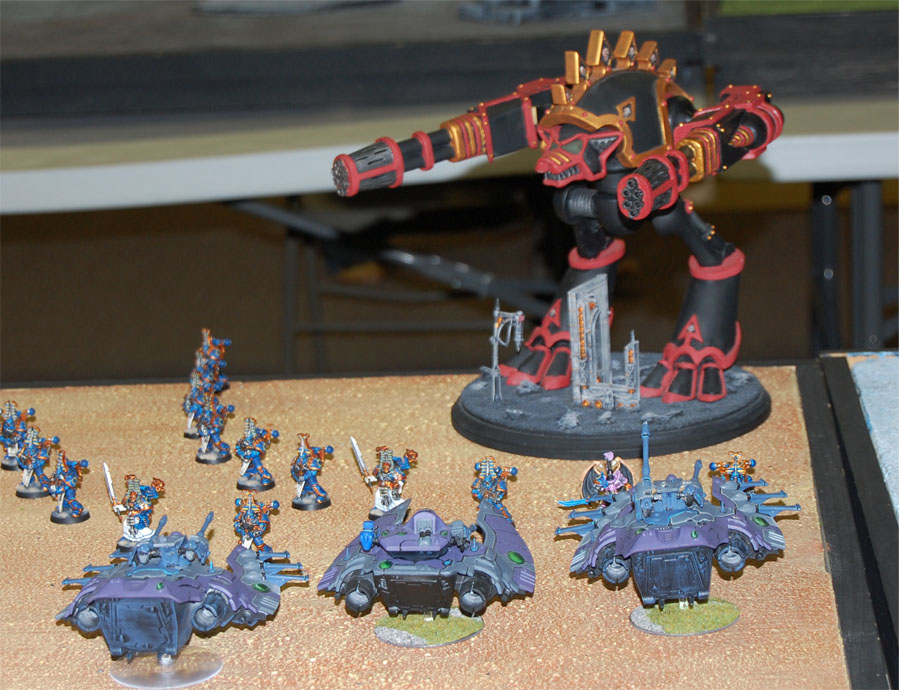 Turn 2
Here's where the real magic happened. When my Obliterators with the vortex grenade rolled a 4+ for deep strike, it was like having Christmas and my birthday all on the same day. I placed the squad dangerously close behind his three skimmers, and luckily only rolled a minor deviation. I was still close enough to drop my vortex template right on top of the middle skimmer, which, to my luck again did not deviate. With the snap of a finger, one whole Eldar skimmer and whatever squad was inside it was gone! (I think it was storm guardians).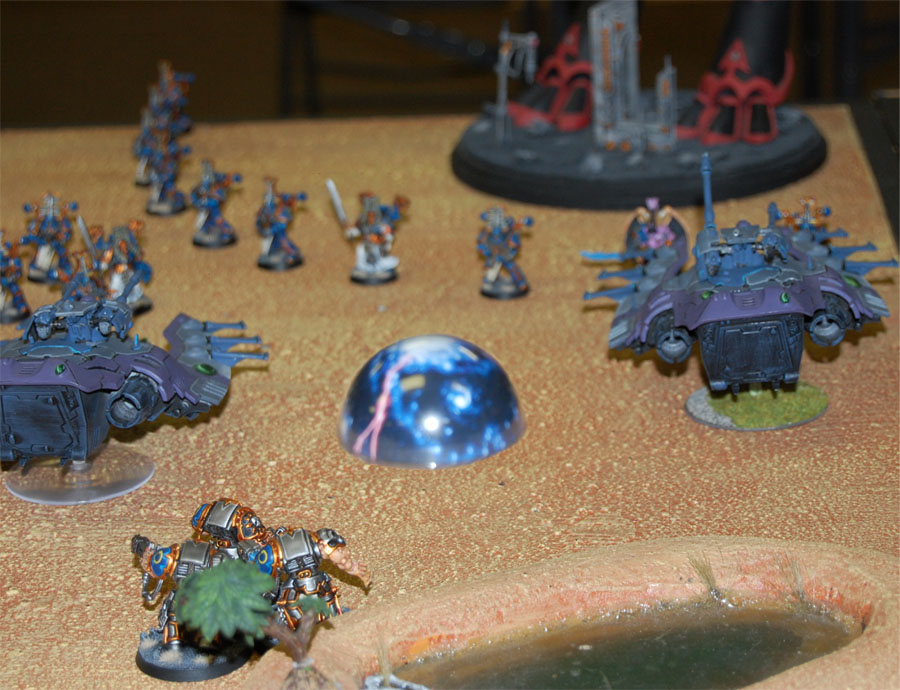 I then opened up with my titan, and had its two turbolaser destructors each fire a salvo at the two remaining skimmers. One of them was hit twice and exploded, while the other one suffered a singlehit, and was wrecked. Either way, both squads were forced to disembark, and neither one was pinned. There was only one more phase to my devilish plan.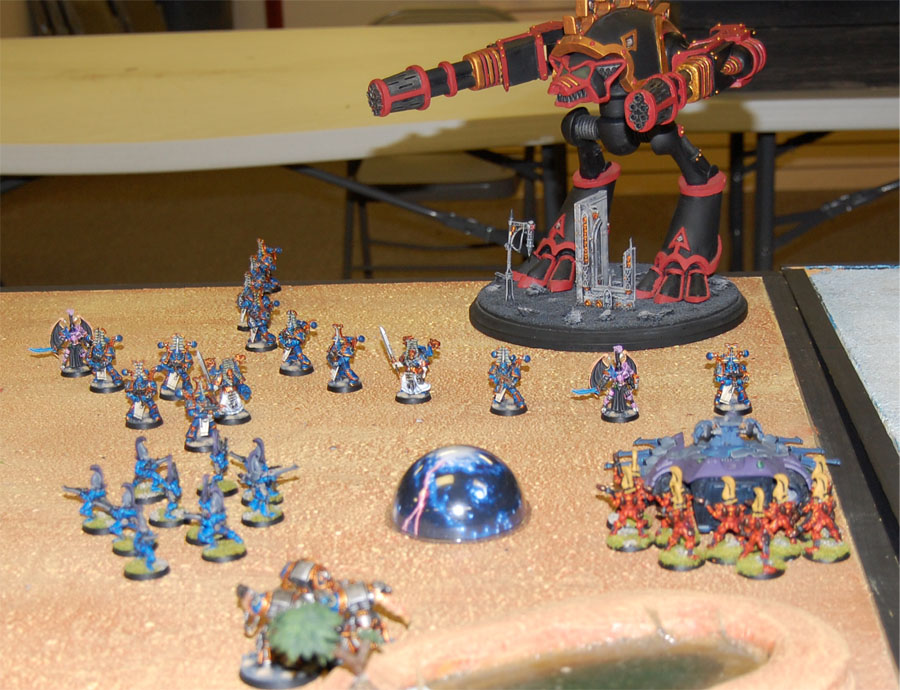 I think at this point, my opponent was just beginning to recognize the bear trap he'd stepped into, and his expressions were getting grimmer as I turned to my Lash Sorcerers standing in front of my Warhound. My first Sorcerer targeted the Fire Dragons, since they were the immediate threat. With a successful psychic test, I rolled a "6" for the move distance, and pulled the whole squad into the vortex! With another successful roll from my second Sorcerer, I yanked the last of the survivors from the crash into the pulsating template of DOOM, banishing over half of the models in his army to the Warp before my opponent knew what was going on.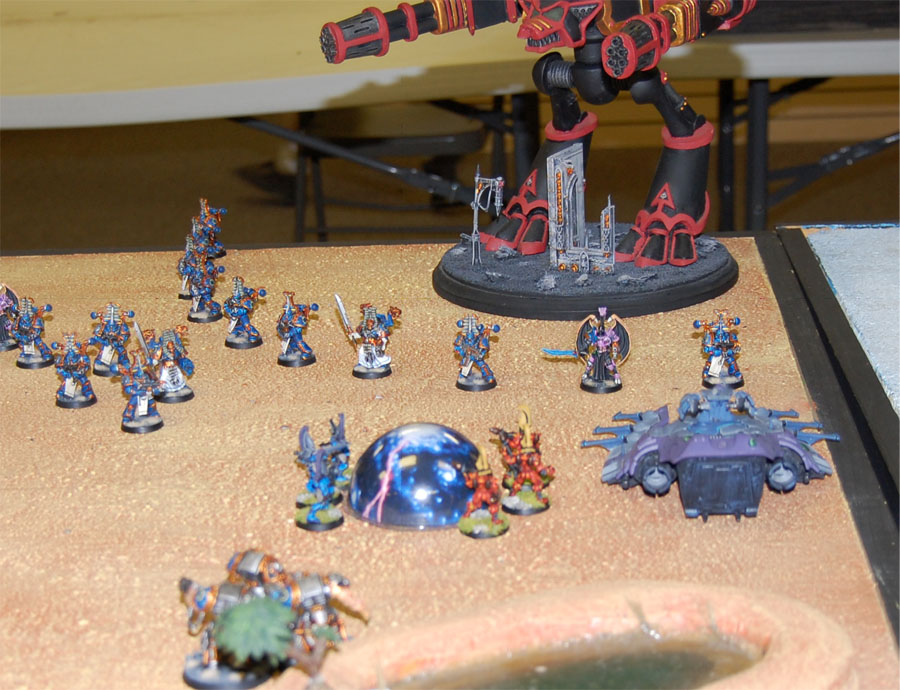 Aftermath
For the remainder of the game, my opponent flew around with his Vampire, taking insignificant pot shots at me, until the last turn in which he limped his flyer over to his objective to contest it and force a draw on the secondary objective.
I feel I should point out that under normal game circumstances I'm really not as big a jerk as it may seem, it's just that when I have a vortex grenade at my disposal I tend to get a little too creative with it. Unfortunately this means that I'm not allowed to use the vortex grenade asset at my local gaming store during Apocalypse matches anymore.
~If you've got any other good vortex grenade stories, I'd love to here them!