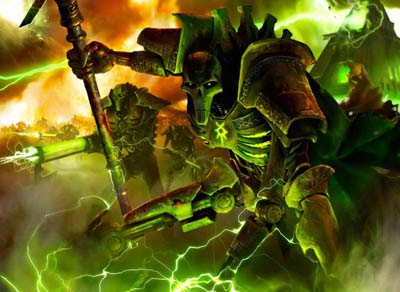 Bushido here, back from vacation. I've done a few articles on the less powerful units in the Necron codex, so I'm going to write about one of the best. The Monolith is one of my favorite models in all of 40k and I enjoy its uniqueness in games.
Anyone who has had to play against monolith's knows how tough they can be. Though they are slow, the armor 14 all around and the ability to nullify many armies anti-heavy armor weaponry. The prevalence of melta weapons in the current 5th edition environment means that many marine and guard armies are going to have trouble taking them down.
Also, an often forgotten fact about the particle whip is that the model under the center hole on the template must take the AP 1 hit it delivers. Though the wound can be distributed around to whichever model in the unit your opponent wants according to the new FAQ, ap1 against vehicles is always a good thing. Even without the AP1 center hole, a ST 9 large template is always helpful.
The portal can also be invaluable if you need a particular squad to make more We'll Be Back rolls or to get a squad in position to take/contest an objective or unload their weapons at max capacity. As the vast majority of Necrons are terrible in close combat, the ability to teleport out can mean the difference between losing at least one squad, to annihilating the attacking squad.
Even the secondary weapon can be spectacular against a well packed in opponent. D6 shots at every unit even partially within a 12″ radius can be pretty devastating.
PROS: Armor 14 all around, deep strike, good weapons, teleport portal.
CONS: High point cost, slow.
TRICKS: There are a number of tricks I've done using monoliths. The most fun being to deep strike all three monolith's in the middle of a guard army, unloading on everything around. I probably destroyed a quarter of his army in that one turn, including doing some battle damage to his russes.
I have also used the portal from two monoliths with one particular build to deliver 2 squads of Wraiths with war scythe armed destroyer lords into a first turn assault!
Even the warriors special reserves rule can be brutal. 20+ gauss shots can do some serious damage to smaller squads or even armor with enough glancing gauss hits.
Unfortunately, the new FAQ negates many of the advantages that were clearly explained in the codex. I'm not sure what the reason for this was, but I certainly never had any questions about the wording.
~Has anyone out there used any other fancy moves using monoliths or had something tricky done to you? Does anyone still plan for monolith's when considering anti-vehicle weapons?