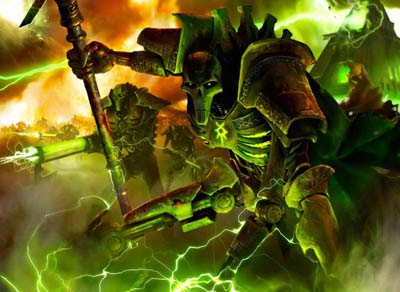 Immortals are another of my favorite units from the Necron codex. Granted I like most of the units in that book… However, they seem to stand out for me. I've tried to use them in just about every army I built for 4th edition, and continue to try and fit them in now. Though they share the same weaknesses as the rest of the Necron codex, they can be a challenge for some armies to deal with.
PROS: Toughness 5, str 5/ap4 weapon, Necron, Assault 2 guns with 24″ range, gauss
CONS: Still bad in assault, 3+ armor (lots of plasma, melta, and battle cannons around), expensive
Here's an army I've been meaning to try out.
Lord w/ Res Orb, Veil of Darkness
Lord w/ Res Orb, Solar Pulse
10x Warriors
10x Warriors
10x Warriors
10x Warriors
8x Immortals
5x Destroyers
5x Destroyers
Heavy Destroyer
Heavy Destroyer
Heavy Destroyer
Depending on my opponent, I'd likely try to use most of the army as a fire base, with the destroyers being the mobile aspects. The Veil lord would likely be teleporting around with the immortals taking down hidden or lightly armor squads. I've had success with Veil in the past, though it was mostly in 4th edition. Haven't used it much in 5th.
~Does anyone else like their Immortals as much as I do? Has anyone found any other good uses for them or had them used successfully (or unsuccessfully) against them? Hopefully a new book will be by to rescue us from the depths soon!