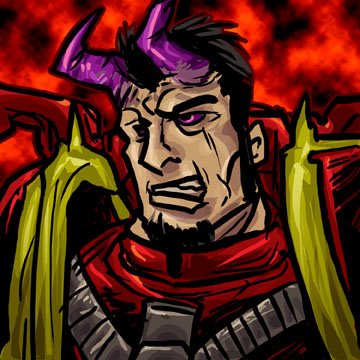 Goatboy here again. I am getting ready to get my games on at BoLScon. I plan on playing Orks, as I just feel like throwing something non-Chaos around. I still have to get my Marines done to have something different to play, but I'm hoping to have them ready to go after I get married and back from my honeymoon. The week after BoLSon I walk down the isle… again… for hopefully the last time. But enough about that – what the hell am I throwing down with at BoLScon?
Orks – Wall of Steel

HQ: Warboss, Bike, Bosspole, PK, Kombi-Skorcha, Attack Squigg, Cybork
HQ: Big Mek, Burna, Attack Squigg, Eavy Armor, Cybork, Kustom Force Field, Bosspole
Elites: Meganobz (5), Transport: Battle Wagon, Big Shootas (2), Deff Rolla
Elites: Kommandos (11), Big Shootas (2), Snikrot
Troops: Nobz (6), Bikes, Cybork, PK (3), Bosspole, Waagh Banner, Kombi-Skorcha (2), Painboy
Troops: Shoota boyz (19), Rokkits (2), Nob, Eavy Armor, Bosspole, PK
Troops: Shoota boyz (19), Rokkits (2), Nob, Eavy Armor, Bosspole, PK
Heavy: Battle Wagon, Big Shoota (2), Ram
Heavy: Battle Wagon, Big Shoota (2), Ram
Right at 2000 points and the plan is to run at you, through terrain and anything else in the way. I know the Deff Rolla is kinda worthless, but I have one of the new ones painted and I want to use it dangit! And if I see Nob bikerz, I can always tap one guy with it, that doesn't have a PK and dump some Str 10 wounds on the squad. 🙂 I need to finish my board this week. I plan on making something that I can use with most of my armies, so I will always have a nice display board to show off.
The army has been fully painted, as well as tested a few times. It seems to work OK and with the coming of melta, it allows your BW to at least move 12 inches at some point in the game. Future iterations of the army will have Trukks in front as well as less emphasis on Nobz to help move it around. I haven't been too impressed with Trukk boyz, as 12 orks just really don't put enough hurt on a CSM squad when charging in. But hey, any excuse to paint more of my orks is a good one. Heh.
Now lets talk about how to finish your tournament games in a jiffy. I know it can be difficult to finish games within 2 hours for some people. Locally, we are used to these faster times. It is just how we play here. It allows us to test more and get more games in. This makes things go faster as a lot of the time we can see how things are going to move by turn 3 most of the time. One of the ways I have helped, speed up horde play as well as any army playing is to buy dice and set up what I like to call, shooting/attacking blocks. If I know I have 17 shootas, I need to have 34 dice for each squads volley of fire. I try to make sure I have a color set of dice that is either the exact amount, or at least in the correct amounts that I can just roll it twice or three times depending on what is around. It also helps you out, because you know if you are down 2 or 3 guys, you just take out their attacks/shots quickly without having the need to count out the dice each assault/shooting phase.
Another thing I try do that is help my opponent move. I either help them place where they are going, or ask them where they want to move their guys. I know some people think you might try to screw them out etc, but as a player you should try to be as helpful as you can be. The game takes two people to get it to work, and being helpful makes the game more enjoyable no matter the outcome. Also, if I have a horde army, I move the front rank their distance, and then move everyone behind them. It is pretty easy to get moving fast, and you can push the army around.
I know some of this stuff is pretty obvious to most players, but sometimes these little things can help make a game move a lot smoother. It is these small things that can shave off a lot of time during a game.
This week was a crazy painting week. Currently I have some more orks to finish up (need to put them together), more IG, as well as some random Daemon stuff to get done. I stare at my desk and see boxes of guys ready to go to war and hopefully fail their cover save.
As usual – shoot me an email at [email protected] if you have any questions. And for those coming to BoLScon, see you on Friday. I will probably be tipsy throughout the weekend, as it is my Bachelor's Weekend.