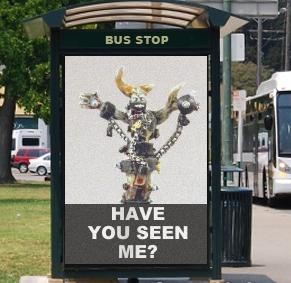 This is the first in a series of articles designed to breathe some new life into unused (or underused) units. If you have suggestions for future articles (units that you'd like covered or clever ideas for using them), email me at [email protected]. I'm starting with Deamonhosts (from the Daemonhunters codex) because they are one of the most colorful, but least used units in the game.
Daemonhosts are great models, plus they are one of the few units a radical Inquisitor can take to match the dark and edgy tone of the background fluff. They have a place of honor in my Relictors army, but I have struggled for years to squeeze them into a competitive build.
This tactica is a little different than my usual articles, as I'm focusing on making a weak unit a little more effective. I'll give you some tactics to minimize the weakest areas and suggest some tactics and combos to make them a little more useful and an lot more fun.
DEAMONHOSTS 101
Daemonshosts are a 0-1 Elite choice available to a Daemonhunters army that includes an Inquisitor but does not also include Grey Knights. You may buy up to three as a single unit and they operate using the Independent rule. The Independent rule allows you to deploy them individually, but prevents them from contesting objectives, joining units and riding in transports.
Daemonhosts are Fearless and may enter play using the Deep Strike rules. In close combat, they attack at a middling I4, but sport a respectable Strength 6 and D6 attacks. If you are lucky enough to roll Warp Strength (up to S9) or Timeshift (up to 13 attacks on the charge), a Daemonhost can be a real terror in close combat.
Daemonhosts are pricey at 85pts, but resilient (4 Wounds, a 4+ Invulnerable save and it has a chance to recover all wounds suffered with Re-knit Host Form). The only glaring weakness is their vulnerability to Instant Death when facing S8 or better weapons.
All Daemonhosts are psykers and roll randomly each turn to determine which of their psychic powers manifest. Here's the list:
Terrify: All units (friend or foe) within 12″ must make a Pinning test.
Re-knit Host Form: Daemonhost recovers all wounds.
Teleport: Daemonhost may immediately move to anywhere on the table (not within 1″ of an enemy model or within impassible terrain) and scatters as per Deep Strike. It may assault that turn.
Bloodboil: In the shooting phase, place a large blast template over the Daemonhost and any model touched by the blast marker (besides the Daemonhost) takes a S3 AP2 hit.
Timeshift: Daemonhost can move 12″, assault 12″ and doubles the number of attacks it makes.
Warp Strength: Add +D3 to both the Daemonhosts Strength and Toughness until the beginning of the following turn.
As you can see the Daemonhosts list of powers is fantastic, but the random nature really hurts the model and can be frustrating. For me, the random element is a lot of fun because it adds a lot of character to an already capricious unit — but it makes the unit unreliable on the table.
Note: Although Daemonhosts aren't required to make psychic tests to use their powers, they are still vulnerable to disruption by Psychic Hoods and the like. This is doubly important because Daemonhosts are only LD9.
WHEN TO USE DAEMONHOSTS
The best time to use a unit of Daemonhosts is when you don't mind relying on the Dice Gods for good luck. In my experience, they are the most fickle unit in the game. Combining Deep Strike, random powers, random attacks and a chance to blow up or pin your own units makes them a tad unpredictable. But if you want to have a good time and let the dice fall where they may, Daemonhosts can lead to some very fun games.
Daemonhosts are terrible when facing armies with tons of S8 or better weapons, so you'll need a plan that keeps them away from power fists and high-Strength shooting. You also want to avoid them in small games. The larger the game, the less the impact of fickle Daemonhost rolls. I tend to use them in groups of two or three in 2,000 point games (although one or two in 1,750 to 1,850 point games can work too). They are great units in Planetstrike and Apocalypse games.
Unless you have a very strong army list, I would avoid using them in tournaments.
HOW TO USE A DAEMONHOST
The best advice I can give to a Daemonhost player is to roll really, really well at every opportunity. Make the important Invulnerable saves and roll the right psychic power, and your Daemonhost will win games for you. Fail your first save against a Lascannon, and your Daemonhost will be banished back to the Warp (or at least back into your army transport).
Besides good luck, I can give you a few more tips and tricks:
Tip #1: Don't hold them in Reserve. I know it's cool to "summon" them, but there's no need to waste a couple of turns waiting for them to come on. Deploy them in a protected location and wait for an opportune Teleport or Timeshift to get them into the mix.
Tip #2: Don't deploy them within 4″ of a friendly unit — Bloodboil doesn't sound nasty but S3 AP2 hits are brutal. Don't deploy them within 12″ of a unit that can be Pinned. Don't deploy them where they can be targeted by S8 or better shooting and don't advance them in the open. If you can't move them up in the shadow of a mechanized unit, then keep them out of line of sight then keep them hidden until you roll a Teleport or a Timeshift.
Tip #3: Don't deploy Daemonhosts near each other. Nothing will ruin your day like accidentally placing them where your opponent can cover all of your Daemonhosts with a single S8+ template. They are Independent so spread them around. Hide them so that you opponent forgets about them (or better, make him worry about them so he doesn't focus on the rest of your army).
Tip #4: Don't send them into close combat unsupported. Daemonhosts look tough, but it doesn't take a lot to bring them down. They are best used to support another assaulting unit (i.e., charge the Daemonhost in after charging with another unit). This helps you in a couple of ways. First of all, they take a lot of attacks to bring them down (it takes 8 normal WS4 S4 attacks to cause a single wound to a Daemonhost, thanks to their 4+ Invulnerable save) and an engaged enemy is going to have a hard time putting too many attacks on your Daemonhost. Secondly, any hidden power fists should be engaged by the first unit and you can position your Daemonhost in a way to avoid that S8 attack.
Tip #5: Daemonhosts shred AV10 rear armor vehicles, especially if they roll Warp Strength or Timeshift. Even without those two powers, D6 Strength 6 attacks is often enough to mess up a squadron of light tanks. Teleport and Timeshift can also get your Daemonhosts into locations where they can pop immobile tanks — and the models are small enough that they can often hide behind the wreckage.
KILLER COMBOS
There are some unit combinations to make Daemonhosts more effective. If you know of any other combinations, post them as a comment or email them to me at [email protected]!
Killer Combo #1: Vindicare + Daemohosts. This is my favorite combo because the Vindicare is ideal for taking out those pesky hidden power fists and heavy weapons that make my Daemonhosts cry. He dramatically extends the shelf-life of your Daemonhosts.
Dirty Trick #1: Your Daemonhost stuck in close combat and can't get out? If there's only one model in base contact with your Daemonhost, use the Vindicare to kill that model. At the beginning of the assault phase, the Daemonhost is no longer engaged so he can move freely. This will allow him to Re-knit, live to fight another day or engage the unit in a safer location. This works well in large combats where all of the models are engaged before the Daemonhost assaults.
Note: I hesitate to call these tactics "Dirty Tricks" because Daemonhosts are such an overpriced and underpowered unit. If you are using Daemonhosts, you are generally not "tricking" your opponent — but since these can be surprising and effective tactics, I'm going to stick to the "Dirty Trick" terminology.
Killer Combo #2: Other Imperial Assassins + Daemonhosts. Although both units are pricey, Daemonhosts work well with all of the Imperial Assassins. Both the Callidus and the Eversor make great support units for Daemonhosts (extending their lifespan). And they are Fearless so Terrify won't affect them.
Note: Daemonhosts are psykers so they can charge up the Culexus' Animus Speculum. Also since Daemonhosts don't roll psychic tests when using their powers, the Culexus' Souless power doesn't cause any problems. Being Fearless also prevents them from falling back.
Killer Combo #3: Tough Close Combat Unit + Daemonhosts. This combo works great when you have a close combat unit (Fearless units are best) that is tough enough to survive multiple rounds of close combat. Assault with tough unit (making sure to move into base contact with any hidden power fists) and then join the assault with your Daemonhost.
Killer Combo #4: Teleport Homers! Daemonhosts have a power called Teleport that allows them to Deep Strike elsewhere on the board. Since the Daemonhost is clearly "teleporting", they work with Teleport Homers. Teleport Homers are best used when you have three Daemonhosts. Since each turn you have a 1 in 6 chance of rolling Teleport; you have ~50% chance of getting at least one Teleport each turn.
Dirty Trick #2: If you have a model with a Teleport Homer in your "Tough Close Combat Unit", you can use Teleport to pull a Daemonhost out of the close combat each time you roll the Teleport power. A Daemonhost can assault after Teleporting, so he can charge back into the close combat. With three Daemonhosts you can charge them over and over into the same close combat.
DAEMONHOSTS AS ALLIES
Any Imperial army (except Black Templars) with a free HQ and a free Elite slot can ally a Daemonhunter Inquisitor Lord and 1-3 Daemonhosts. This is a fantastic way to add a lot of color to your Imperial Guard or Space Marine army. Just the addition of a handful of models is a quick and easy way to radically change the theme of your army (pun intended).
Here are some ideas on using Daemonhosts as allies:
1. Space Marines: Space Marines (like my Relictors) are great homes for Daemonhosts. The abundance of close combat units give the Daemonhosts the support they need to do their job.
Combos/Tricks: Pedro Kantor gives your Daemonhosts +1A while within range of his Inspiring Presence. Sergeant Telion can act as a sniper to get rid of pesky hidden power fists. Tigurius gives you re-rolls on Reserve rolls (making it reasonable to Summon your Daemonhosts).
2. Imperial Guard: Imperial Guard armies benefit from a Daemonhost's close combat ability (and their ability to tie up enemy units).
Combos/Tricks: An Astropath can help you bring in your Daemonhosts early (making Summon viable). Psyker Battle Squads make Terrify a lot more terrifying. Creed's Tactical Genius allows your Daemonhosts to outflank or get scout moves (getting them into the mix a LOT more quickly). Straken gives your nearby Daemonhosts Counter-attack and Furious Charge. Daemonhosts make Marbo a lot more Marbo-lous.
3. Blood Angels: Like Space Marines, Blood Angels have enough close combat units to support Daemonhosts. Daemonhosts also have the speed to tie up a unit (or pop a transport), giving the Blood Angels extra time to get into position.
Combos/Tricks: Exsanguinators work on Daemonosts. There are no Teleport Homers in the Blood Angels army, but Daemonhosts and the Fearless Death Company work together like peas and carrots! Also Dante makes nearby enemies within -1WS and -1BS; that goes a long way to keeping your Daemonhosts alive a turn or two longer.
4. Space Wolves: Although the Space Wolves' fear of teleportation keeps them from keeping Teleport Homers around, they make up for it by providing a ton of close combats for your Daemonhosts to join.
Combos/Tricks: I love the idea of Ulrik Mentoring my Daemonhost to give him WS5. Daemonhosts work great with Rune Priests (in particular Njal) and Jaws of the World Wolf can snipe hidden power fists. Since your Daemonhosts are likely to join a close combat in progress, Saga of the Warrior Born works great in combination with Daemonhosts.
5. Dark Angels: And nothing will confound your opponent more than using the Teleport Homers on your Ravenwing Bikes to summon in your Daemonhosts!
Note: If you don't have Teleport Homers in your army list, you can ally them with a unit of Inquisitorial Storm Troopers! That's a also decent way to get Teleport Homers into a Blood Angels army.
As you can see there's a place for Daemonhosts in just about every Imperial army – and if combined with some "strateg-ery" and luck, Daemonhosts can pull their own weight.
CONCLUSION
I hope I've given you some ideas to encourage you to dust off your Daemonhosts or perhaps make you want to add a Radical Inquisitor and some Daemonhosts to your existing army (just think of all the conversion opportunities…). They instantly transform a standard Imperial army into something much more, well, "radical".
~Daemonhosts are colorful and fun and are a blast when they work — and when they don't work, they are still pretty funny. If you've used Daemonhosts before, then you know exactly what I'm talking about. If you haven't, then proxy them in a game and see what you think. If you've ever used (or had one used against you), I'd love to hear the story! Comments are welcome here and at http://www.chainfist.com/ — and as always, your mileage may vary.