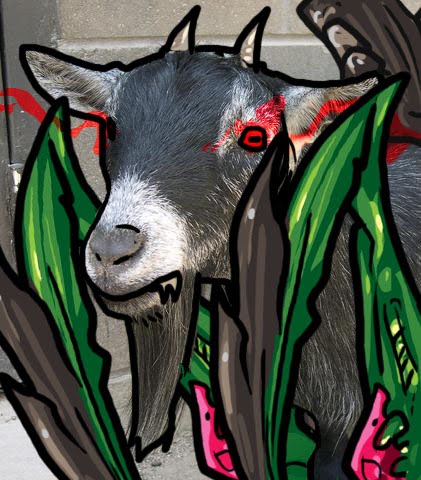 Hi Goatboy here again and today I want to start off the jump into the sticky and gooey center of the new Tyranid codex. Preview codices are out in some locations and I am going to go into reviewing the units available to all the Hive Minded people out there. This review is not the be-all-end-all as this is based on my own opinion and how I feel they will play versus myself and the armies I like to throw down. We all know each area is different and sometimes what works in your local game does not always work versus other types of armies. So enough of this lets get onto the review.
HQ – I TELL YOU BUGS WHEN TO SIT AND WHEN TO STAND!!!

Real quick – some interesting info on the rules that all of these guys have. First of all, the loss of Synapse combined with Eternal Warrior is huge for the Nids. In fact I feel that a lot of the smaller guys really suffer for losing this and lose some of their overall benefit. But we'll see if the lovely ability of the army to get fully screened will help that out. The Shadow in the Warp is kinda meh when compared to what the Space Wolves got. But I feel the range is just too small to really make it "useful" as if you are within range you most likely don't care about their powers and just want to throw lots of wounds onto them with your grubby claws.With nids having so many psychic powers now, I understand why Games Workshop would put something in that just says 4+ counter in the Wolves codex.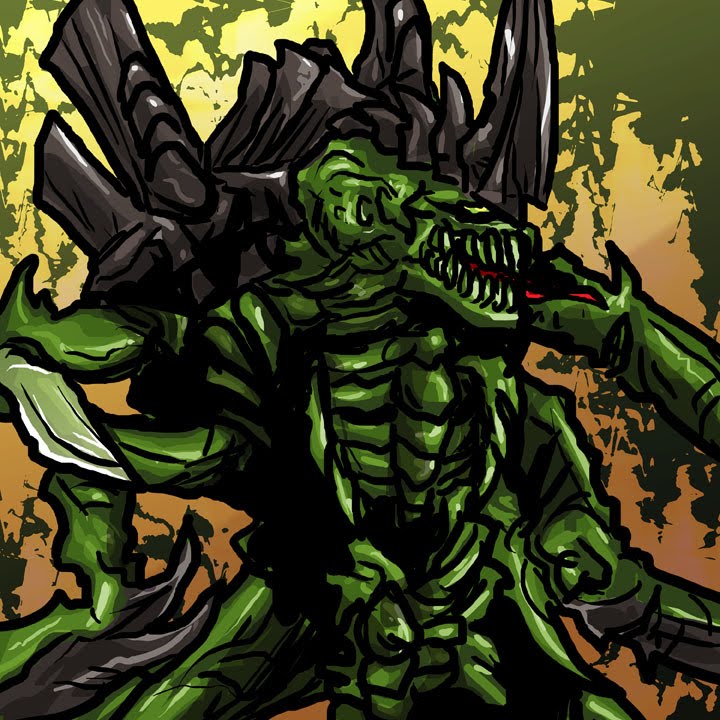 Hive Tyrant
Welcome to the return of the close combat badass. I am not sure this is a good thing, as the only way to get him moving quickly is to give him wings, thus losing the chance of having 6 wounds of bodyguards to take a hit for the team. I don't really feel he is worth the trouble as he is expensive and somewhat situational to get working. If you are playing versus a heavy assault army, then he will be golden as he will keep anything away from the meat of your army and let you counter assault to your heart's content. I think a better build will be as a reserve-helper to let your army create a beneficial 2nd turn in your face assault/charge/etc. The two builds I like are as the big gun battery or maybe as a flying death beast. I don't think it is the best HQ option they have as some of the others will help your army more. I do wish they could take 2 Heavy Venom cannons.
The psychic powers are interesting and could prove beneficial later on. I think this is the final kick on – if you don't have a way to stop mind bullets then you might be a bit boned. They are all interesting and I like Life Drain as a way to make sure your combat monster gets into someone and eats up some guys. Now if he could only use it to give wounds back to his bodyguards, that would be cool.
6/10 – Expensive and will not give you the most benefit like some of the other choices will.
Swarm Lord
Here is an interesting choice. He is a super assault monster and gives your guys some neat abilities as they march into contact with the enemy. I really like the idea and the overall thought on his look, I just feel he is a bit too expensive. Still he is a beast in combat and with his 3 escorts walking by his side, he has a real good chance of getting somewhere. Screen him with warriors and have the warriors screened with guants and you got a really annoying death block that can move up and do some damage.
6/10 – Just too expensive to be viable for the army. There are better synapse choices that will save you points and let you get more punch for your army
Tyrant Guard
If you are running a walking Tyrant then you will be running 3 of these guys. Boneswords might be a good option as it will let you crush just about anything you hit. With the Swarm Lord look for these units to eat any of these "deathstar" units you see running around 40k. I know my Thunder Wolves will run away from this fat unit and hope to hurt something else.
8/10 – They have options that make them interesting. Wish the Tyrant were better to let this unit work better.
Tervigon
Now here we have something very interesting. This is definitely one of the better choices in the game, making your Termaguants scary, thus letting your other units do much more as the guants need to be dealt with before it becomes too late. Catalyst is great and something I would buy on this guy. You also want to add in regenerate too. The interesting thing of course is that if you take a Termaguant squad (Please buy lots and lots -GW) you can get one of these guys as a troops choice. This lets you take some other kind of HQ choice instead of filling up the 2 with these guys. This is pretty dang sweet and I give a big high five to Games Workshop for this. Also whatever the Tervigon has (Adrenal Glads, Toxin Sacs) the Termaguants get too. Plus you mix in the ability to "create" more Termagaunts to score with and you got a no brainer unit. I would probably also put Regenerate on this guy as well as look at him as the big brother to watch out for the poor Termaguants that are getting beat up upon.
This guy also has some of the best psychic powers. Catalyst will be your friend for sure. Use it and use it often. Frenzy is ok, but not something I would waste the points on. Dominate is alright and I am glad it is for free. So again, use Catalyst…often.
10/10 – These guys are the new "it" of the Nid codex.
Alpha Warrior
Now here is another really interesting choice. With the way to get the Tervigon pretty easily in an army, I think the Alpha Warrior might be the left fist for the one two HQ punch on the Nid Codex. I think a few of these guys might be a great choice to help your Warrior squad, as well as give you some extra hit you could need for the middle layer of Warriors you should be expecting in the upcoming months. I think making him a Sarge with a Lash Whip and Bonesword might be the way to go. Will see as the months lead on and we really start to play with the army and see how the gibbering horde really works.
They also are able to give their WS and BS to the warrior squad they join. This is pretty interesting as it lets you have a nice midrange move and assault force that is the back up for your first horde.
7/10 – Might go up as we start to test them more.
The Parasite of Mortrex
Very characterful choice here, and something I am not entirely sure about. You will most likely want him to be attached to some Gargoyles as it will allow it to use its movement fully. I have to wait and see if this monster ends up being useful. It is pretty expensive and I don't have much faith in ripper swarms so most likely he won't be used. But we will see. The biggest thing is, since he is a flying unit he can get close and use Shadow in the Warp to create some shenanigans for the Eldar and other psyker heavy armies.
5/10 – Not enough information to really figure out if this is going to be "good".
So there is the HQ slots for the Tyranid codex. I really think the Tervigons are where it is at and being able to take more then 2 really lets you do some dirty things in this codex. Of course the old standbys are just not where it is at as new figures generate new sales :). I personally will probably take one Hive Tyrant with 3 Guard, some Tervigons, and a mixture of MC's. The fluffy center will be Termaguants with some lovely Genestealer friends to come in from the side and ruin whatever party is going on. I hear they love spoiling your army's picnics and get all over your food and drinks…
Look for the next installment in a few days. I plan on going into the big pool of Elites we now have with this codex. They really seem to want to cram in as much "neat" stuff in the elites section, thus leaving you with some difficult choices on how to build your own world eating army.
Questions and comments go below! Shoot me an email to
[email protected]
. Below is my old Tyrant guard repainted in my new style for my army. Something tells me a lot of people are going to be wanted Tyranids painted in the very near future.