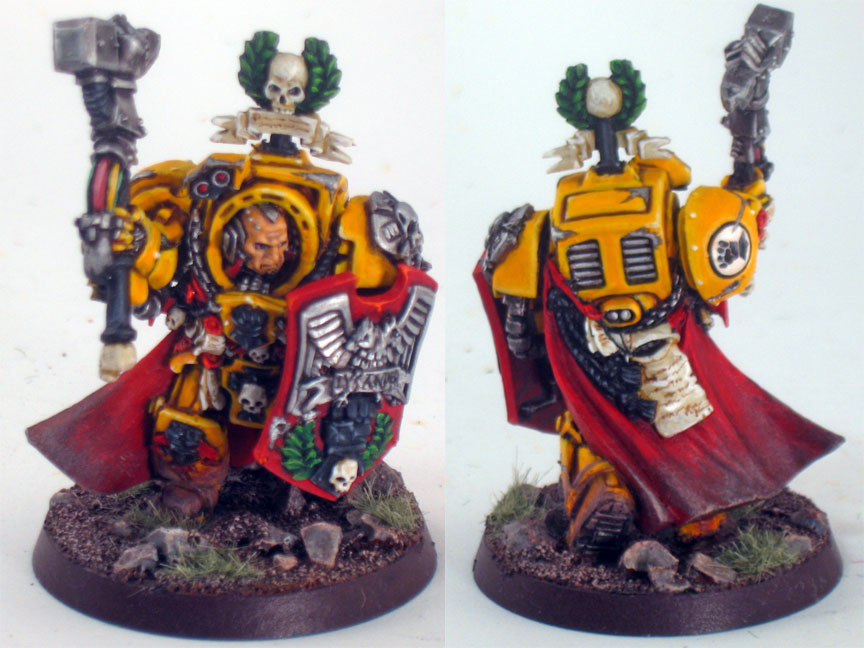 Hey BoLS community. It's been awhile since my last post, but I thought I'd show a couple pics of some of the work I've done since BoLSCon (wow, it really has been awhile!).
Featured here is a commission piece I did towards the end of last year of Captain Lysander of the Imperial Fists. My directions were to paint him up in standard codex colors, with a little weathering. Of all the special character space marines in the game, Lysander is perhaps one of the least "busy" models, so it was a pretty relaxing to paint.
The weathering was probably the most fun. For the bullet damage on the shield, I made some shallow holes with a drill bit, and then painted the area around it with tin bitz, highlighting up to mithril silver. The paint wear around the edges were done using the same painting method (minus any drilling, of course).
The mud effects were done by doing a heavy drybrush of scorched brown over some of the lower parts of the model, highlighting up to bleached bone with lighter and lighter drybrushings.
~ If you have any questions about my methods for painting any other parts of the model, feel free to post em!