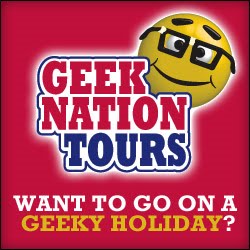 Hey everybody, I wanted to introduce you all to the first travel agency for gamers… Geek Nation Tours.

These guys put together vacations pachakes aimed squarely at folks like us, and somehow they even got 40K Radio's Spencer onboard for an upcoming trip to the UK. If Spencer is on the tourbus, you know it's gonna be a good time! Here's their latest blurb.
40K Radio joins Geek Nation Tour's "Geeking Out with Miniatures in the UK" tour. Every miniature wargaming geek's dream is to visit the United Kingdom. The tour will be focusing on all things the tabletop miniature Geek would love – miniatures, war memorabilia and history. The tour will stop in London, Birmingham, Nottingham, Bovington, and Corfe. Spencer from 40K radio and Teras from Geek Nation Tours invite all to participate.

Geek Nation Tours is a tour company dedicated to the geek in all his and her multifaceted interests. It creates holidays by Geeks for Geeks. Their tours include geeky conventions (they still have the elusive 4 day San Deigo comic conventions tickets), tournaments and tours to places of historical significance to the geek.
~For more details go to www.geeknationtours.com or www.40kradio.com