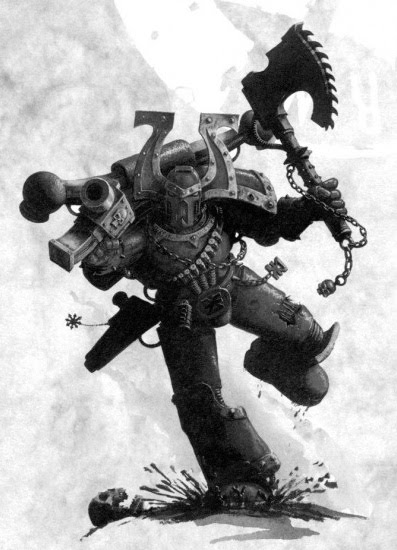 With the 'Ard Boyz competition about to consume the US, a lot of us in the UK are looking forward to an altogether less competitive weekend of gaming, namely the Siege of Terra campaign weekend, run by the Tempus Fugitives. You'll have seen Rustydice's awesome Storm hawk/raven conversion a couple of days ago, and there are lots of other blogs floating around detailing people's preparations for this casual weekend of fun.
My World Eaters have slowly changed from a combat orientated loyalist army, to a frothing mass of Berzerkers, Daemon Engines and psychopathic maniacs. I have deliberately made everything as fast as possible, and as good in combat as possible. Just so you know, there are quite a few custom rules for the weekend, some of which I've detailed at the bottom of the post, so some things might seem a little odd until you have read those. Here's what I have:
Kharn, 8th Captain of the World Eaters
Crull, Chapter Master of the World Eaters
Kran'Sha, Winged Daemon Prince of Khorne
Squad Ghauge, 8 Berzerkers in a Thunder Rhino
Squad Skrate, 8 Berzerkers in a Thunder Rhino
Squad Kyre, 5 World Eater Terminators, all with twin Lightning Claws
The Wrath of Kharn, World Eaters Land Raider, Phobos Pattern
Bale, Berzerker Dreadnought with 2 CCWs, in a Lucius Drop Pod
The Harvesters, 13 Bloodletters of Khorne
The Flayer, The Reaper & The Slayer, 3 Blood Slaughterers of Khorne
The Destroyer of Worlds, Greater Brass Scorpion of Khorne
While deliberately making the list heavily themed, that doesn't mean I have totally ignored my tactical planning. In fact, there are a few subtle tricks that I have found in practice games that I intend to employ at the weekend. Unfortunately, the Blood God isn't renowned for his subtlety, so to redress the balance, it is only right that I divulge the secrets of the list to the largest gaming community in the world for all my opponents to read! So here's the 5 'rules' I use for playing this army:
1. Get into Combat!
This is obvious, but is of course key to all my plans. Firstly, except for the Lascannons on the Land Raider, I have no anti-tank other than combat, but for that I have 4 S10 walkers, a S10 super-heavy walker, a Daemon Prince and Kharn's no slouch either. But in order to use any of these I have to get into combat! The main thing is not to hold back, every turn I am not in combat I am not using my strengths, so everything should be moving full pace if at all possible.
2. Two Wave Attack
Due to the custom ruleset being used at the campaign, my army is a mix of units from Codex: Space Marines, Chaos Space Marines and Chaos Daemons. The characters and marine units are mounted in transports, but in order to get these across the board, the daemonic units will make up the first wave of my attack. A lot of these will arrive turn 1, and I will use them to immediately harass key enemy units, to hopefully allow my second wave to approach without the fear of being shot to pieces.
3. Isolate or Eliminate the Most Dangerous Enemy Unit
One of the hardest units I have is Bale, the Berzerker Dreadnought, who is about as good as Bjorn the Fell Handed in combat. By using the Lucius Drop Pod from Imperial Armour Apocalypse 2, I can deliver him straight into the enemy's army, and immediately assault a key unit. There aren't many things he won't take out, and so I can almost choose which enemy unit I want to isolate from the very beginning. At the very worst, his AV13 and Venerable will keep them tied up for a good few turns.
4. Pick Your Fights
Everything in this army is good in combat, but only if matched up against the right target. The Terminators shred their way through marine squads, but have nothing to threaten vehicles. Likewise, the Blood Slaughterers are wasted on basic squads, and are much better suited to taking on characters or vehicles. I need to use the inherent speed of the list to ensure that I choose who fights who.
5. Controlling Rage
This is the biggest problem I face, as almost all my units are enraged. It doesn't really matter too much with points 1-3 above, but it makes a big difference for point 4. Unfortunately, there are times you really have no choice, but there are a few things you can do to control it. Firstly, use vehicles and terrain to block line of sight to the unit you don't want to charge. Even better, block line of sight to all enemy units, and then you can move freely. Secondly, the berzerkers will stay in the rhinos unless they have a good reason to get out. This allows me to determine where they go. Finally, on a lot of the missions, I might just have to ignore a few (or all!) of the objectives, as I will not have units that would stay around to hold them. Looks like I'll just have to wipe the enemy out then!!!
---
Just to clarify, there are a lot of units and rules in the campaign which work a bit differently to 'Codex' 40K. Mainly, all units are generally chosen from Codex Space Marines, with World Eaters replacing Combat Tactics with their Legion Tactic, which gives them +1WS, Fearless and Rage. Berzerkers are similar to those in Codex Chaos Space Marines, but gain S5, Rending and Rage. Bale is a Dreadnought with 4 attacks, WS6 and Rage.
If you are interested in reading more about the weekends, the Tempus Fugitives site has a highly active forum of enthusiastic members. The Tempus Fugitives are a gaming club from the south east of England, but have a loyal following from all over the country, and even a large group of gamers from France often grace the weekends. The Siege of Terra is the third of a series of four weekends, called 'The Age of the Emperor'. The Great Crusade and The Horus Heresy were both excellent, and The Scourging in September is sure to be popular. Any questions or feedback, drop me a email or follow me on twitter, updates as the weekend progresses!