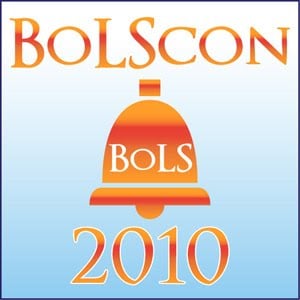 BoLSCon 2010 will be from July 29-August 1 this year. A lot has changed, and a lot has remained the same. I'll discuss these below.
Grand Tournaments
We've kept our Grand Tournaments at 7 games, but there are changes on both sides.
In the 2000 point Warhammer 40K Grand Tournament, we are allowing all Inquisitorial Allies. Last year these were prohibited, largely because the Imperial Guard Codex was brand new and had leaked all over the internet early enough that many people had the opportunity to practice with the new Codex, but those who waited for the Codex release were disadvantaged, especially when the odd tricks the Inquisition allow were thrown in. This is also probably the end of old Inquisitorial rules, as we think there may be a new Codex coming for all the Ordos.
In the 2250 point Warhammer Fantasy Grand Tournament, we have instituted a set of fairly clear restrictions on composition. No Lord level Special Characters of any kind are allowed, no Daemon Special Characters of any kind, and no other Special Character Heroes over 255 points are permitted (allowing my favorite Skink with delusions of grandeur to sneak in). We are also seeding the first round based on army composition, so beware that a hard list will get a hard first round draw.
Our 40K Narrative Anti-Tournament will feature battles from the Imperial Armour books. Come fight in the Seige of Vraks, the Defense of Macragge, and the battle for Taros (GO Tau!!!).
NEW Friday Events
We have added another full day of gaming on Friday, with the following events:
The 2000 point Warhammer 40K Pairs Tournament allows you and a friend to play 2 1000 point armies as one team. This is an almost anything goes event, so we expect some crazy army combinations and you should expect some equally wild scenarios.
The 2500 point Warhammer Fantasy Pairs Tournament has each player build a legal 1250 point detachment, with the additional rule that one player may take a Lord choice (instead of one of their Hero choices). While you won't be able to mix forces from different army books in single units, you will be able to use your Storm Banner to help your allied Warriors of Chaos avoid the Dwarf / Wood Elf gun line and cross the field.
The 35 point Warmachine / Hordes Tournament will follow the Steamroller rules that are current as of June 1, 2010. Warmachine is the game where Fantasy meets Sci Fi and gets mixed together for the most Hobbesian wargaming experience available.
The 1750 point Flames of War Tournament allows historical generals the opportunity to see if their inner Rommel is a match for the screaming Strelkovy and American Paratroopers, all in one day. The guys at Battlefront have created a great historical wargaming system, and the models are such a far cry from the ancient Napoleonics I started with (where you really only could tell the units by paint schemes) that I cry a little every time I paint one.
The War of the Rings Tournament has moved to Friday, so that you can get your Middle Earth and a GT as well.
Other Cool Stuff
Our venue has stayed the same, and the fantastic prices for the great rooms have remained low. We will have more drawings for prizes for people staying at the Doubletree this year as well.
If you're planning on coming in on Thursday night, make sure to check out the crazy Blood Angel vs Eldar grudge match Apocalypse battle that Fritz and Jawaballs are cooking up.
We look forward to playing with you all in July (and August), so head on down to Texas in July for hot weather and great gaming fun. We are expecting a much larger turnout from last year, so get ready to have a blast! So who's returning, and who's coming for the first time?
The Doubletree is a NICE hotel. Really.