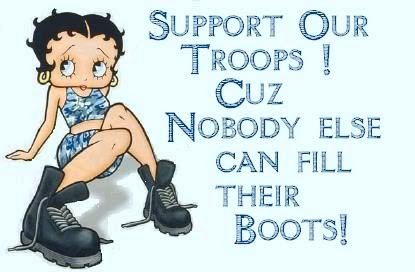 Goatboy coming back at you again with some 40k thoughts. We all know that in the beginning 5th changed the landscape of the game pretty drastically. The move away from VP being the win condition and having troops become a valuable part of your army has really changed the game. What I want to talk about today, is what are your troops doing now?

As every new 5th edition codex comes out, the biggest thing I have noticed besides the rise of mech is that troops have become just become better. Whether it is a plethora of options involved with the choice, a way to spam/cheapen things in an army, or just rules that create stronger then average troop choices each new codex brings a new kind of heat to the game.
I know when I first started writing I was all about more killing less filling in armies. This meant a lack of troop options as I thought that really the game was still all about beating face and most troop choices were still limited to being 2 choices you had to take. As I have played more and more games of 40k the power of the troop choice has really started to rear its head in all the armies I play. In fact, I usually start looking at 3 to 4 choices in most of my lists as it lets me still play ballsy and not worry about losing in the end because I couldn't hold onto whatever special piece was set on the table.
The biggest thing I have noticed in all the codexes is that troops have really become a lot more varied. Almost every book has a way to move another choice into the troop slot. The Orks were one of the first with the HQ choice activating a Nobz squad as a troop option. This was huge, as it allowed your army to still have some killing power but still score and win in the new environment that was 5th edition.
So far most of the new books have new and interesting troop slots that were not common in the last edition. I have lately been experimenting with a LoganWing addition to my Space Goats and have found them to be a pretty interesting choice. They are an extremely hardy troop choice as well as being a "big" choice when you get a full Wolf Guard Terminator squad. They can easily stretch out to cover multiple objectives as well as be "immune" to a lot of leadership effecting options during your opponents turn. They are also an extremely offensive aspect of an army too. Which helps you still cover all your bases when you need to make a decent army.
So what does this have to do anything? Well when you are making your lists to throw down during the week try to reevaluate what your troop choices are doing. In a lot of ways they are the most important part of your army. I know that I could always go with the minimum on my troop choice and hope they don't get assaulted/shot at/dealt with but in this new game they have to do more then that. They need to be a threat to more then the objective they are going to lay down on. They need to remove threats as well as control threats. I am hoping with all the new books coming out that this change of the troop choice becomes more apparent as an option that is just as strong as the so called Elites/Fast Attack/Heavy choices that used to dominate our game during the old days of a skinny tree hiding your Land Raider.
What kind of troops have you been using? I know not every codex has efficient troop options, but have you changed up your troop choices as you've gotten more experience playing 5th edition? Questions?