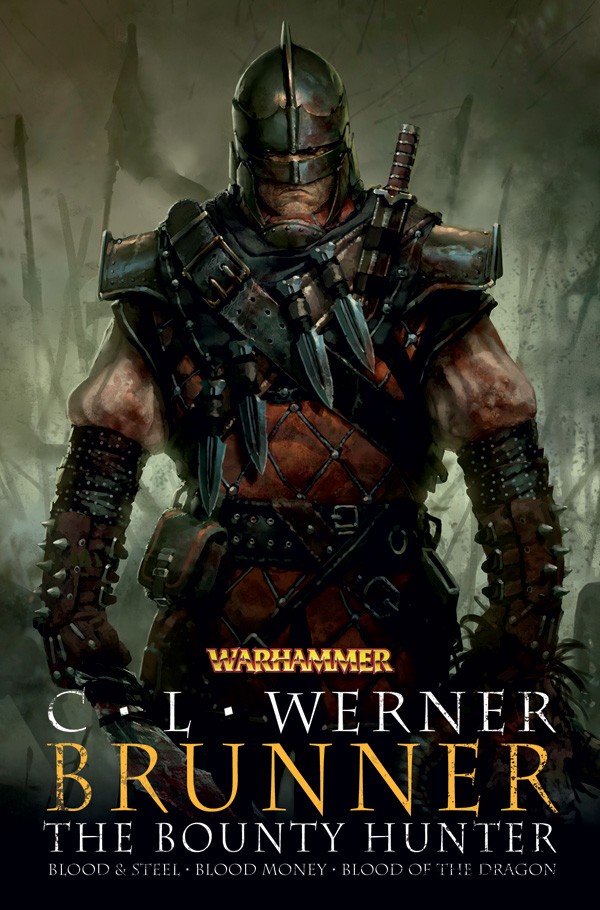 Last month I got my grubby mitts on a copy of C.L. Werner's "Brunner the Bounty Hunter", and I am just now able to bring you a review. (I've been busy :P)

The first thing that's important about this book is that it is not a novel, its an anthology of loosely linked short stories. That being said, the book is quite enjoyable. It feels somewhat reminiscent of the old 19th century serials, as well as reminding me of reading "Lone Wolf and Cub".
All of the stories that fill the tome's 768 pages focus on the various exploits of the titular character, Brunner, who as you might expect, is a bounty hunter. Brunner is a pretty good rendition of the tried and true character concept of a tough as nails, amoral bounty hunter who always gets his mark. He also has a mysterious past that is slowly, and somewhat obliquely, revealed in the various stories.
One of the things I really liked about the stories is that while Brunner is totally hard core and skilled and awesome, and he does go up against everything from Chaos champions to dragons and even a greater daemon, Mr. Werner actually manages to keep Brunner's awesomeness from getting out of hand. He really manages to come across as a very capable individual without making the reader ask, "So why is this guy not leading the armies of the Empire to crush any enemy that might be stupid enough to stand in front of him?" Brunner manages to survive via cunning and ruthlessness rather than just brute force or pure skill at arms.
Really, the only thing that stood out to me as minor shortcomings in the book were a couple of inconsistencies. There is one scene where he shoots his pistol at some onrushing beastmen, and then is engaged by them, and a few paragraphs later he shoots his pistol again, even though he's been locked in desperate battle the whole time. That was a little weird. There's also another part where his horse, Fiend, who is actually a minor character, runs off by himself into goblin infested caves, presumably where he is killed, but is back in the next story with no explanation. However, these are very minor, and didn't really do much more that make me raise an eyebrow for a moment.
All in all, I enjoyed Brunner quite a bit, and I wholeheartedly recommend it to anyone who likes short stories or Warhammer, or tough guys, of is thinking of becoming a bounty hunter.
~4 of 5 stars Has anyone else had the chance to read this one? What did you think?