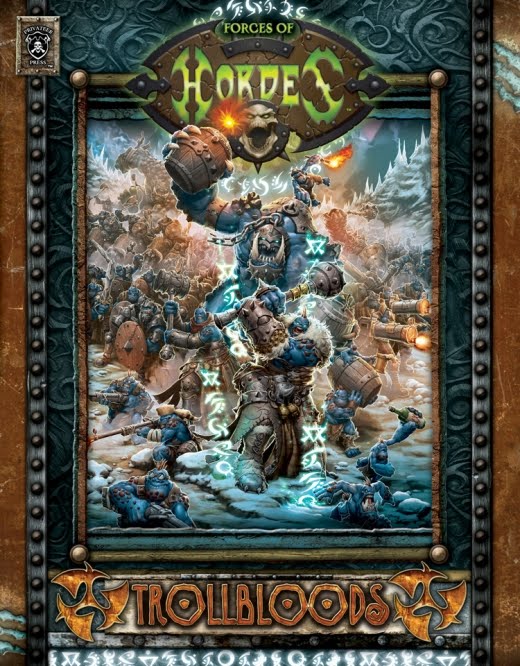 Trolls were my first pick for a Hordes army when Primal was released back in 2006, so this is the Forces of Hordes book I've really been looking forward to. Lets take a look at Privateer's latest.

Following the same format of the previous Privateer Press forces books it gives Troll players (or their enemies) all the tier lists, and model rules for everything the faction currently has available, plus some that haven't hit store shelves yet. It also has a great intro short story, more background on the faction, and a beautiful gallery section. So here's a quick overview plus some unsolicited thoughts of my own.
First off, as a person who plays as many factions as I do, it means something when I say that Trollblood stories are always my favorite to read. The race are the staple underdogs of the Iron Kingdoms and have received their share of undeserved licks from every other faction in the game. The fact that they, more than any other group fight for the survival of their traditions and people means that reading about their tragedies or triumphs is always that much more invigorating. So for me, that meant that the opening story, which details Gunnbjorn and Calandra Truthsayer's attempts to reclaim Skorne occupied lands, was an even better read. I was also happy to see more revealed about the character of these two, who by virtue of being the newest troll warlocks were also the least developed so far.
The other fluff sections of the book include the Military of the Trollbloods section, which sheds new light on their forces, as well as offering a bit of history. Its as much about the organization of Troll society as it is about their military since the two concepts are still more or less intertwined. One of my favorite parts of this section were details on the efforts of the Trollbloods to turn their disparate Kriels into a true military force, and possibly someday create a nation for themselves. Another section I enjoyed details the logistics required to feed the fullbood and Dire Trolls when their armies march to war. You can never get too much background for your favorite race.
The Trollblood tiers are about what we've come to expect. I do think some of them have the potential to be very powerful, many of them granting extended deployment and speed options to an army that's already tough and hard-hitting. As you might expect, almost all of them take some really important pieces off the table. While its already been spoiled in the last No Quarter, I think its worth mentioning Grissell Bloodsong's tier. It removes some of Trollblood player's favorite stuff from the equation including Long Riders, Champions, Fennblades, all Dire Trolls, and even the Stonescribe Chronicler, but the absurd amount of extra movement it gives can go along way towards winning Steamroller scenarios. With discounted Fell Callers and a free warbeast move for each fell caller at Tier 1, a free "Hoof it" move at tier 2, and an extra 2″ of deployment zone at tier 4, you can get a lot of tough Kriel Warriors onto objectives on turn 1. And still have her feat left over to give your whole army an extra attack and another hoof it move later. The downside is that you will definitely struggle against high arm targets.
Calandra Truthsayer's tier also seems very useful. Champions, Long Riders, and Fennblades are out with her too, but she will give you bonuses for taking Pyg units and Scouts. Something she already worked well with. Her Tier 1 grants a +1 to your first turn roll of the game, Tier 2 will give each unit +2 spd on the first turn for every solo you take (and she can field all of them save Janissa and the champ Hero), tier 3 gives a warbeast AD for every Pyg or Scout unit you field, while her tier 4 reduces the cost of Earthborn Dire Trolls by 1.
My favorite tier, mostly for fun reasons, is probably Doomshaper, Shaman of the Gnarls. The only units it allows are the Kriel Stone Bearer and Runeshapers. What makes it interesting is that Runeshapers become FA U, and are a point cheaper to boot just for Tier 1. I can't believe I'm actually considering buying 3 more units of them. For Tier 2, if you include Janissa, you get to start the game with a fury point on your Krielstone for her and every Runeshaper unit you take. Tier 3 lets you place a wall template within 20″ of your back table edge for every Runeshaper unit, assuming you take at least 2. And for Tier 4, you get an extra 2″ to your deployment zone as long as you take 2 Dire trolls. You can also take all the currently released warbeasts in this tier. With a whole army of cheap multi wound models with immunity to knockdown backed up by some of the hardest hitting warbeasts in the game, this is definitely a force to be reckoned with.
There's plenty of new stuff in the book too. First up, even though he's been out for a couple weeks and thoroughly spoiled since long before that, I'll still give a mention to GunnBjorn, the new Troll Warlock. Focusing predominantly on ranged attacks he offers the spells Snipe, Explosivo, and Guided Fire, which are a great addition to an army with beasts like Dire Troll Blitzers and Bombers. But his Wall of Stone spell might be even more useful for scenarios. The Swamp Troll is another that's been on store shelves for awhile now too. At 4 pts he's a steal, with 2 melee attacks, a ranged tongue attack that will drag medium based or smaller models, Pathfinder, and an animus that offers trolls even more denial opportunities.
There are two new units in the book. The first are the Trollkin Scouts, and the more I think about them the more I like them. None of their stats are particularly impressive so its easy to overlook the important point: these are trolls with Spd 6, Hunter, Pathfinder, Gang, Assault and Advance Deploy. With all the various buffs trolls can hand out to attack and defense the extra wiggle room they give for deployment and mobility mean they're that much more useful for taking and securing objectives while still being able to deliver a pretty powerful punch with the right buffs. The second are the Sluggers, 5 wound infantry with nearly the same gun as the Dire Troll Blitzer. These are definitely the entry in the book I'm least excited about, which is unfortunate given they're big burly trollkin with machine guns. My problem with them is that their RAT isn't quite high enough to be effective against infantry, and their Pow isn't quite high enough to be effective against heavier targets. They have to sacrifice their movement to get the d3 shots the Blitzer gets all the time, and with Hordes being the dynamic game it is, I just don't see them getting to make more than one shot very often. At the same time, they're not tough enough to make really great objective holders, and they don't have enough in the way of melee prowess to qualify as a combined arms unit. Still, I can see a potential place for them in Grim Angus, Gunnbjorn, and Grissell lists.
Champions and Fennblades both get new UAs. Skaldi Bonehammer is the character attachment for your champions. If his sculpt is half as good as his art entry that alone will be enough to get me to buy him. His stats are the same as a regular Champion and he hits just as hard, but with slightly higher MAT and reach. That and the fact that he grants Overtake and Relentless Charge to the unit make him easily worth his 3 pts. The Fennblade Officer and Drummer will also be hard to justify not bringing along in a game where you're already taking their parent unit. It gives them Tactics: Set Defense, while their "mini-feat" gives them an extra 2″ of spd, Pathfinder, and Terror.
The first of two new solos is the Trollkin Skinner, who can deliver a powerful punch against warbeasts and a medium one against anything else. For 2 pts he can also make for a fairly tough to kill objective grabber. Last, but most certainly not least, is Janissa Stonetide, a Runeshaper character solo. While she has the same Rock Hammer spell as her fellows, what makes her special are her other 2 spells. Wall of Stone can be used to great effect to keep enemies off of objectives and Tectonic Shift can move them away if they get there.
~ So overall I think Troll players should have a lot to be happy about. I know reading this book has definitely inspired me to play a few troll games and I'm looking forward to trying out a few of their tier lists. Check back in a month or so for the low down on the next Forces Book: Legion of Everblight.