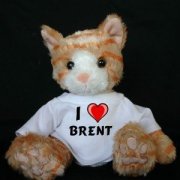 Greetings again boys and girls, Unicorns and children of all ages! Brent here… bringing the love! Today the topic is Love of the Game.

You may or may not have noticed, but I missed my regularly scheduled 'Bell of Lost Souls with a Brent perspective' post last week. Why, I hear you ask? No, I wasn't engaged in another cross-circulation geekdom tour; I simply didn't have the time to churn out a quality product.
While I'm sure that surprises some of you – you know, those of you who've managed to escape my charm unaffected… because you're fast – but I believe in what we're doing here.
Bell of Lost Souls is the premier News and Hobby site for our little corner of Ye Ol' Blogosphere. It has become so through the hard work of diverse individuals; those you've met via the articles here and those behind the scenes. I would do these individuals a disservice by doing anything less than my best every Tuesday.
So, other than the obvious butt-kissing I'm engaged in here, why do I bring this up?
Sometimes love hurts!
Because all these folks I mention share a love for this hobby. It is why they work so hard.
Just like you have a love for this hobby. It is why you care enough to comment. It's also why you sometimes care enough to criticize.
Think about that, just for a moment. This community spans the world, quite literally, and while it isn't a terribly large number of people we have an impact entirely out of proportion to our numbers.
How many thousands of Chapters are actually in existence? How many star systems have been invented, only to fall victim to invasion and ultimately Exterminatus? How many lines of text have been committed to paper, pulp or digital, in Army Books or Codexes or rulebooks or Black Library books or works of fan fiction or blog posts or forum comments..?
How many miniatures have you painted? What about in your store? Your city? Your state? Your country? It is staggering.
What other hobby demands so much of its patrons? You've got to buy your stuff, paint it, play it, then after a few years crank out some terrain for your toys to play on 'cause you're tired of seeing painted armies on uni-color background.
Our voice, our impact, is huge. It's relevant. Admit it, you love this stuff.
We love this stuff!
There is a passion inherent in what we do.
Maybe that's why the water is sometimes so dark and murky.
I told you once, my chickies, that the boys and girls out there can play rough. It is the nature of human passion, I'm afraid; we tend to feel more than we think. And the more we feel the less we think. It is folly.
It is human.
Rodney King said, "Can't we all just get along?"
I wish. All I did was make a funny video and I'm still hearing about the faux-hawk. Seriously, I think some of you fine folks think I wear my hair to work that way.
Nope. I sport a mullet. It's more professional.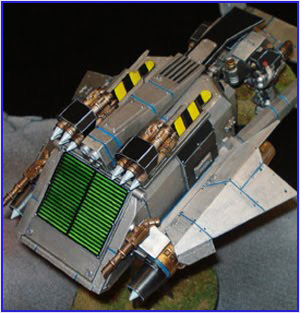 Sometimes passion breeds… this. It's my greatest failure, which came to be known as the Storm Buster, the Dyson Pattern Storm Raven. I was so excited about it… until the opinions rolled in! It sits on my shelf, a monument to hubris.
No, it doesn't bother me! My failures have been as varied as my success. Yes, the Storm Buster was a humbling lesson in creative humiliation but it's worth it. This – blogging and writing about my hobby – is what inspires me. I wouldn't trade it.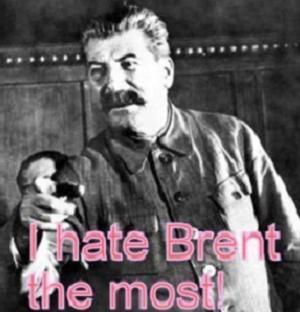 Besides, my most persistent online critic is now my official Strictly Average Program Criticizer. I guess poking holes in my ego is his passion…
…but what is yours?
Here's how I feel, in a nutshell: it's okay to play the hobby the way you want to play it, to feel about it the way you want to feel.
You just have to allow others to play and feel about it the way they want to.
Give it a try. Practice makes perfect, right?
So, that's my opinion. Do you see it from another perspective? Sit in a circle and let's hold hands! Share already! As always, thoughts? Comments? Hugs and gropings?


…


PS: I said all this as a lead-up for some interesting conversations I intend to have with you folks. If the past is any indication, it ought to be fun…