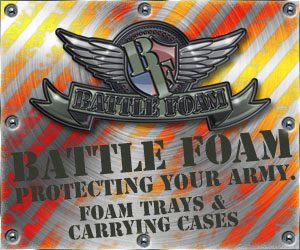 Romeo from Battlefoam wanted to let you guys know that Friday is Black Friday, you will REALLY WANT to go visit their website for one crazy sale!
Battle Foam's annual Black Friday Sale will be on Friday, November 26th. You will receive a 25% discount on all orders placed between 12:01 AM and 11:59 PM (MST).
You can place your order online at

www.battlefoam.com

. Battle Foam customer service operators will also be standing by to take your orders over the phone.
The sale includes a 25% discount on any GW, Privateer Press, Flames of War and Malifaux products. These items are not available on our website and you must place this type of order over the phone.
This is the only sale we have each year so make sure to take advantage of the GREAT savings!
Also, if you want to receive your order before the holidays, please order by the following dates:
Custom orders: December 1st
Non-custom orders: December 6th
1-877-336-3626