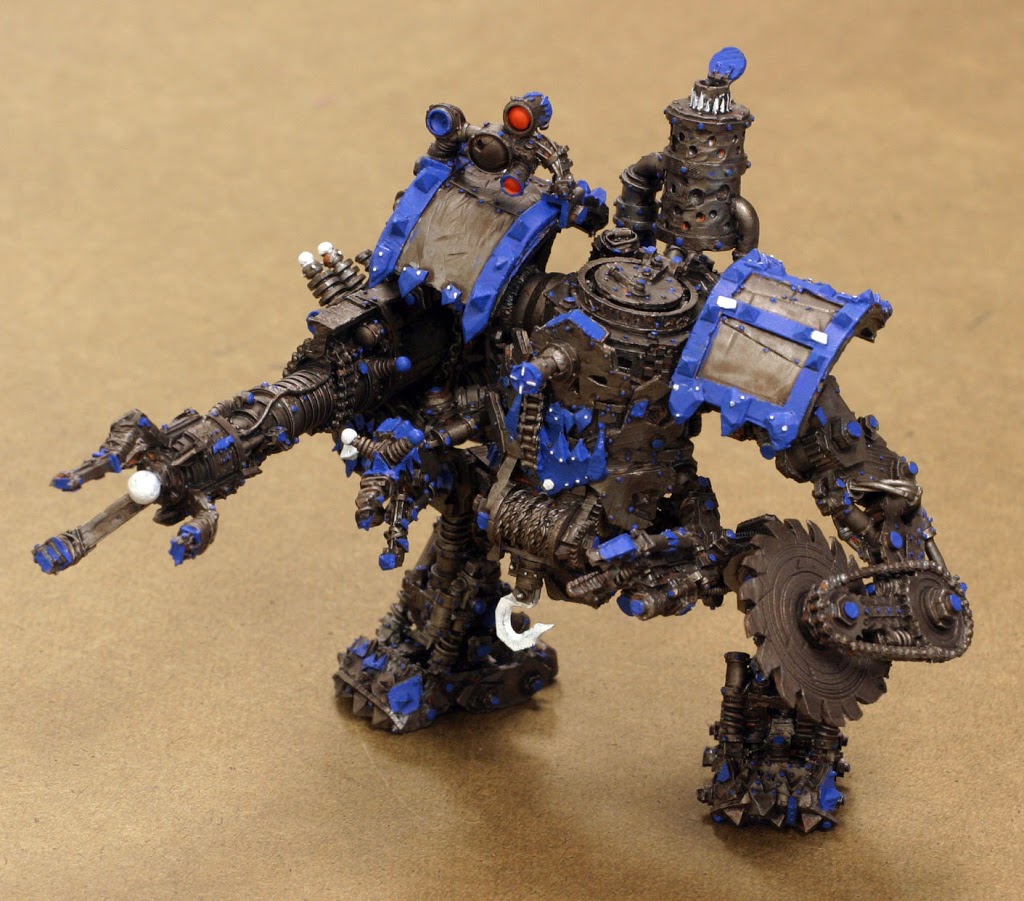 Rabscutle here from Hatetoad, with more MekBoy madness.
Our subject today isn't a conversion, but rather the Forge World Kustom Meka Dread. I snagged this bad boy at Adepticon to add to my Deff Skulls list for Narrative and wanted to throw out a review.
Value: 6 of 10
As with all Forge World models, you have to take the price with a grain of salt. He isn't cheap, but for a Forge World kit you are getting your monies worth. With arms you are looking at around just shy of 70 pounds, and get a fair amount of model for that price. The model is meaningfully larger than a Deff Dread and once you start looking at all the detail crafted in, the price gets a lot easier to bear.
Quality: 9 of 10
Putting this together was a dream. Being a newer mold, you don't have a lot of the problems that can show with age. This model was made to fit together and all the parts are really solid. With the exception of the dangling hook, I didn't have to re-glue anything. There was your normal flash removal, but after that I didn't have to do any real re-shaping to get things to fit together.
Design: 9 of 10
Man do I love the finished product. The Mega Dread is already a great looking chassis, but is a bit more static than it should be. The Meka Dread solves this with a far more fiendish face plate, more claws and more interesting arms. The circle saw is cool looking weapon and has more flair than the Rippa Klaw for me. The Shunta arm is a vastly more detailed and interesting arm than the Kannon, and it lends itself to a more threatening model. This mini Lifta-Droppa looks more Orky and fits in with the idea that this Dread is a Super BigMek.
How I painted Mine:
To match the rest of my army for Narrative, this guy got the rusted Deff Skull look. First a coat of Macharius Solar Orange over black primer. Then a liberal application of BoltGun Metal:
Once that dried, a heavy wash of Devlin Mud to give it the aged, over oiled look. Then the Enchanted Blue, Skull White and Blazing Orange to keep up with the army look: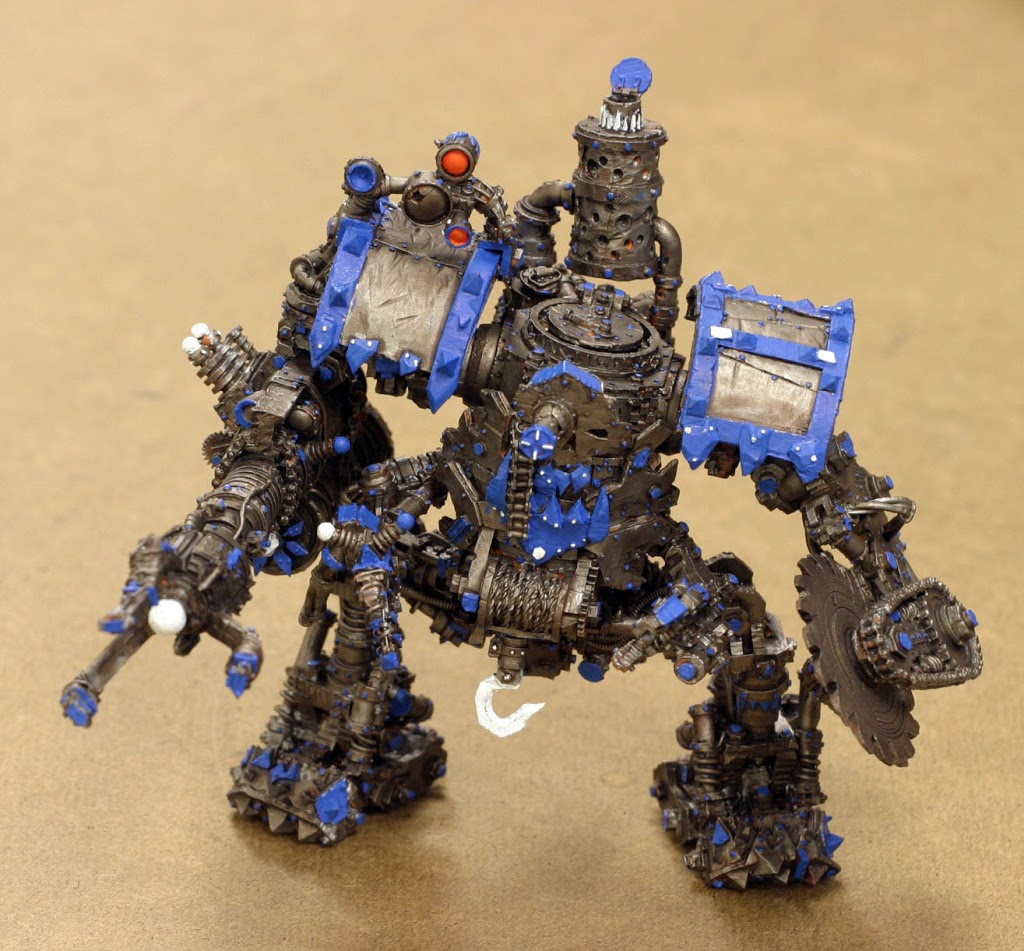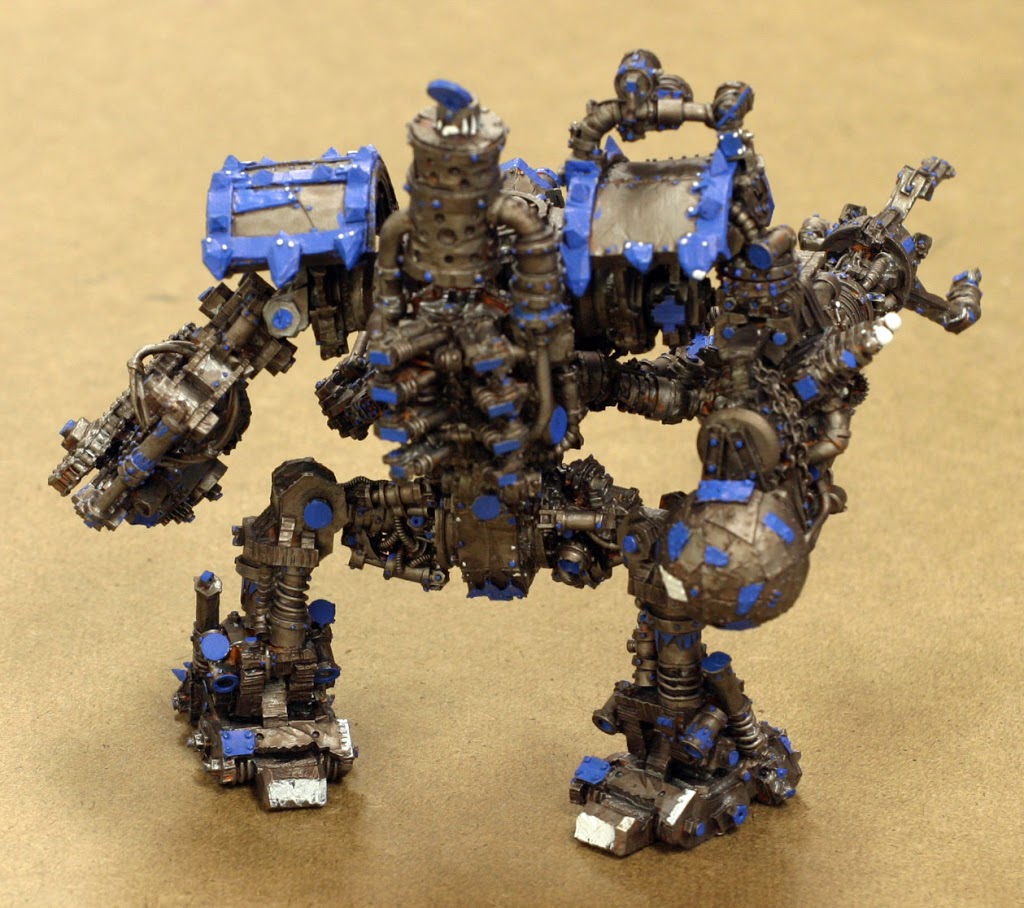 Out comes a table ready fiendish looking monstrosity ready to get to krumpin.
So kids, what do you think? Ready to stare this bad boy down at the Armageddon table?