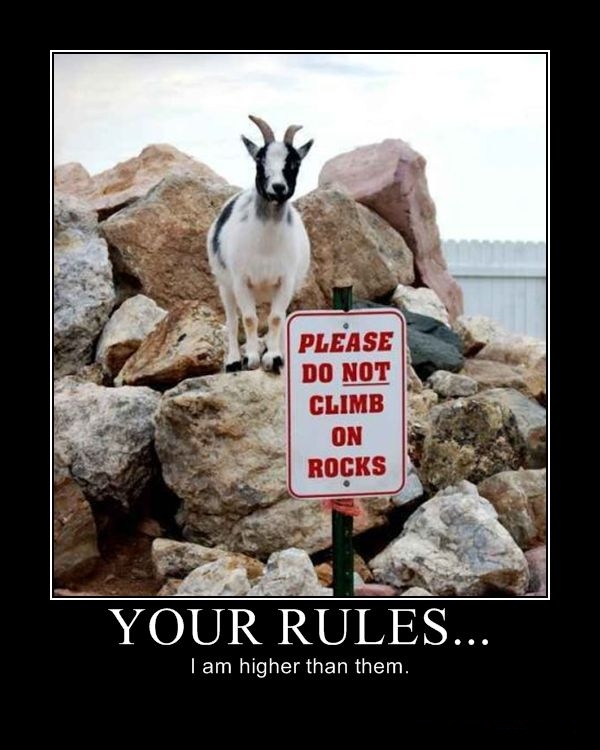 Goatboy here again talking about 40k as usual. We are reaching the last dregs of 5th edition and I can tell you that I am feeling its age right now. It feels like time for a change so no matter what I am interested in the future edition we keep hearing rumblings about. But instead of speculation on that I want to talk about how to freshen up your game a bit while 5th is still kicking around the scene.
I just got back from the Bay Area Open out in the California area. It was a lot of fun and I plan on doing a full write up on my personal blog that goes into the match ups. I ended up 4th with a tie in the last round versus the overall winner. Not to shabby with a bad match up. I went 5 Wins and 2 Draws for the weekend with the two draws going against armies and tables that gave me a disadvantage. I got lucky in both rounds with games ending early to allow me to keep ahead on one of the objectives and tie another one.
The other matches were to my advantage as my large amount of troops mixed with its ability to move and change to the landscape allowed me to control the game. That was the key to my armies design. I do feel I could change it up more to allow for more variety but it was a decent choice for the time. Yes I know the troops are copy and pasted and I feel I wish I had a Plasma squad in the group. I didn't have a combi-plasma to add to the unit and thought I would still see a crap ton of boxes out on the table top.
So for those interested here is the list and commentary on the choices.
HQ: Rune Priest, Chooser of the Slain, Meltabombs
Powers – Murderous Hurricane, Living Lightning
HQ: Rune Priest, Chooser of the Slain
Powers – Living Lightning, JaWs
Comments: I went with basic utility for my HQ's. I needed some long ranged firepower and the two d6, unlimited ranged autocannons fit the bill. JaWs gives you some options versus nutty SC, MC's, and most Necron stuff. Murderous Hurricane is also a big help to keep a big scary unit moving slow or creating an "bad" charge option for an opponent.

Changes: I think this fit pretty well. I do miss my Wolf Lord and other butt kicking options.
Elites: Lone Wolf, Terminator Armor, Chainfist
Elites: Lone Wolf, Terminator Armor, Chainfist
Comments: These guys were fun. Most games they took some firepower and allowed me to "hide" kill points. Most games they were dead by the end of it. A few they ran around the board like a bunch of jerks trying to steal the keg from a party. The lack of dogs was a design choice as any combat they get mixed up in, I will only at most give up a wound instead of 3 with adding 2 dogs. This allows me to win combats and force a leadership check as my Lone Wolf chases off a unit.
Changes: I think they might get dropped for Wolf Scouts. The ability to affect the back field as well as "contest" the capture and control objective would have been helpful in a few games. Still it was fun punching crap with a Chainfisted terminator.


Elites: Wolf Guard X 10, Terminator Armor X 2, Cyclone Missile Launcher X 2, Storm Bolters X 3, Combi-Melta X 5, Powerfist X 5, Drop Pod
Comments: These guys were interesting. Basically 5 guy with combi-meltas and powerfists jumped in with the Grey Hunters. The two Cyclone Missile Launcher guys with the 3 Storm Bolters (Had 9 random points left) either jumped in the drop pod or hide out and had the droppod drop in empty to annoy an opponent.

Changes: Lord I needed a combi-plasma squad. It would have helped to kill off Mephiston and other annoying options out there. I usually missed with one combi-melta so having a chance to shoot two times would have been a good. Heck I wish I could have put 3 combi-plasmas instead of the storm bolters on the 3 random Wolf Guard jerks.
Troops: Grey Hunters X 8, Meltagun, Wolf Standard, Rhino, Dozerblade
Troops: Grey Hunters X 8, Meltagun, Wolf Standard, Rhino, Dozerblade
Troops: Grey Hunters X 9, Meltagun, Wolf Standard, Rhino, Dozerblade
Troops: Grey Hunters X 9, Meltagun, Wolf Standard, Rhino, Dozerblade
Troops: Grey Hunters X 9, Meltagun, Wolf Standard, Drop Pod
Comments: People were scared of 50 Grey Hunters running around the board. I had enough guys to contest, control, and annoy the opponent. These newer events really push the ability to win all the options so having guys you can sacrifice was a big help. Dozer blades were key in allowing me constant access to the table top and giving the middle goat finger to rolls of "1". The Wolf Standard is probably one of the best options out there. If you are not playing with them in your Grey Hunter squads, find points to get them. They will win you games hands down.
Changes: I really wish I varied the troops but this list was not fully tested nor did I have the combi-plasma set up on a Wolf Guard. In a lot of ways I wish I had two for the Rune Priest rides as I think it would have given me some better options.


This list hit right under 1750 and I felt it was a good choice for the open event. I didn't have anything designed to go out and crush an opponent as you need to focus on all the options instead of just the one "butt stomping" one you normally see in other events. A good player won't allow themselves to be fully tabled most of the time.
My army allowed me to always be on the move and still be effective. I am moving away from Long Fangs as a lot of players will just find ways to either always be in cover, block their LOS with truly outrageous terrain, or just design lists that don't care about old bearded jerks hiding in some bushes. The game is fully mature and now truly defined by moving and as tournaments get into the "3 missions" design, movement will be the key to a victory.
I am tempted to test some options with Logan to create more "moveable" Long Fangs with the Cyclone ML termies. This would give me a sit back at home troop option that allows all my other choices to run forward, get into shennanigans, and steal some bear and pretzels. The issue being that Logan is a jerk and I liked doing well without any Special Characters.
The Final Goatword
The tail end of 40k will be won by troops so get used to seeing more and more boots on the table top until we get 6th and cover most likely changes. I just hope the game keeps moving in the this direction as having more options instead of one big fat unit of death leads to more interesting games. I went a bit too heavy on the melta but that is more from not knowing the field that well.
Has anyone else had luck with the Grey Hunter Horde?