Privateer Press was kind enough to send us the Plastic Warpwolf Box Set and the Ghetorix Upgrade Kit so we could have a look at them and let the good people of the internet know our thoughts. Let's jump right in.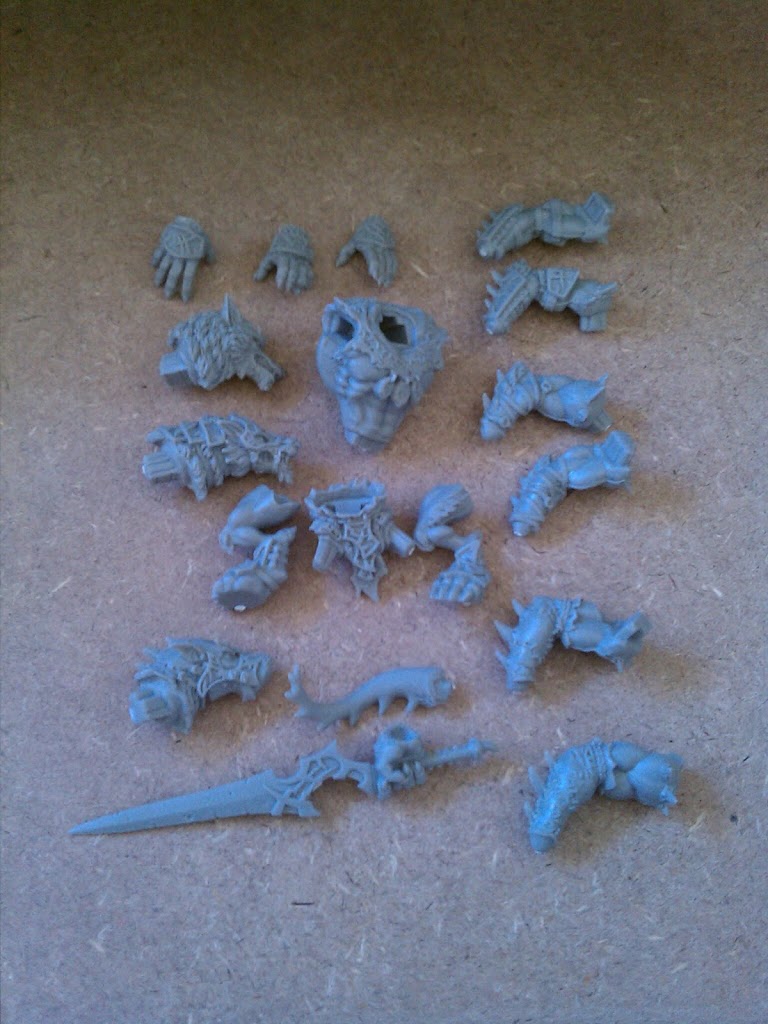 Plastic Warpwolf Kit Contents
The Models
The Plastic Warpwolf Kit comes with parts to make the three basic Warpwolf variants: the Warpwolf Stalker, Pureblood Warpwolf, and Feral Warpwolf. Aesthetically, I think the kit is pretty nice.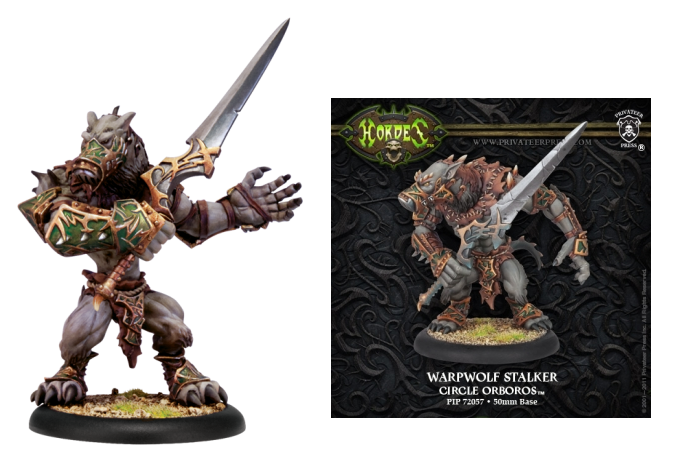 Classic Stalker (left), Plastic Stalker (right)
The plastic Warpwolf Stalker and its metal version are extremely similar, so much so that it seems obvious that the metal Stalker must have been the basis for the new plastic kit. The plastic Stalker parts are just as detailed as the metal version, which I've always been a fan of. Where the Stalker itself is concerned, I think it a wash.
Classic Feral (left), Plastic Feral (right)
The Feral Warpwolf has been pretty much completely redesigned to match the aesthetics of the more recent warpwolf models, with it's shorter, wider snout, shorter spikes that are more akin to thorns, and a bulkier frame to replace its lankier origins. I've never really been a fan of the original Feral model. This dislike only increased over time as the very excellent Pureblood and Stalker models were released, so I think that the new Feral model is a huge upgrade over the original.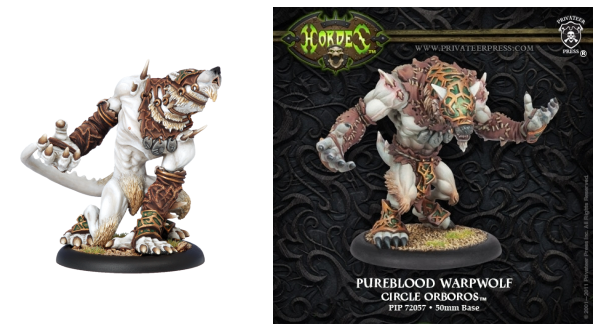 Classic Pureblood (left), Plastic Pureblood (right)
The original, or "Classic", Pureblood model is one of my favorite of any system. It's a really unique sculpt with loads of character and an awesome pose. Unfortunately, due to the modular nature of the plastic kits, Privateer wasn't able to maintain the excellent pose of the original Pureblood. While I do like the new, menacing Pureblood pose, it's just not the original, so I count this as a downgrade. My following thought on this was that the plastic Pureblood would make for a great second use of the model on the table, but due to its nature as a utility and fire-support warbeast, I'm going to have difficulty justifying putting two of them on the table.
The quality of the kit itself has me impressed, and I think is a good example of how the quality of their plastic sculpts is improving. Mold lines were all easily accessed and scraped. This is a welcome contrast from some of the early plastic warjack kits, which sometimes had mold lines running through the center of boiler gauges or in difficult-to-reach places. The model also went together with ease. The plugs for the arms, legs, head, and tail are deep, guaranteeing a solid connection that won't break without extreme pressure; a dropped plastic warpwolf will most likely survive the random knock off the table, provided it isn't stepped on after the fact. The joins do require a little love, however, as some separation remains. About five minutes with green stuff sealed these. Overall, I was very pleased here, and consider this another upgrade over the original, classic warpwolf models.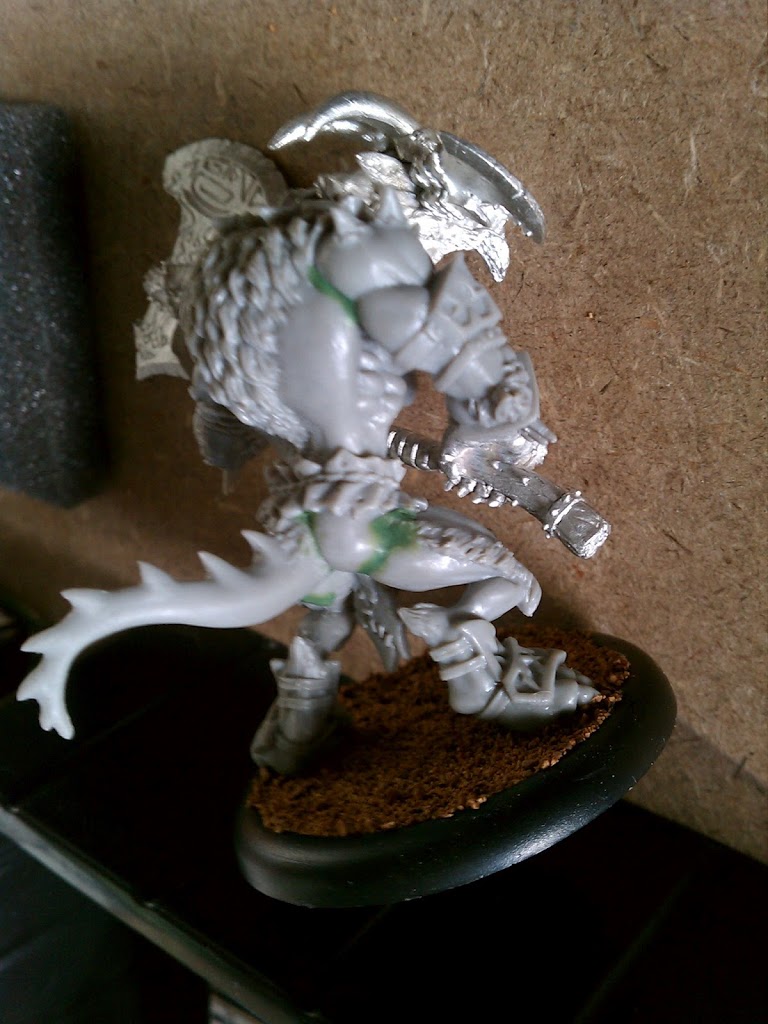 Epoxy putty used to seal some gaps
The Ghetorix upgrade kit is an interesting one. It consists of a different head, horns that extend from the back of head, and the great axe with hands cut at the wrist. Mold lines were a piece of cake, and all of the clean up here was done in less than a minute. In order to make the axe work with the existing plastic arms, Ghetorix actually uses arms from two different warpwolves: the left, sleeved arm from the Pureblood, and the right, armored arm from the Stalker. This upgrade kit went on pretty easily as well, only requiring a quick pin for joining the hands to the wrists. Overall, I like the look of the kit, but I'm not totally thrilled with it. The pose, axe, and headdress are great, but the natural parts of the head aren't exactly my favorite.
On the Tabletop
In terms of playing with Ghetorix on the table, I've managed to get a few games in with him, and I find that I like him quite a bit. He's often compared to the Stalker due to each of them having Reach, but I think that both can find a space on the same table. In my games with Ghetorix, he proves to be somewhere in between the Feral and Stalker, bringing more survivability than the former and higher damage potential than the latter. With natural DEF 14 and ARM 17, Unyielding, the Feral's damage spiral with 28 hit points, and access to some solid ARM buffs like Inviolable Resolve, Ghetorix can tank better than any of the other warpwolf options. While not quite as burly as things like a Bronzeback, Ghetorix's ability to avoid damage via his DEF 14 can make him just as much, if not more, effective at standing on the front line.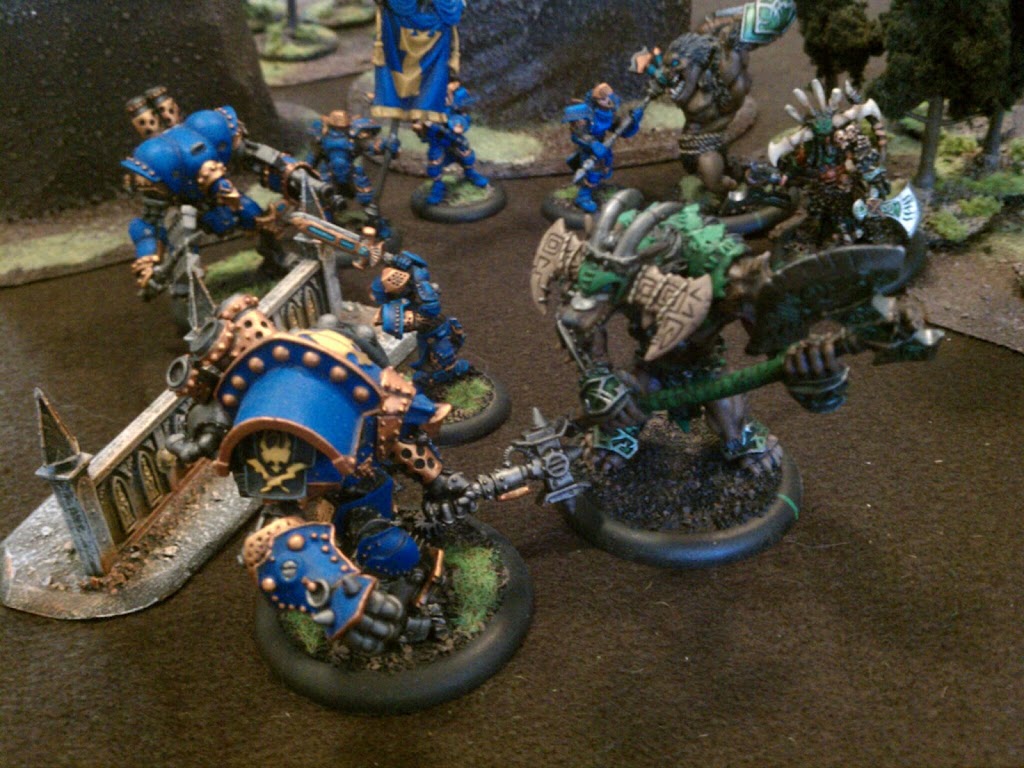 In terms of damage potential, Ghetorix is pretty much as good as it gets for Circle. When warping for Strength, Ghetorix hits at P+S 19 with his Great Axe and P+S 16 with his Bite. This can be further boosted via effects like the Gorax's Primal animus or Kaya the Moonhunter's Forced Evolution Spell. At MAT 7 with Primal and a damage buff, Ghetorix is capable of laying down a lot of hurt. In my last game he took down both a fully-healthy Ravagore and Scythean in a single round.
Ghetorix has two other warping abilities to choose from: Snacking and Hyper Aggressive. The former is nice for a few reasons. For the uninitiated, a model with Snacking heals d3 damage whenever it boxes a living model. First, I really like having it so that I can keep Ghetorix topped off at all times. In one of my first games, Ghetorix took several damage rolls from Spiny Growth, which greatly reduced his overall survivability when he finally was counter-charged. Had he been at full health, he would have had a much easier time surviving this. Second, when attacking warbeasts that don't require that Ghetorix warp for +2 STR, being able to deny the enemy warlock from reaving can be an effective way of putting damage on them the following turn when they have to take damage to replenish that Fury themselves.
Hyper Aggressive, which allows the model with it to advance directly toward a model that hits it with an attack, is essentially the warp you use while on the approach, and can be an effective means of dissuading your opponent from shooting Ghetorix at range, else risk getting him that much closer to your lines, allowing him to charge that much deeper into your army.
Ghetorix's animus, Retaliatory Strike, which allows Ghetorix to make an attack against a model that hit him, isn't much to write home about, but not without its uses. Circle armies that are built around living warbeasts don't have many animi to use on the approach, so throwing it up just to get some Fury on the table can actually get you something in return.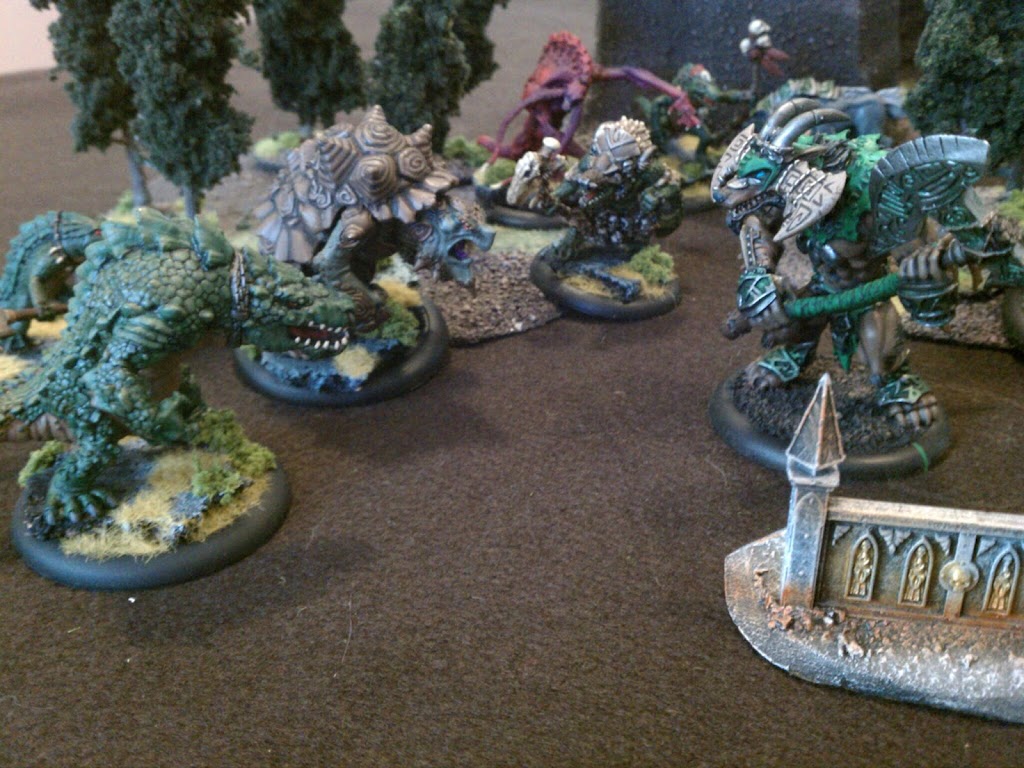 Ghetorix has a few other rules of note: Terror and Powerful Charge. While Terror doesn't really see a ton of use since most of the more solid melee infantry have Fearless, it can and will occasionally turn a bad situation around for you if your opponent simply can't roll dice on Terror checks. Powerful Charge is another nice little bonus, making him effectively MAT 9 on the charge.
Like all warpwolves, Ghetorix can also Regenerate, something that should never be overlooked since warpwolves don't have the impressive damage spirals of other heavy options. Like I mentioned earlier, keeping them topped off is important so that when they do get charged they'll stand a better chance of surviving.
Lastly, Ghetorix has Special Issue for Kromac. While Kromac doesn't currently have a warbeast bond, future epic variants might have it. Additionally, you could take advantage of this under league play.
In terms of warlock pairings, I really like him with Kromac and Epic Kaya. The former gives him lots of maneuverability thanks to Warpath as well as nice ARM buff with Inviolable Resolve. If you bring a Stalker as well, you give Ghetorix Sprint so that he can charge in, kill some stuff, Warpath back 3″, then Sprint an additional 6″, denying your opponent from responding with melee forces.
Epic Kaya also supports Ghetorix nicely as well, providing him with Forced Evolution to make him DEF 16 while boosting his damage potential through the roof. She can also provide a nice hit-and-run opportunity via her feat, which will transport Ghetorix back to Kaya at the end of his activation. Shadow Pack will additionally keep Ghetorix safe on the approach, particularly from nasty, super-accurate CRAs or denial spells that could effectively shut him down.
In terms of other support, I really like having a Stalker around. The ability to get Ghetorix in, then pull him out via Sprint is a great way to keep that 11-point investment alive and kicking. A Gorax is also nice to have if you really need that little extra for damage output, like when a pair of expensive enemy heavies are just a little too close to each other and Ghetorix can get at them both with its effective POW 21 Great Axe by warping for STR and benefiting from Primal. Having some way to give Ghetorix Pathfinder (or equivalent) isn't bad either, making often maligned models like the Argus (for his animus) or Pureblood Warpwolf (for allowing Ghetorix to warp for Ghostly) of some value.
When I play Ghetorix, I avoid using him as a trade piece. At 11 points, he's really expensive, arguably too expensive to trade away for killing an enemy heavy, especially since most heavies are cheaper than 11 points. Instead I use other, cheaper heavies like Feral Warpwolves to do this, else rely on extraction methods like Kaya's Spirit Door, Epic Kaya's feat, the Stalker's ability to grant Sprint, or Kromac's Warpath. Otherwise, if you're going to commit him to taking some damage, you better be confident that he will survive them or be prepared to lose him.
How is Ghetorix fairing on your table?