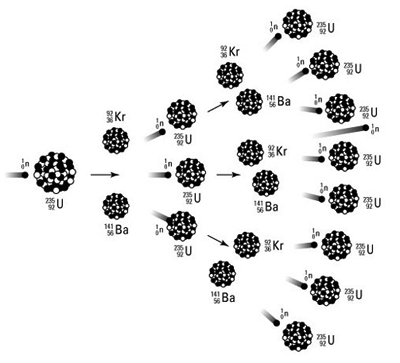 Hello everyone ! It's time for some more Necron madness and this article is well timed with the release of the 2nd wave hitting the stores this last weekend.
Introduction
I have recently posted a series of analytical articles on specific Necron melee units. I have one article that is comprehensive covering some of the units I am currently using and have also released one on the Destroyer Lord and another on Canoptek Wraiths. There will be at least one follow up article on Wraiths so I can go into more detail regarding their specific tacticas. I am also planning to write a more comprehensive article about the Destroyer Lord as well. I'd like to mention here in the beginning of this article that I'm not planning to write any articles on the subject of Flayed Ones or Praetorians. Both of these units I feel have very strict limitations – maybe they will both get a much needed boost when 6th edition is released. If they work for you then tell us – I may have missed something important and would like to see why they could be effective.
Feel free to visit my own blog Terminus Est to view these other analytical articles I've already published in regards to my melee based Necron army.
Canoptek Scarabs and Spyders
So on to the main topic – Canoptek scarabs and Spyders. Currently I'm fielding the following build for my 2000 point Necron army:
6-9x Scarab
3x Spyder – Gloom Prism
3x Spyder – Gloom Prism
It might sound rather small for a scarab farm but the way I play them you can end up with a large swarm by the third turn – basically each turn you're generating six more scarab bases – so that's 24 bases on turn three if you start off with six scarabs – this is more than enough to punish any mechanized army out there. If you can manage to keep the Spyders close by you can continue to grow and replenish your swarm of little metal beasts over the course of the game.
I start the game positioning my scarabs so that they have cover and keep them all spread out 2″ apart. I like to position the Spyders ahead of them so that as the scarabs begin to move forward they can keep up during the first few turns. If necessary you can use the Spyders to provide cover for the scarabs. Remember to keep some separation between Spyders and scarabs so your opponents can't snipe both units with blast templates. You need to be both cautious and aggressive with scarabs – one or the other alone is not going to cut it come game time.
Canoptek Scarabs
Keep in mind that scarabs are good in melee versus both armor and infantry. Infantry units such as tactical Marines and guardsmen cannot generate the high number of high strength attacks needed to combat a large swarm of scarabs and will be quickly overrun. Units such as assault Terminators with thunderhammers or a Wolf Lord mounted on a Thunderwolf swinging a Frost Blade are the bane of scarabs in melee so avoid them. I use my Canoptek Wraiths to tie up these dangerous enemy dedicated melee units so my scarabs can run free. If your opponent is using infantry to bubble wrap their armor remember that scarabs count as beasts – they can fleet and charge 12″ just like Thunderwolves. If you have a large swarm it's fairly easy to lap around the bubble wrap and engage enemy armor. Four scarabs on the charge can easily pop vehicles with rear armor value 10 assuming the vehicle has moved 6″ or less:
4x scarab base = 20 attacks
10 hit & 5 successfully engage w. Entropic Strike – rear armor is now AV 5
The scarabs then glance on a 2+ and penetrate on a 3+ with 10 S3 attacks. That is the beauty of scarabs versus enemy armor. You remove the opponent's forward most transports which are the easiest to reach as well. This tactic makes it very hard for mechanized armies to hold or contest objectives outside their deployment zone. I tend to focus on removing enemy transports first to halt forward movement of their scoring units. Like I said these are the easiest to reach generally speaking. Enemy tanks are often entrenched well behind the enemy line… Pick on the soft spots first.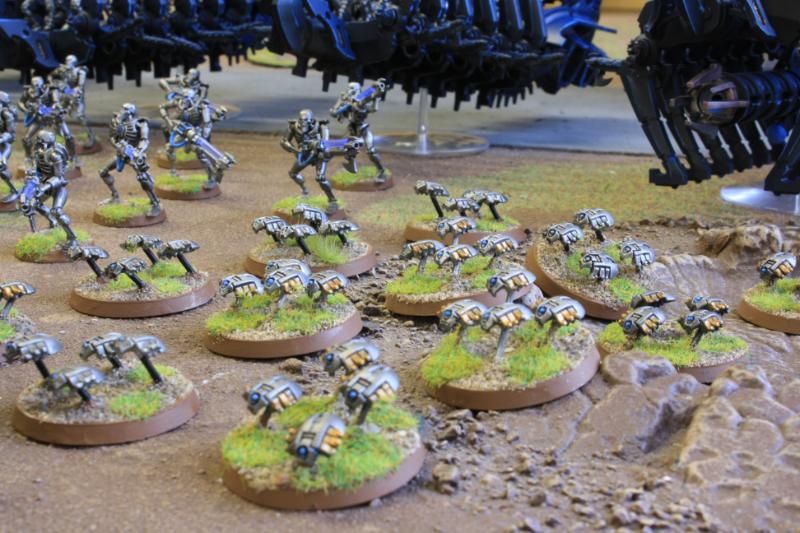 Critical Mass
I've talked about this part before and I'll mention it again – you have to know when is the right time to surge forward with the scarabs and engage the enemy in melee. I've mentioned above that by the third turn you'll have around 24 scarab bases – obviously you're often going to lose a few on the way in due to enemy shooting. I feel that the third turn is when the scarabs reach critical mass… They should be moving forward all the while hugging cover. If you use the Stormlord or run some Pulseteks then you can take advantage of Night Fight to further protect your swarm – a couple turns of Night Fight and your big swarm will be right where you need them. Remember that scarabs get a 3+ cover save. If you're in a pinch you can go to ground for the 2+ cover save. Sure there is plenty of wargear such as searchlights and black sun filters that can negate Night Fight to some degree but it's still a major deterrent and will help keep your swarm up and running at full strength. I use my Canoptek Wraiths to threaten enemy units shooting at my scarabs that can really hurt them. Every enemy shot not targeting the scarabs equates to more little metal beasts tearing through the enemy line.
Like I said above keep moving the Spyders forward and run them every turn to keep up with the scarabs as long as possible. If you have a big horde of scarabs string them out a bit so the tail end is within range of your Spyders. The Spyders can also act as the second wave hitting the enemy after the initial scarab rush. They are very resilient with T6 3W and a 3+ armor save plus they will also tear right through armor since they are monstrous creatures (i.e., 2d6 armor penetration).
Conclusion
I highly rate my Necron melee army as a competitive list. I've played Khorne daemons, Blood Angels, Grey Knights and Tyranids in 5th edition – these are all excellent melee armies and Necrons are right up there with them. The Canoptek units are fast and fearless as well – both of which are big boons. The right combination of all three units can be very powerful indeed.
Finally I would like to mention that registration for the BeakyCon 40k GT is open…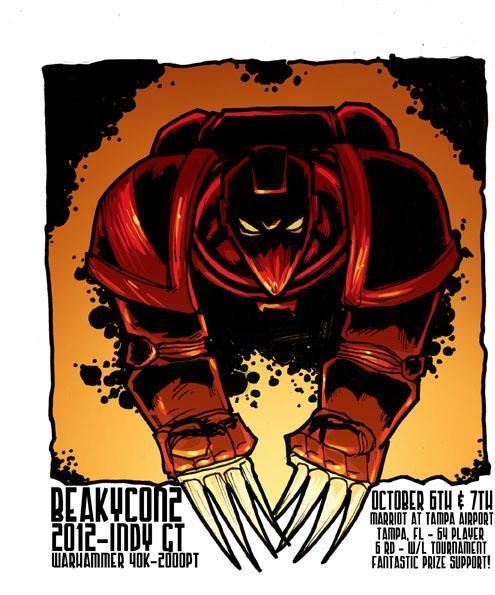 BeakyCon will be held during the weekend of October 6-7 at the Marriott Tampa airport. One of the prizes we will be giving away is a 2000+ point dark eldar army pro painted by Next Level Painting. This includes two Sabol army cases as well as two Forgeworld eldar bombers converted in Voidravens.
Keep an eye out for more announcements on our official blogsite:
We will take the first 64 entries to register. Note that there are no refunds after the end of July. This year we will have more terrain, new dice and new objective markers. This year we will also allow registered players to order Beaky dice in sets of twelve.