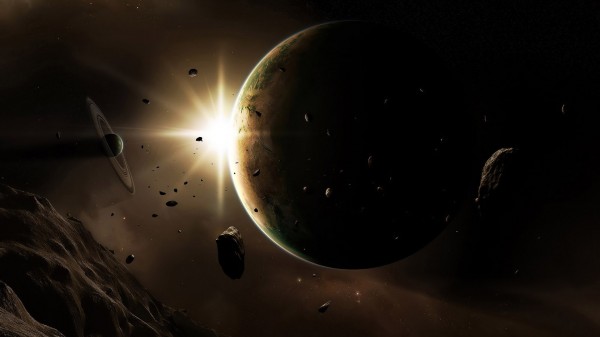 Our voyage through the restless Aether has breached a calm within the storm. Our path ahead is fraught with peril, but with Faeit's Tarot, we shall reveal the taint that dwells within, cast it down, and transcend mortal enlightenment.

Our passage through this weeks rumors were rather benign with the full force of 6th edition looming right before us. Although I expected much more this week, I am sure the floodgates are about to open. Here is a round up of the more credible rumors that came our way this week.
June 23rd
We are simply 6 days from Games Workshops announcement of 6th edition. There is a lot of confusion out there, not just amongst us, but from GW stores and Independents alike. Many stores are declaring they will have a store copy and begin taking pre-orders, while others are claiming that they will only have a preview of the new rulebook, with demonstrations of of some of the biggest changes in 6th edition. I think the following from BramGaunt very much clears up what is going to happen on the 23rd, however, rumors have been wrong before. June 30th is the Release Date.
Quick update, stores will probably not have a copy of the book at the 23rd. Minigames which demonstrate biggest rulechanges will be available, so you can experience them. No drooling over the book, though.
6th Edition Ruleset
Literally the biggest rumor set of the week is from Whitehat and discusses several things that have been high on the concern list, like percentages replacing the FOC, allies, and assault distances. This is a good set of rumors, and while they seem rather legit, we are discussing rumors, so some salt is required.
Cover Saves are 5+ for most terrain, Ruins are 4+

Random Charges are 2D6 pick the highest (unless going through Difficult Terrain where its 3D6 and you drop the highest.) Move through cover I believe adds an extra D6

Vehicles are WS0 if stationary, and WS1 if they move, no matter how far they go.

Vehicles go the same distance in the movement phase (I believe 6″ and fire everything regardless if fast or not) but in the shooting phase can make an extra move (apparently some kept forgetting what vehicles moved to fast to fire…

Vehicles cannot contest (unsure if scoring units in transports can

6 Missions and 3 deployment types (2 of the deployments are the same as current, Spearhead & Pitched Battle.)

Troops are the only ones that can score (including of course 'scoring units')

Allies rules are in, but its meant to be for team games (ie separate force org chart, distrusted ally rules similar to Fantasy)

Percentages are *not* in

Wound Allocation is closest to furthest.

Dueling is similar to challenges in fantasy but contrary to earlier rumors, they don't replace Combat res, just add to sides. A IC can challenge another IC in the same combat even if not in base to base. If the defending IC refuses, he simply cannot attack that turn, if he does he counts as being in b2b and no one else can hurt him apart from the attacking IC. I'm guessing this is to offset the Wound Allocation rules

Black Templars vow, accept any challenge only gives Preferred Enemy in combat

Preferred Enemy: Reroll hits in CC & Shooting AND Rerolls 1 to wound in addition to current rules for Preferred Enemy

Rapid Fire weapons may now can shoot at long range while moving. restriction on assaulting after rapid firing remains.

Jump Infantry get a free strike at I10 when they charge into combat

Psychic Power Decks using a dice system similar to Fantasy.

Flyers are in.

FNP drops to 5+ Save.

The Pancake rule set is mainly wrong, but there is a lot of stuff that made it into the final product.
Expect FW to put out a book of there flyers but with added 6th Ed goodness.
Eldar Flyer, Void Raven and Tau I believe are in the same wave.
Chaos Space Marines
A set from Grant, we have some more Chaos Marine information regarding Typhus, Lucius, and Defilers. The nice thing to see is that these rules give some insight to what our rules will consist of for 6th edition; confirming challenges and hull points. Once again some NaCl is required.
Typhus gives fnp to cultist, and makes them fearless when upgraded to zombies
Lucius the Eternal has a DE Lileth attack bonus, however attack profile is based on the WS of his Opponent only in a Challenge
Defilers have Daemon Forge is an optional to use ability that is only for shooting not CC. It allows to re-roll failed armour pens or to wound roll, but you have to roll a d6, and on a 1, your defilier looses a hull point

Digital Rulebook
Digital (iPad) edition of 6th is rumored to be released in September alongside the starter set. GW on Facebook also had this to say about their digital products.
"Updates will occur should we need to. If you paid for the digital book, these updates will be free."
6th Edition Official Announcement
We had what appears to be the official announcement for 6th edition leaked a little early. You can see it here on Bols by following the link.
6th Edition Announcement
The Horus Heresy
It seems that Forgeworld is about to tackle the Horus Heresy. For fans of the Black Library books ( I mean who isn't), the Horus Heresy would give us the opportunity to fight these battles on the tabletop, and even more importantly, new and inspiring models are sure to come in its wake. Here are a couple of the relevant rumors.
via SunTzu
Horus Heresy book, first in a series, based around Isstvan III. To be announced at Games Day (…though not sure whether that's UK or USA).
via Harry
I can be more specific ….
There are three Heresy books coming …. the first one later this year.
…and yes you are quite right there are some big and exciting things coming with them.
Check it out and join the conversation with the latest News and Rumors at Faeit 212.
Many of the rumors are causing quite the stir. What rumors do you think will help or hurt the hobby and game in 6th Edition?