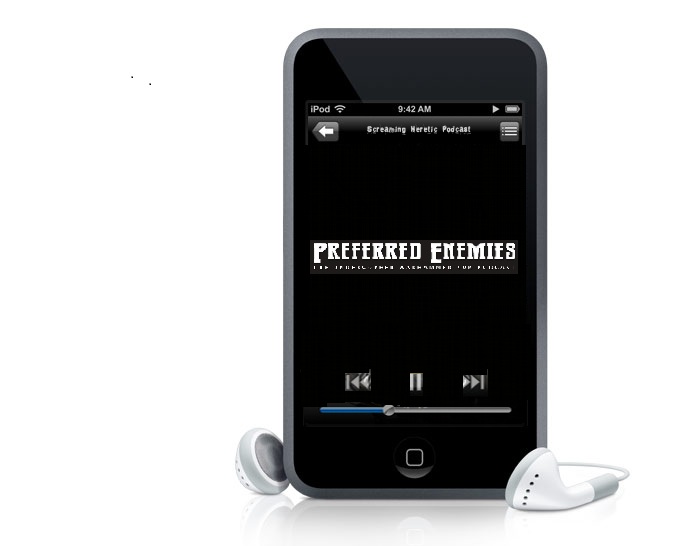 Welcome to another "This Week in 40K Podcasting," Here is this week's top 5!
Highlights: This week the 'Armies for Noobs' series rolls on to cover my favorite army of 40K, the Necrons! Dustin joins the podcast this week, as he is their local Necron expert, and they open up discussing some of the latest news in 40K. This included the digital Space Marine Codex and the coming of 6th Edition. Next, the boys cover Codex Necrons, starting with the background story of the army. They also discuss some of the army wide special rules and some specific army builds of Necron armies and how the work and perform on the table. They then move on to their unit-by-unit review of the Codex and what has been performing best in games played. This included covering the special characters and how they can change the face of the army and how they are played. They closed out the show with this hobby review and what they hope to get done in the next two weeks.
Opinion: This was my favorite podcast this week, if for nothing else that they covered my Necrons! Their series on 'Armies for Noobs' has really been quite good, and the gang does a great job covering each army and how they play on the table, which I think is the most valuable part for the new player. I highly recommend this one to everyone!
Highlights: This week the guys are discussing their hopes and fears of the impending 6thEdition of 40K. They open up the show with 'the Round Up' where they discuss the gaming and hobbying they have been doing in the last few weeks. Then, in 'This Random Time Period in 40K', the guys discuss the latest news of the past three weeks. This included the new flyers, GW going digital, the latest Black Library releases, and the up-to-date rumors from the web. Up next was the second installment of the Eldar versus White Scars Battle Reports, and this time they ramp it up to 1500 points. They discuss the mission, the battle field, their lists and the deployment. Next up was the dramatization of this continuing epic battle, with an interesting cliff hanger ending! They then follow up the battle report with a discussion about what happened in the game and how it turned out. Then they close out the show with the 'Not So Distant Future' segment, where the boys sit down and have an open discussion about all of the 6th Edition rumors that have been flying around. They also talk about what their hopes they have from the rumors and other changes they would like to see to the game. Then they break down their fears from what they are hearing from the rumors, and how they could adversely affect the game.
Opinion: This was an outstanding show overall with a lot of segments I really enjoyed. The Battle Report was outstanding and I am really looking forward to the conclusion of this story. But my favorite segment was their discussion about 6th and what they are hoping to see. The guys have done a great job keeping up with the internet rumors and hit on most of them in their review. Looking forward to their first 6thEdition show!
Highlights: This week the gang opens up the show with 'This Week in Gaming' where they are mid-game in a large team game and talking about their games played this week. Next, in 'Pat's Corner', Pat has an interview with Matt who took best general at this year's Bug Eater GT with Orks! They discuss the missions and his performance at that event. Pat then talked to Adam who placed 2nd at the But Eater GT and they discuss his Grey Knight list. Pat also talked to Reese from Frontline Gaming and he plead his case for the new Ork DakkaJet! Up next, Neil and the gang continue their open discussion on scoring painting at a tournament. This time they discuss the finer points of how to score painting similar to how best general is determined. Next, Pat talks to one of my favorite blogger on the web, Gary from Faeit212, and they discuss his article about the upcoming 6thEdition rumors he publishes on his blog. Pat also talks to Daniel from Game Table Adventures, Mike from the blog Ork Purest, Matt from the Stomping Grounds game store, and Damon from the Games Room game store. To close out the show this week, the gang has an open 'wish list' discussion about what they would want to see in 6th Edition. This included fixing Rapid Fire weapons, locked in combat, fearless wounds, and much, much more!
Opinion: As usual the gang checked in this week with a good show. The interviews this week was easily my favorite as Pat talked to two high placing GT players and one of my favorite bloggers all in the show. It was also interesting to hear the crew's thoughts on 6th Edition and what they want to see fixed in the game.
Highlights: This week Dagmire and Shagga return to the show! They open up with 40K news, including talk of 6th Edition, GW going digital, Black Library & Forgeworld releases and more! They then move on to talk about what they have been doing over the last two weeks, which included games played and hobby completed. Next, in the 'Meatlocker', Steve leads a discussion about 'Fun with Grey Knights', and how the army does not have to be cheesy and spamy to be fun and effective. If someone were to run a list more on the fluff rather than the hard core tournament build. Next, the guys have a review of most recent event they attended, the 'Blood and Treasure' with the Harlow Gaming Group. Each of the cast who attended the event briefly discussed their games and their overall feel for the tournament. To close out the show, they guys play a prerecorded segment that they recorded at the 'Blood and Treasure' event and they give their battle reports for each of their 5 games. They talk about their full lists, the tactics they decided to used, and how each game turned out.
Opinion: I have to say I am not happy with the bi-weekly schedule, I love this show and the guys deserve the break, but darn it I miss their show last week! This is a mark of a great show if you ask me. This week was a great show this week, with a great subject of playing Grey Knight for fun and not beat-face that I think a lot of people should listen to. And their coverage of the 'Blood and Treasure' event was great and quite entertaining!
Highlights: This week the gang opens up the show with their hobby updates, which included some repaired Grey Knight models and Kickstarter projects in the news! Next, Joe had an interview with Chung Chow, and they discuss the work he has done with airbrushes. He offers up some great tips and tricks for working with airbrushes. They then move on to an open discussion about the past Floor-Apocalypse event they recently had and planning for next year's event. They offer up some ideas on what didn't work this year and how they could possible improve the idea. After that, the guys from BitzBox are back and this week discussing their 'Big Daddy' Ork Nobs and how they were built. In the final segment, Jen leads a discussion on 'Girl on Gaming' and what's next on the gaming convention scene. This was basically a conversation about GenCon and all they hope to do there this year!
Opinion: This week's show was pretty interesting, mostly for me was the conversation about the Floor Apocalypse battle. There were a ton of great ideas in here on build for and running a great Apocalypse event and I will take what I learned her and use it in my next event. Great work guys!
Honorable Mentions – All great podcasts that just missed this cut this week, but you should still check them out, in no particular order:
So, that is it for This Week in 40K podcasting, thanks for reading. Got a podcast all about 40K, or mostly 40K that I am not listening to? Let me know about it, [email protected] and let me know about it. Also you can find me on (http://www.youtube.com/user/40kEvilEd209/) (My YouTube Channel) for Battle Reports, Tactics, Reviews and more! Disagree with my review? Post comments for that too!