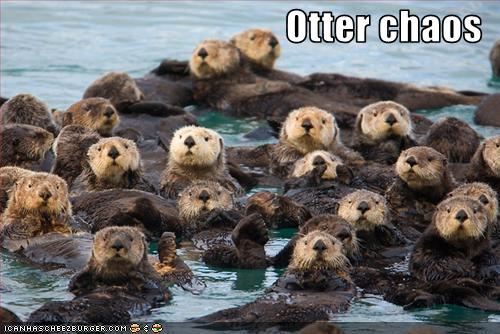 Goatboy here again – and what an exciting weekend eh? Gamesday showing things that will beat the crap out of our budget, Chaos getting unleashed and losing the first new Battle Report of White Dwarf, and the game of Hand Egg taking over many people's Sunday.

Fun times indeed. So with this in mind I have decided to do a bit of a chat about what is making me excited to play Chaos in the upcoming season of Fluff Bunny killing tournaments.
The first thing to say about Chaos is this is the first "6th" edition codex. Yes we could say that Necrons showcased some of these new ideas but I still think they still had 5th in mind when designing that book. These books are done months and months in advance and I am sure 6th wasn't fully gestated when they started to gel with the evil robots of doom. So Chaos is the first baby of the new year of dakka and smacka so let's talk about what I see within the rumors, White Dwarf, and my crystal goat balls.
The biggest thing I see is that this army pushes the idea that this game needs to be bigger. Hordes and hordes of minis cover the battle field with intersections of evil daemonic metallic doom shooting BS3 blasts, bullets, and soul stuff. This book allows you to take blobs of 3+ armor save jerks. This is interesting (as well as cash flow annoying) because as we have seen in some of the initial tournaments/talked about games – hordes of guys seem to be the key. This game has really amped up the amount of shooting you start to see on the table top, so having a lot of wounds to "lose" and not get left with just being a scoring body is important. Right now my initial thoughts on a list for Feast of Blades is a horde CSM army utilizing the cheap Cultists mixed with CSM all over the place. We'll see if the book allows me to do that or not.
The other interesting thing is that the new "vehicles" are designed to put out a ton of damage. Whether you have the large blasts options of the Forgefiend or the assault abilities of the Maulerfiend you are really pushing the damage potential. These models can kill whole units if they hit. This is interesting as large fat butted squads won't really die if they get hit, but those small MSU squads are just going up in a poof of soul smoke.
The other neat thing is a bunch of new tables that give your army a lot of "play" in how they work from game to game. The CSM Warlord table is pretty hot. Every ability is pretty good even with the 1 only working on some armies. In fact I hope we see more of this in other books as a way to "change" up the options you have for your games. As a "competitive" player I really do like these random aspects. It means I can expect my games to be exciting even though I build and design lists to work the same each and every time. The Chaos Boon table is neat too. I like all the random options and plan to have a dry erase board during any of my games with sections for each of my "characters". This way I can always make sure to remember what nonsense happened to what guy. I bet I will have a Chaos Spawn every game too. It is just my luck haha.
The Icon/Mark options are pretty interesting. How much do you want to bet Slaanesh went up in points eh? FNP to a unit is going to be pretty spicy and I am seeing if it is too expensive and if you can give it to Cultists. The rumors talk about the Dark Apostles boosting those icons and marks if they are marked as well so we might have something mean going on with the guys who like nipple clamps and creepy things. It also appears that all the options might be decent.
The army level is looking like it is right where it needs to be. Powerful but still full of ways to make fun and neat armies. In fact it feels like you can do whatever you want and still expect to be effective and fun. Nothing is worse then playing a game that feels like your opponent is doing nothing. I don't like armies that just feel like an autowin with the only "threat" is if you roll too many ones.
The plastic kits look pretty good. They have really gone into a new phase of sculpting that really pushes the ability of their plastic creations. In fact I think these are some of the most "Detailed" kits they have put out in awhile. The last time we saw some of this design work was in the Dark Eldar army set with some of the small details on those Wych models. It is really nice to see them pushing what models can do. Of course my wallet isn't happy with me but hey – I need my plastic crack.
There is a lot of other neat stuff that just gets me excited to play with my true army. I am so excited I am painting up a completely new Chaos army to work with this new book. For those who don't know I currently own 2 Real chaos armies and a crap ton of Counts as stuff.
I am just happy to be back to playing with evil jerks who like to live in a creepy place that might be a blood planet one day and then a bacon ice cream planet the next. Death to the fake Emperor-dude!