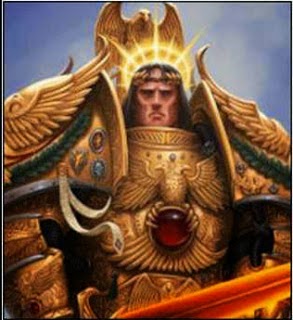 The Emperor of Man has sat atop the golden Throne for ten thousand years.  But what of his days before – and his offspring?
The history of the Emperor, and especially his early history is a vague and changing thing, described in often contradictory references, and has evolved over the years.  But one strand remains almost untouched, with interesting implications in the most current background of the Dark Millennium.

The Emperor's Early Life
The Emperor is described as being a single physical being that is the reincarnated "avatar" of all the psychic shamans of early man – coalesced into single immortal body to give him both immortality and the power to guide his people in the ages ahead against the predations of Chaos.
His self-admitted birthdate is listed as 8000BC in Central Anatolia.  One of his early possessions from that era of prehistory was an ancient ring given to Horus as a token of trust.
For thirty eight thousand years he traveled among Mankind under a myriad of guises, some great, some subtle, some invisible, guiding humanity on the path of survival.  Along the way, he sired many children…
The Emperosr's sons (his daughters, if any are never described) possessed an interesting mix of abilities – their father's immortality, a complete psychic blankness making them invisible not only to the warp but the Emperor himself , and sterility.
Thus the Emperor's sons, the Sensei have passed throughout human history themselves, totally unaware of their relation to the Master of Mankind and he, just as blind to them.  They are ageless and secretive, leaving legends of undying heroes, or eternal wanderers across human myth.  They have no reason to guess at thier heritage, and nothing to explain their gifts.  Only upon meeting one of their own kind are the Sensei able to better understand their ability to safely tap warpspace, use it's powers in combat, and feel the flow of both the ruinous powers and their servents.  In time they eventually commit themselves to the destruction of Chaos.
As one would imagine, the Sensei attract the attention of Inquisition, for reasons unknown to themselves. However, they have had hundreds of lifetimes of experience in the ways of staying unseen and are difficult to locate.
That was the story for years, of late we see strands of the Sensei story incorporated into the Pariah gene, and possibly even the mysterious Perpetuals, such as Oll Persson and John Grammaticus from the Horus Heresy novels – a long-lived or immortal group who is attempting to secretly fight Chaos and protect the Emperor.  Perhaps the mysterious and incredibly long lived Malcador is linked well. One way or another, it would seem that as the story of the Dark Millennium evolves, we will have glimpses of the Sensei with us for years to come.
Sources:
Realm of Chaos Volume 1-2
Horus Rising
Legion
Know No Fear
Codex: Assassins
~Have at it.