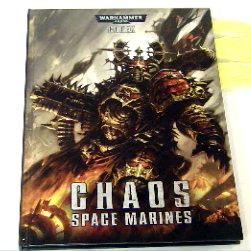 Warmasters, the wait is over. The new Chaos Codex is here!
After almost five years in the warp, Chaos has gotten a reboot, complete with a full royal treatment from Games Workshop.
This codex is the first in the hardcover / full color format, and it looks spectacular.  Warhammer 40k was meant to be in full color, and now the grim dark is a little easier on the eyes!
As far as the models go though, I've never seen so many hobbyist split about the look of new figures before. Miniatures aside, everyone I've talked to seems to have enjoyed the book itself so far.
The Chaos Codex itself is divided up into just a few distinct sections, Fluff, Unit Summary, Wargear/ Unit Costs, and Reference. As you can imagine a good chunk of the fluff section dealt with the defining moment of Chaos, the Horus Heresy (and a nice set up for the new Forge World line).  Also incorporated into the section was some new fluff on the Abyssal Crusades of M37 as well.
Unit wise, this would be the first main book release that consists entirely of currently available models.  One could speculate that GW is leaving companies such as Chapterhouse Studios no leeway for profitting off unreleased models.
While I think in the short term this means less impulse buys to convert whatever units were not released, it leaves the door open to more splash releases. Which of course would mean a complimenting rules release in that month's White Dwarf as well. Both of which seem to fit with Games Workshop's current business plan.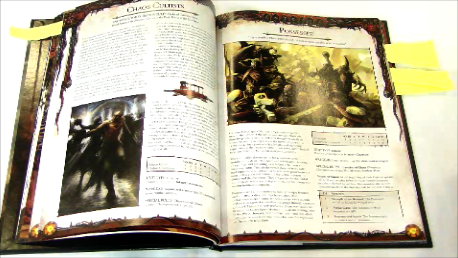 The book was written by none other than Phil Kelly, and like his previous works this rules set seems neither over or underwhelming at first glance.  Kelly's rules style seems to be more middle of the road that other writers, and from what I've studied so far, this book is no different.
If you are expecting some immediate overpowered unit/ mechanic, it is not in this book. Instead units tend to mesh well together, and the things that are left to chance tend to not penalize bad rolls like the last book. Don't get me wrong though, rolling 1's is never a good thing for most random mechanics, especially Daemon Weapons.
Long story short, this book's rules (while not too flashy) gets the job done.
I'm not going to get too much into the new units or possible changes to the meta yet, but rest assured being a nearly 20 year veteran of Chaos I have a ton more to say about this book in the coming weeks.
-Enjoy the new book MBG