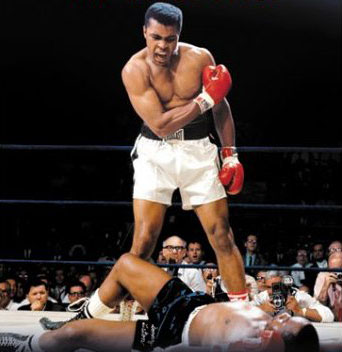 Let's Get Ready to RUMBLE!!! Its time to keep on digging into the details of duking it out in Warhammer 40000.
First off, lets catch up by reading part 1 and part 2 here. Ok, ready? Let's go!
Now that we've reached assault and we've gone over some of the basic considerations, let's look at some more complex issues.
Pile Ins
Once you've made your assault moves, you now wait until your Initiative step to pile in a mere 3". This is important, because you can only attack if you are engaged, and if you're not careful high Initiative models can be left out in the cold, while your low Initiative models get cut down before they strike.
First, you want higher I models near the front. That way they will be able to Pile In their 3" and reach base contact, or reach 2" of a friendly model in base contact. If your high Initiative models are in the rear of your unit, they're less likely to get to hit since your low I models haven't Piled In yet and may either get in the way or minimize how many guys you have in base contact and thus minimize the number of models you have engaged.
You want low Initiative models closer to the rear, so that they will live to get their attacks. Since you remove models closest to the enemy attackers, if a low Initiative model in the frontlines takes a higher Initiative attack, it dies before striking. This, in case you were wondering, is bad.
So in order to maximize your damage done, pay attention to model placement based on Imitative, because Pile In can otherwise screw you over. Keep this in mind when assaulting as well, because you can sometimes deny your opponent attacks if you assault his low I guys and avoid his high Initiative models.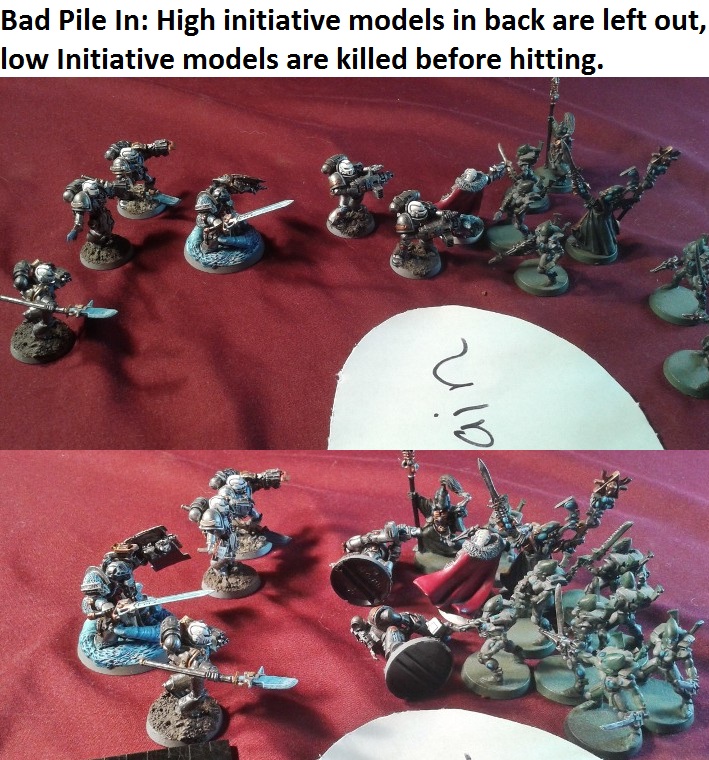 Challenges
6th ed brings Challenges. This can be a loopy mechanic (seriously GamesWorkshop, what were you thinking with Mind Shackle Scarabs and Challenges?), and can regularly screw people over (poor Chaos Champions, you're the new Devestator Sergeant, always the first to die), but it can be pretty fun sometimes so whatever.
Challenges are pretty simple (though in typical GW fashion it takes the rulebook a full page to explain what could be said in a paragraph or two):
Once per turn per assault, the player whose turn it is may issue a Challenge with one of his engaged Characters. If he doesn't the other player may then issue one.
The other player may Accept the challenge with an engaged Character of his choice. Alternatively, he may Refuse the Challenge (except for those poor Chaos Champions). If he Refuses, the player that issued the Challenge may select one engaged enemy Character. That Character may not attack and the unit can't use his Leadership, though the Character may still be killed.
Challenges may only be issued, and accepted/refused, by models that are engaged at the beginning of the Fight sub-phase, which means before any Pile In moves are made.
Once you've got your two Characters in the Challenge, they count as being in base contact with only each other, and "may only strike blows against each other". You don't actually physically move the models outside of your normal Pile In, but those two Characters can only kill each other, and only be killed by each other.
The 'Engaged Character" part is important. If there is not an engaged Character to Challenge, and there is not an engaged Character to Accept, then there is no Challenge. There are also a few tricks you can pull.
Challenges are mostly about sizing up your opponent's Characters. If you're up against, say, Driago, your Librarian will want to run and hide. So you might want to sacrifice your squad Sergeant to both protect your Librarian and prevent Driago from bending over the squad itself. Driago killing your Sergeant alone is a lot better than him killing your Librarian and/or half your squad.
However, since only engaged Characters may get in on the Challenge (which gets played wrong a lot, people seem to miss the 'engaged' part), you can pull some tricks. If you arrange your assault so that your enemy's Character(s) is unengaged before Pile In, they can't Challenge. Even more importantly, if you can arrange the assault such that only one of your enemy's Characters is engaged, then that engaged Character is the only eligible model to accept a Challenge, removing your opponent's normal ability to accept with whomever they so desire.
So when you're prepping an assault, keep in mind where your and your opponent's Characters are. Play your cards right, and you can force your opponent's Character into a bad match-up and swing the assault in your direction.

Draigo looks over his choices…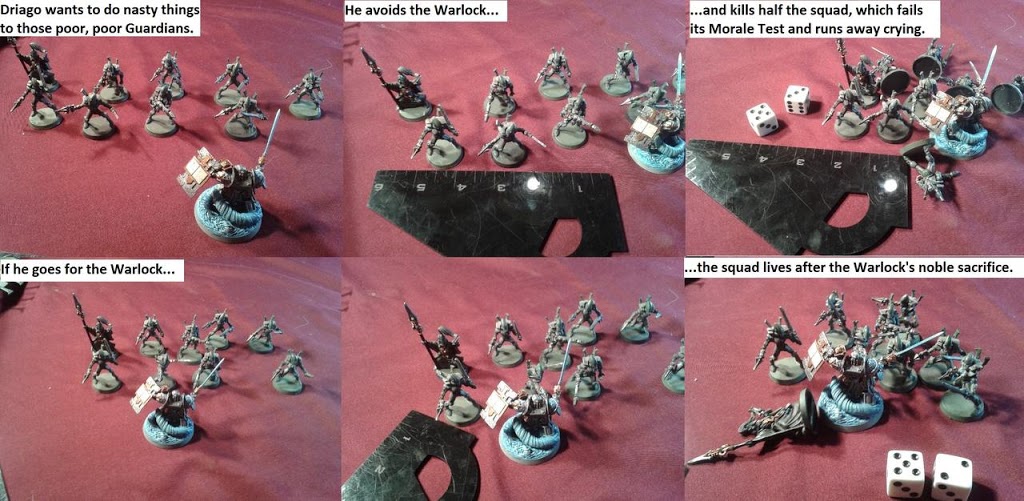 Lets look at the above sitation:
The Grey Knight player may or may not want to Challenge the Warlock. On one hand, the squad isn't as likely to run if only the warlock dies, since Driago only won combat (presumably) by 1. That means Driago is stuck in assault during his opponent's next turn, and safe from Shooting. On the other, he might need to kill that squad right now, say to chase it off an objective in the bottom of the 5th, in which case he wants to avoid a Challenge and kill as many guys as possible to maximize their odds of running. Keep in mind that Driago cannot Sweeping Advance, so if the squad runs it will still be alive, and possibly have enough models to regroup next turn.
The Eldar player, on the other hand, wants the exact opposite to happen. Simply reverse the logic above. As a result, the Eldar player should have placed his Warlock somewhere that would allow him to Challenge Driago, if that option was favorable. Alternatively, if the Eldar player wants to run and regroup, he can spread the Guardians out so much that Driago cannot ever get close enough to issue a challenge.
These are all things to consider when placing Characters that you expect to either assault or be assaulted.
Next time, with Challenges and Pile In covered, we can now go over the basic set up for an assaults in detail.