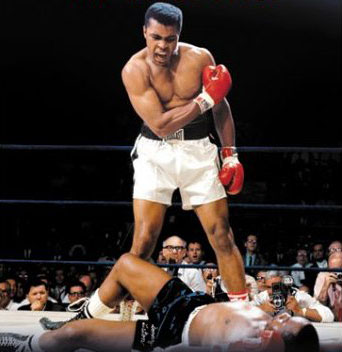 Let's Get Ready to RUMBLE!!! Its time to wrap up out series on duking it out in Warhammer 40000.
First off, lets catch up by reading part 1, part 2 and part 3 here. Ok, ready? Let's go!
How to Set Up an Assault
So we have all these different factors to consider when setting up an assault. We need to determine that we actually want to assault in the first place. We need to avoid terrain. We need to position our high/low Initiative models and our Characters favorably, while trying to mess up our opponent's positioning with their own high/low Initiative models and Characters. I'm going to break this up into a few simple items:
Assaulting Guidelines:
1. You only need one model to reach base contact. You can Pile In later. That one model should be as close as possible. Everyone else needs to back off so they don't spoil the charge.

2. Get your high Initiative models and all your Characters close to the front, though beware of Overwatch.

3. Aim to reach base contact with enemy models in the target unit that minimized your opponent's return attacks, allows you to kill low Initiative models before they get to strike, and restricts his Challenge options in a way favorable to you.

If you get nothing else from this whole article series, remember these three points. A good player can extrapolate from these three things to cover everything else I've talked about here. If you consider these three points, you are good to go, though you might still need a little practice getting everything to go smoothly.
Now, the first point is vital to avoiding terrain, pulling off multi-charges, and setting up point 3. Point 2 merely deals with the order in which you place the models in your squad. Point 3 is, to a certain degree, out of your control, but if your opponent leaves an opening that lets you take out his Power Klaw Nobz before they get to strike then take advantage of it. We've already covered points 2 and 3 above pretty well, though. Now for the implications of point 1.
The number one mistake I see new players make is bunching up their entire squad as close as possible in preparation for an assault. You don't need the whole squad up there, just one model. Bunching up is a good way of being forced to go through terrain, preventing yourself from pulling off a multi-charge, or letting an opponent's entire unit and Characters in on the action.
Select one or two models from your unit (two is probably a good idea, so Overwatch won't kill the closest guy and cost you the charge on a poor roll for RCL). Then, string out your unit behind them as far as needed, and place the bulk of your squad ~10-12" away.
It seems counter intuitive to back away from a unit to pull off an assault, but the result gets you exactly what we've been discussing above. You have one or two guys close enough to ensure you'll get the charge. They move closest to closest. You have two more guys strung out at the maximum 2" coherency, who may or may not make it into assault depending on your RCL roll, but if they do you can still probably fit them all on the initial model. By the time the rest of your squad moves in, they're far enough away that they're not actually in base contact, and your handful of strung-out assaulters are only in base contact with one or two enemy models. If you picked the target models well, then you can 1) control challenges, 2) avoid assaulting through terrain, and 3) minimize enemy attacks back, all while still getting your full attacks once you Pile In.
It's obvious at this point that all of this preparation must be done in the Movement Phase. If you don't move your unit correctly, you won't be able to pull off any of these tricks. Move one guy in the wrong place, and you'll be forced to assault through terrain, which could cost you the entire assault. Place your Character, or high Initiative models, in the wrong spot in the squad, and they might lose their attacks and not get to hit.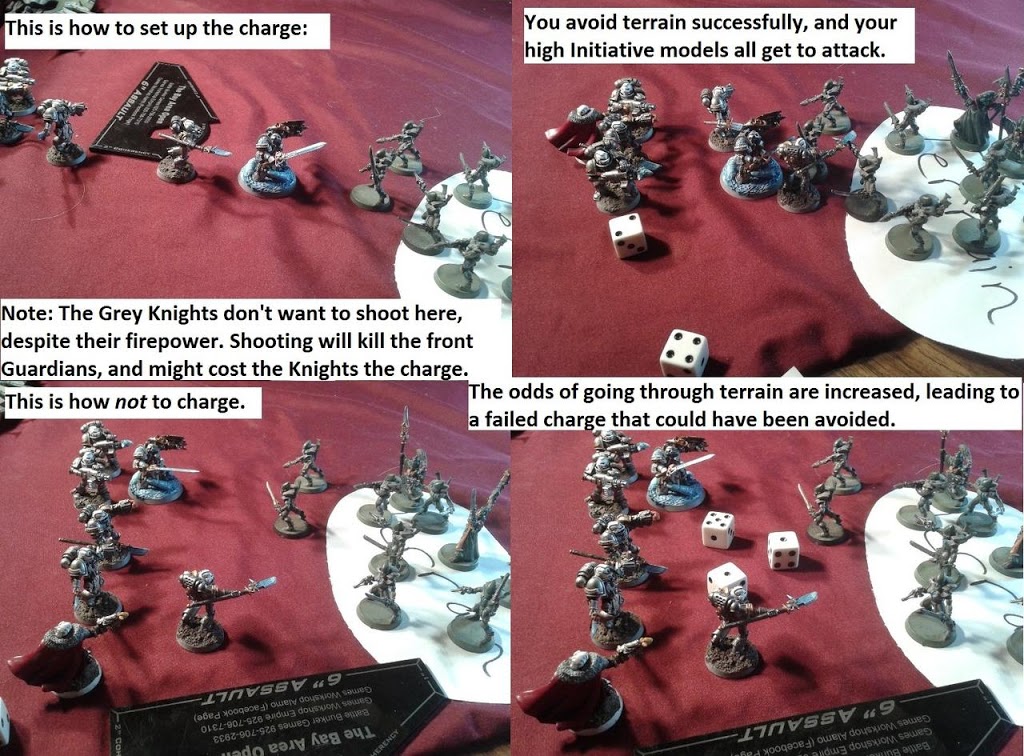 Putting it all together…
You can see from the image, I've put two models as close as I could to the exposed Guardians. This gives me the best odds of a successful charge. The rest of the squad is then strung out as far back as I can get, so that I avoid terrain. They're still close enough that Pile In will get them their attacks, but so long as I don't roll super high for my charge, I don't have to worry about terrain. And if I do roll super high, then I'll have rolled highly enough that I'll make the charge even if I do have to enter terrain, so no problem there.
I call this the basic set up, because this is how most charges should look. One or two models get close to a target model of your choice, while the rest of your unit keeps its distance. Whether you're avoiding terrain, avoiding a challenge, seeking a particular challenge, or whatever, you simply pick the model in the enemy unit that will get you what you want, and orient your setup on that model. If you're multi-charging, set up multiple tendrils like this, and make sure you will have models that cannot reach your Primary target so that you can engage your Secondary targets.
As I noted in the picture above, I frequently don't shoot before a charge. All those Storm Bolter and Psycannon shots may go to waste, but my Grey Knights will kill more in assault, and shooting will probably cost me the assault in these cases.
In Closing
This guide covers pretty much everything you need to know about assaulting in 6th, not counting actual unit statlines, wargear, and special rules. Make sure you know those as well. Don't let yourself get blindsided by Rad/Blind/Psykotroke Grenades, or get sucked into a Challenge with Mind Shackle Scarabs. Seriously, I've never seen a unit with Rad/Psykotroke Grenades lose combat ever, and I play Grey Knights. They're nasty. And the new Chaos Black Mace Daemon Weapon thingie… man, you'd better kill that stupid Chaos Lord before you lose half your squad to failed Toughness tests.
Anyways, I hope this helps some newer players pick up some tricks, or helps reinforce experienced player's knowledge If anyone has any tips or tricks to add, or if I've got an error hidden in here, let me know.

My side rant…
Just a side note, Random Charge Length bugs me. All of this that we just discussed? Random Charge Length removes control over this and places it in the dice. It removes a lot of the tacticality (is that even a word?) from the game by eliminating the effect player skill has on the game. In 5th ed, it was pretty impressive what a skilled player could pull off, regardless of the other issues with that edition. While 6th is an overall improvement on 5th, replacing tactical decision making and player skill with dumb randomness is annoying, even if player skill can still mitigate crappy dice to a certain degree. It's just frustrating to play everything right, and get screwed because the odds of failure on 2d6 are annoyingly high. It's one thing to get a laugh because you failed 5/6 of your 2+ armor saves. It's another to always have a ~60% chance of failing a charge at 6″.
Thanks for reading guys, and may your assaults always roll 6s!