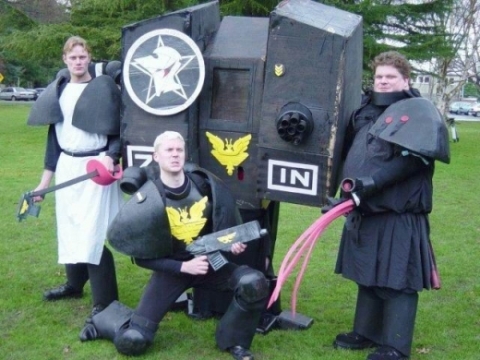 Goatboy here again and today I want to go over something a bit different from the normal CSM discussion you have seen me look at. – LOOK UP!!!
The biggest thing I have seen lately is a lack of "excitement" from some players. This seems to stem from a feeling of not having an army that fits their play style. Or their army getting kicked in the junk and left to rot until some future update. Either way it seems to be an issue with some of my local sparring buddies and I want to try and fix it with some list thoughts and ideas.
Now to start – this list is designed to be competitive. I am not looking at the fluff aspects of the list as the target player for this isn't that interested in that. He likes to play with sharpened teeth and so I have to think of things in that mindset. He also is very specific in wanting to play a marine list as his older army (Templars) is marine based and he wants to continue in that direction. I have lately been moving towards lists with a Swiss army knife feel as they just are a lot more fun to play with and against – but we have to start with a base before we get to the neat option feel. He also wants to play robots and drop pods so I have to get them shoved into that shell.
Space Marines / Space Wolves – Hybrid Drop Pod list – 2000pts
HQ: Master of the Forge, Power Axe
HQ: Rune Priest, JaWs, Living Lightning
Elites: Stern Guard X 10, Combi-Plasma X 5, Drop Pod
Elites: Ironclad Dreadnought, Heavy Flamer, Drop Pod
Elites: Ironclad Dreadnought, Heavy Flamer, Drop Pod
Troops: Tactical Squad X 10, Flamer, ML, Drop Pod
Troops: Tactical Squad X 10, Flamer, ML, Drop Pod
Troops: Grey Hunters X 9, Meltagun, Wolf Standard, Drop Pod
Troops: Grey Hunters X 10, Meltagun X 2, Wolf Standard, Drop Pod
Heavy: Dreadnought, Heavy Flamer, Drop Pod
Heavy: Dreadnought, Heavy Flamer, Drop Pod
(Fixed – Sven the Tiny gets kicked out of one pod for the Rune Priest- Otto the Magnificent)
So there it is in a basic and clean form. There are a lot of avenues you can do to make it different if you want – but you get the robots and you get Drop Pods who are all designed to make things unfortunate for your opponent.
The Wolves are used as the peanut butter to your jelly. You get some much need anti psychic support as well as the option to create some fun avenues of magic mind bullets. Plus Grey Hunters are great at just about anything they want to do. Mix that with a lower Leadership and you might have annoying games where you run away from your opponent and get some free movement in the bargain as they rally and cause some issues elsewhere.
I tried to go with as basic as you can for all the parts of the army as it is always best to start simple and then add in the tricks later. I am unsure of the Ironclads – Armor 13 is pretty annoying for most lists right now but a player can look for the dread-butt and just unload plasma/autocannon/etc with the ability to move and fire with snapfire. The limiting of Melta in a lot of lists will also help too.
This list is pretty basic and a nice starting idea to build off of. I think there is some merit to a Full Sternguard/Pedro style army as well. I know you might seem weak to flyers but remember drop close to their edge and try to make coming on the board and shooting you extremely difficult. As the flyer has to go 18 inches minimum mixed with a 45 degree cone of shooting and you have a decent way to limit their ability to hurt you. Of course they could just fly across and claim objectives on your board edge as well.
I wanted to try and fit in a WG squad but the player wanted Dreadnoughts and thus I had to kick those jerks out. The Rune Priest joins the Stern Guard The smaller Space Puppy Unit and the Master of the Forge joins a the Stern Guard. You could look at swapping the SW for Blood Angels for more Dread fun with some Death Company and Blood Talon dreads as well. You could also just go straight marines if you wanted as a Null Zone librarian with the Stern Guard should do wonders to remove models. There are a lot of avenues you can go with Drop Pod Marines and Friends.

So the question is… Is this a decent track to start on? Have you had good luck with Drop Pods? Has it become a safer place for metal death to come screaming out of the sky?