The Warpborn Skinwalkers are Circle Orboros's version of a tanking unit, meant to get upfield  and delay the opponent's advance while the rest of the Circle player's army gains an advantageous foothold on the battlefield.

They accomplish this task through their survivability and mobility.  At ARM 16 with Unyielding (+2 ARM while engaging an enemy model in melee) and eight wounds a-piece, Skinwalkers can be difficult to dislodge once they've wedged themselves into an enemy formation, as infantry can often have trouble charging once engaged and warjacks/warbeasts typically don't have the reach to be able to threaten an significant portion of a unit of Skinwalkers, particularly if they are spread apart.  Fearless is also a good benefit, allowing them to challenge enemy forces regardless of their nature.  This segues nicely into their Terror ability, which has the potential to remove threatening models without the Fearless rule from the game for a turn or two.
In order to get them into a good position, Skinwalkers have a few helpful abilities.  Pathfinder is always a boon for delivering units to the front lines as it makes terrain less of an inherent issue while also reducing the effectiveness of spells like Inhospitable Ground.  The Relentless Advance rule is nice as well, granting them a +2 SPD bonus when they took damage from an enemy attack, making them effectively SPD 7, able to run and engage enemy models from a total distance of 16″ (Run 14″, 2″ Reach).  Since the Skinwalkers will often be leading your forces, they'll most likely be taking bits of damage here and there as your opponent attempts to pick them off as they advance, making Relentless Advance an oft-triggered ability.
For damage output, they're not the most skilled of options with their MAT 6, P+S 13 attacks.  Combined Melee Attack certainly helps, but with only three-to-five models in the unit, you won't likely get a great return on it.
Since Skinwalkers are primarily tasked with tanking or "tarpitting", any spell or ability that will make them better at that job will be a big benefit to them, particularly ARM buffs like Morvahna's Restoration or Kromac's Inviolable Resolve.  It also helps to look for abilities that allow them to get their destination as well, like Kaya1's Occultation, Cassius or Grayle's feats, or Mohsar's Pillar of Salt.  Getting Tough and Undead from the Gatorman Witch Doctor can certainly help to keep them around longer as well.
Finally, I've become fond of having my Skinwalkers positioned just ahead of a unit of Shifting Stones, particularly as they will most likely begin to take ranged damage, as their Healing Field can help replenish lost wounds on the approach.

Warpborn Alpha:
Last month also saw the release of the Warpborn Alpha, a Unit Attachment for the Skinwalkers that makes them even better at their role.  The Warpborn Alpha provides two things to the unit: Tactics: Rapid Strike and Granted: Blood Drinker.  The former allows the unit to make an additional melee attack during their combat action while latter allows models in the unit to immediately end their activation when they destroy one or more living molds to heal d3 damage.  While Rapid Strike may not sound like it will make them more survivable, two chances at killing an enemy model to trigger Blood Drinker sounds better than just one.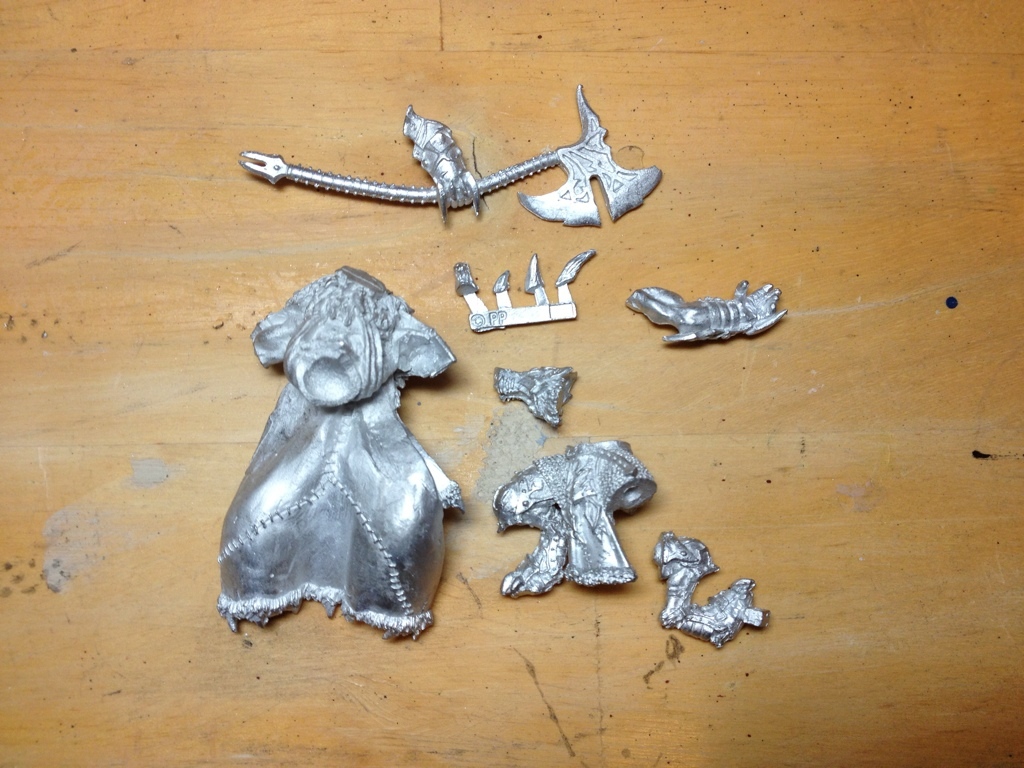 Warpborn Alpha unboxed
Rapid Strike also does something else rather interesting, which is to allow the unit to "waterfall" their attacks to increase both accuracy and damage output by mixing it with Combined Melee Attack.  A good example would be to combine Model A and Model B on one target and kill it, causing Model A to trigger Blood Drinker.  Then Model B and C combine on another target, killing it and triggering Blood Drinker on Model B.  Model C then combines with D, etc.  It may sound like something of a Rube Goldberg Machine, but in practice it becomes easy to manage after a few runs.

Warpborn Alpha built, required several pins and some epoxy putty
The Alpha itself also comes with a higher MAT value and Retaliatory Strike, letting it make a melee attack against an enemy model that hit it first (provided it survives the first strike).  Ideally, you'll want to avoid letting the Alpha take damage over the unit's Grunts, but with its already high survivability, chances are often good that you'll be able to get Retaliatory Strike off.
The List:
For list application, I really like running Skinwalkers with Morvahna.  Her Regrowth spell already makes her a formidable attrition-style warlock, but with a strong, front-line unit that can take it on the chin, she gets even better.  My plan is to run the following list:
Morvahna the Autumnblade (*6pts)
* Wold Guardian (9pts)
* Wold Guardian (9pts)
Celestal Fulcrum (9pts)
Shifting Stones (2pts)
* Stone keeper (1pts)
Shifting Stones (2pts)
Tharn Bloodtrackers (Leader and 9 Grunts) (8pts)
* Nuala the Huntress (2pts)
Warpborn Skinwalkers (Leader and 4 Grunts) (8pts)
* Warpborn Alpha (3pts)
Gatorman Witch Doctor (3pts)
With Regrowth from Morvahna and Zombify from the Witch Doctor (always applied after Regrowth to get around its "living model" requirements), the Bloodtrackers are the gift that keeps on giving, giving them Tough and making them immune to Terror as well.  With their high DEF, Stealth, Reform, and ability to clear out a lane, they fit with Morvahna like peas and carrots.  The Skinwalkers get Restoration and run screaming at the enemy with a unit of Shifting Stones in-tow, sometimes gettings Zombify from the Witch Doctor if appropriate.  The Wold Guardians are present to keep Morvahna safe from ranged and magic attacks and teleport in to take on heavier enemy threats.  The Fulcrum is there to provide ranged support where necessary, perhaps softening up a heavy target for a Wold Guardian or clearing out a lane with its Spray and AOE 4 attacks.
The Battle Report:

Final Thoughts:

Before the introduction of the Warpborn Alpha, I was never terribly excited about the base Skinwalker unit.  They certainly had the stats to take it on the chin from all but the hardest hitting offenders, but lacked the ability to do much else.  However, with a second attack in addition to the ability to gain back their health, I'm pretty fond of them.  In the above game, they weren't going to survive taking swings from Enraged Skorne Titans regardless of their ARM values, but with their dramatically increased melee presence, they were integral in removing one of Draxos's Bronzebacks and did a great job of gumming up the works mid-field.
Look for more battle reports and unit reviews from Bell of Lost Souls soon!