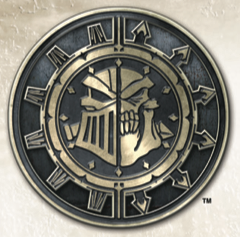 The new version of Steamroller, Privateer Press's organized tournament rules for Warmachine and Hordes, has been released. What is it? Why should I care? More below the break!
Every year, Privateer Press releases new rules for officially sanctioned tournaments in a document that they refer to as "Steamroller". It has undergone numerous changes over the past decade that Warmachine and Hordes have been around, allowing it to constantly evolve in such a way to not only make it a tighter and cleaner document, but to make slight adjustments to the metagame in order to keep things fresh and interesting. Each new edition of Steamroller is put through the ringer by the Press Gang, running "beta"-style tournaments starting in late November and running up until the new year, so volunteers and regular tournament players will get a chance to try the new format out and weigh in before it goes to publication.
This year's changes promise to make the format more exciting with several large alterations, the most notable being:
The number of available scenarios has been reduced from 18 to 12
Kill Box Artifice Measurements are more restrictive while more forgiving
The Dominate mechanic has been added to allow zones, flags, and objectives to be controlled by warcaster/warlocks for a scoring bonus
All scenarios require five points to win
Flank Deployment and the Reinforcement Artifice have been removed from standard scenario rules and are now available as variant rules with suggested scenarios
Radial Deployment has been removed
The Specialists Variant rules have been added, granting players a sort-of "sideboard" for their lists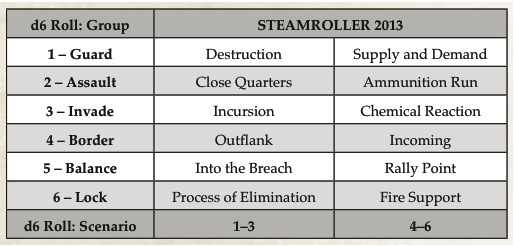 Steamroller 2013 Scenarios
Scenarios Reduced in Volume
Under Steamroller 2012, there 18 potential scenarios that you might see in a tournament. Under the new version of the rules, this has been reduced to 12. While some of them will ultimately be familiar to the old guard (Incursion, Outflank), many of them are brand new or are interesting reinterpretations of older scenarios. Along with this, the rules for Objectives, 50-mm bases that can only be controlled by warcasters/warlocks that grant bonuses to those nearby, have been slightly reworked as well to be less arcane and easier to use. Artillery Emplacement, for example, is an ARM 20, 15-wound objective that grants boosted damage to Light Artillery models if it is being dominated.
Kill Box Artifice
The Kill Box Artifice has seen some large adjustments. For the uninitiated, the rules for the Kill Box Artifice read:
Starting on the first player's second turn, if a player ends his own turn with a friendly warcaster/ warlock completely within 14 ̋ of any board edge, his opponent immediately scores 2 control points. A player can measure 14 ̋ from any board edge during his warcaster/ warlock's activation.
In SR2012, Kill Box required that warcasters and warlock stay further than 10″ from the board's edge, albeit with the more draconian penalty of the game ending immediately if this rule was broken. While the Kill Box Artifice isn't used in every scenario, it is used in half of the available twelve, so it will come into play pretty often. Kill Box can also be used as Variant rule, where-in it is applied to all scenarios, not just those that would normally use it.
Dominate
In previous iterations of the Steamroller format, there were only two ways you could interact with an objective, flag, or zone: Contest or Control. Contesting merely meant that you had a model in a zone or nearby a flag or objective such that it could not be controlled by the opposing player. Controlling meant that you had a model in base contact with a flag or objective or in a zone without your opponent contesting it. Dominate, the new mechanic introduced in SR2013, is effectively Controlling a zone, flag, or objective with a warcaster or warlock. Due to the assassination mechanics of Warmachine and Hordes, Dominating can often be a risky proposition, but with it comes bigger rewards. Where controlling a zone might usually grant one or two points to a player, dominating a zone will reward players with an extra point that they might not have received otherwise.
While this obviously gives warcasters or warlocks that are difficult to kill an advantage, they have also removed the ability of warcasters and warlocks to contest zones, flags, or objectives, meaning that Lich Lord Terminus can't merely walk into a zone and camp his focus until the game ends.
Five Points to Win
While the Dominate rule grants players a new way to score points, the overall point requirement to win a scenario has gone up to compensate. In SR2012 and most previous iterations, the number of points required to win a game varied from scenario-to-scenario. Now it's a simple five-points-to-win across the board. While a minor point, it is just another example of the rule set being streamlined across the board so that players don't get surprised when a scenario had a different scoring ceiling than they may have thought.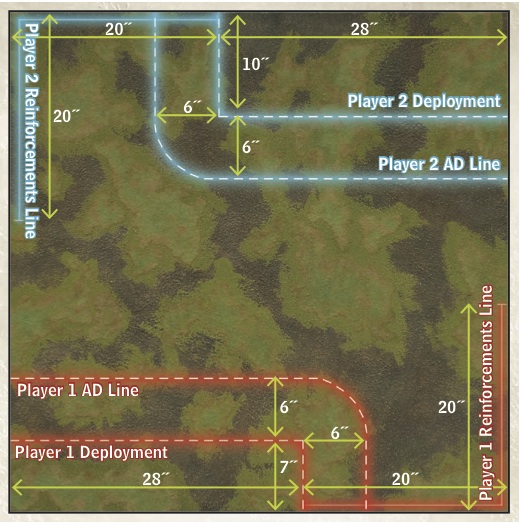 Flank Deployment
Flank Deployment, Reinforcements
Steamroller 2012 debuted the Flank Deployment and Reinforcement rules. Flank Deployment required that players deployed their army in the left corner of their board edge. Reinforcements were extra points that players use to purchase additional models that could come in from their right side of the board up to 20″ up starting on their second turn, giving them a restricted form of the Ambush rule. Four scenarios in SR2012 used these rules as standard. In the new version of the document, these scenarios have been removed and replaced with the option to apply the Flank Deployment and Reinforcement rules to any scenario (albeit with suggestions) so that players don't need to account for Reinforcements unless they would be used in all games. This allows Tournament Operators to use these optional variant rules for the entire tournament instead of just one or maybe two games for a single tournament.
Having seen several tournaments run exclusively with the four scenarios using these rules in SR2012, I think this option makes sense and makes for less confusion and work for normal tournament goers.
Radial Deployment Removed
The rules for Radial Deployment, which had players deploy their models within 17-20″ from the corner of their right board edge, are gone. We've had them for several years now. While I didn't particularly dislike Radial Deployment, I can say that, as a tournament operator of many years, having to reposition terrain for Radial Deployment mid-tournament was a hassle that I won't soon miss. Thus far, this change has been met with overwhelming enthusiasm towards the positive.
Specialists
The last big change comes in the form of Specialists, variant rules that give players an effective "sideboard" for their army lists. In 35- and 50-point tournaments, this will give players 10 points of models that they can substitute into their army list. This has huge ramifications for list building theory and is, unsurprisingly, the most hotly-contested issue where Steamroller 2013 is concerned, particularly where the concept of balanced list construction is concerned.
Personally, while I'm not entirely fond of using the Specialist rules with any regularity, I do see potential enjoyment in using it with a single-list format or perhaps a two-list, 35-point format.
Overall, Steamroller 2013 promises to shake things up nicely for the new year. What are your thoughts? Sound off!