The good Lord General has been released for a few weeks now, and I finally had the opportunity to put his metal to the test. Does he stand up to today's competitive scene?

When the stats for Lord General Coleman Stryker were spoiled at TempleCon way back in February, I was fairly excited for Cygnar's new addition to its circle of warcasters. On the surface, he appears to sacrifice his previous incarnation's selfish burst proclivity to share his hitting power a bit more with his army, making him an intriguing choice. His synergy with Storm Lances is obvious between his Elite Cadre granting them Reform with Rage and Lightning Charge for incredible melee damage and accuracy scaling, also exciting me a bit, as I have made a habit of finding lists that make our heavy cavalry unit do work.
Here's the list that I've tested out with Lord General Stryker:
Lord General Coleman Stryker (*5pts)
* Ol' Rowdy (9pts)
* Stormclad (10pts)
* Squire (2pts)
Black 13th Gun Mage Strike Team (4pts)
Silver Line Stormguard (Leader and 9 Grunts) (9pts)
Storm Lances (Leader and 4 Grunts) (11pts)
Captain Arlan Strangewayes (2pts)
Journeyman Warcaster (3pts)
Stormblade Captain (2pts)
Stormblade Captain (2pts)
Stormsmith Stormcaller (1pts)
When building this list, I struggled quite a bit on deciding on my second melee unit. My first instinct, which wasn't unlike conventional wisdom, drove me towards Nyss Hunters with Murdoch. However, Stryker 3 doesn't do very much to elevate the ranged facet of the Nyss Hunters' kit, and for 12 points, that felt like a lousy investment. My next choice was Forge Guard until I looked a little harder at Stryker's spell list, realizing that Weapon Master infantry were not a necessity with the availability of Rage, which had the ability to make Stormguard into P+S 15 machines of destruction.
For warjacks, my initial thought was to run a Stormwall, but the more I ruminated on it, the more I felt that Rowdy's presence was necessary for his cheap burliness and Guard Dog Affinity, also pairing nicely with Escort's ARM-buffing trigger. So, I ran a Stormclad as well since it's a solid workhorse for 10 points and generally interacts well on-paper with Stryker's new kit. The Black 13th are present for spot removal, the Stormblade Captains provide Relentless Charge to the Lances and Stormguard while also lending quite a bit of hitting power themselves, Strangeways is in the list for Repair, and the rest should speak for itself.
My first game was against a Butcher Unleashed list running a pair of full Black Dragon Iron Fang units, Widowmakers, a Devastator, and a variety of supporting solos. Right away I became aware of the Butcher's absurd threat range in melee, climbing up to an incomprehensibly-long 22″ when stacked with a variety of effects like Vengeance, Intrigue, Energizer and Impending Doom. With his Black Dragons under Iron Zeal and Shield Wall while threatening scenario domination on my second turn, I had to make the difficult decision to either commit my forces or give up as many as three scenario points, so commit I did. With the Black Dragons at effective ARM 22 and a lot of bodies to contend with, I needed the auto-hitting impact/charge benefit of Lightning Charge, so I used it, drove my Storm Lances in, and braced for the response. The Lances, under Lightning Charge and Fury, managed to wipe out a full unit of Widowmakers and seven of the Black Dragons, which is a healthy toll to reap. Unfortunately, they just didn't have the defensive stats to survive the response from Harlan Versh and the remaining Black Dragons, and were quickly wiped out.
The actions of the turn required that I dispatch one of the Butcher's Arguses, which allowed him to proc Vengeance as well Intrigue. This gave the Butcher just about enough of the movement and placement necessary to deliver him to Stryker who was already giving the Butcher quite the wide berth. Smart placement of Ol' Rowdy allowed me to bar the Butcher's path thankfully via Counter Charge. With his remaining focus after using Energizer, the Butcher cast Impending Doom to drag in my Stormclad as well, thrashing both quite a bit with Flashing Blade, crippling the sword arm on the Stormclad but leaving Rowdy at full efficiency thanks to Arcane Shield. He then popped his feat and sat on his full focus load to brunt my response.
I gave the Stormclad three focus while Rowdy received one. My plan was to use Strangeways to repair the sword arm on the Stormclad, put Fury on the Stormclad from Stryker, use Rowdy to knock down the DEF 16 (with Guard Dog)/ARM 24 Butcher with a boosted Tremor, then put everything I could into killing him, specifically my P+S 22 Stormclad loaded with focus. Unfortunately, Strangeways failed his Repair check and the turn devolved into ineffectually pillow slapping the Butcher until I scooped when there was simply nothing that I was going to be able to do.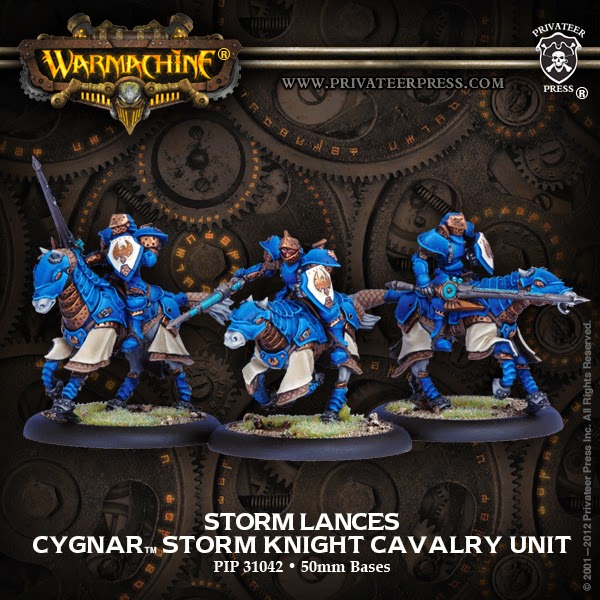 What I learned from this game was that you need strong follow-up elements for your Storm Lances after they commit since they don't have the staying power to survive a response, even with Arcane Shield, which, after playing a game, should absolutely be put on the Lances post-feat, a task made decidedly easier thanks to Reform. Sure, with Lightning Charge the Lances have the capacity to do incredible damage, but careful placement of models by the opponent can act to severely limit their impact. I felt like my two heavies acted as solid follow-ups, but when the enemy warcaster can wade into them from nearly half a table length while shrugging off most retaliation, there's not much to be done about it.
I could simply chalk this up to a bad match-up, bad dice, or that maybe I should have dumped a Stormblade Captain and a Stormsmith for either iteration of Eiryss for focus stripping, but I'm not convinced that is or should be the case since I have two hard-hitting heavy warjacks with access to either Iron Aggression or Fury. Regardless, the nature of his army and the strength of its ability to sustain a battle of attrition meant that most any trades I made would be unfavorable, save for the Black 13th easily removing a flanking Fenris. Sure, the Storm Lances destroyed about eleven points of models, which is equal to their cost, but it required the use of Stryker's feat to execute, which makes it less than a thrilling transaction to me. I will be replacing Strangeways with a minimum unit of Field Mechaniks, as they give me multiple attempts at fixing a wounded warjack instead of relying on a single roll. I'll also likely be dropping the Stormsmith and a Stormblade Captain for Eiryss, Mage Hunter of Ios for focus stripping and additional spot removal to support the Black 13th. I'm pondering replacing the Silverline Stormguard, but am unsure as to what to replace them with. I'll aim to get another game in with the adjusted list and report back on it in a future article.
For a look at the components of our new, mounted lord general, check out Ben's unboxing article from May.
I'll continue to explore Lord General Stryker a bit more. I'm a little concerned about the state of the metagame being so focused on attrition and making healthy trades, so I will think hard on how to adjust my list to fit it.