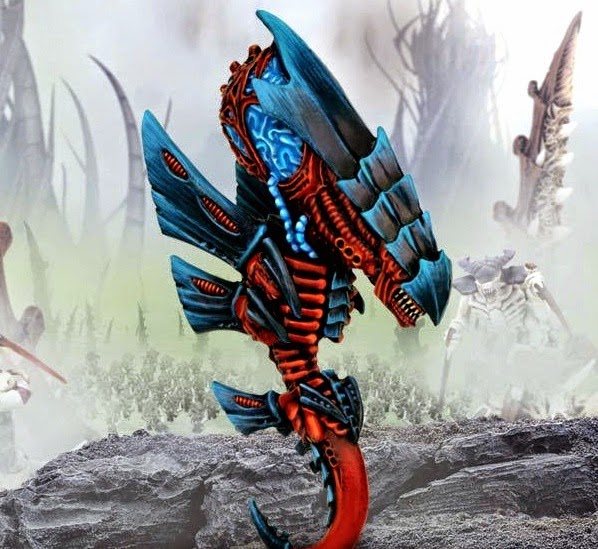 The first real info on the upcoming Tyranid vs Imperial campaign has appeared! GET IN HERE!

So what exactly is Shield of Baal?
2 volume hardcover narrative campaign set.

Covers the invasion of the Sheildworlds of Baal by Hivefleet Leviathan

The initial set is only the first volume detailing the invasion.

It involves Tyranids vs Astra Militarum, Tempestus Strikeforces, Adepta Sororitas.

Volume 1 is 152pp, narrative campaign book (no rules) detailing this phase of the invasion.

Volume 2 is 64pp of rules including:

– 6 narrative scenarios

– Cities of Death campaign expansion

– Fighter Aces rules for games of 40k ~OHH NEAT!

– New Tyranid detachments, units, formations, and more.
So folks have ben asking for the End Times to come to Warhammer 40,00 and here it is – in format at least. I kind of see this as the evolution of those Apocalypse campaign books. Basically GW is taking the old types of content we loved to see in the "Golden Age of White Dwarf" like new units, campaign ideas, narratives, and rolling them all up into these 2-volume sets.
Just like the End Times books, this set has something irresistable for everyone. From narratives for fluff-bunnies, to new units and formations for the tourney crowd. Most importantly, these campaign books also become the depositories for groups of new "out of codex" units – allowing GW to free itself from the limitations of only releasing new units alongside their corresponding army codex.
If I were a betting man I would look for this type of thing to become the norm with 2-3 released each year (for both WFB and 40K), sprinkled between the traditional codex releases.
With no Blood Angels in sight, it's a good bet this campaign will have at least one more set, and let's not forget the Blood Angels codex itself floating out there somewhere in the near future.
~So what's your take on the concept? And are you planning on picking this up?