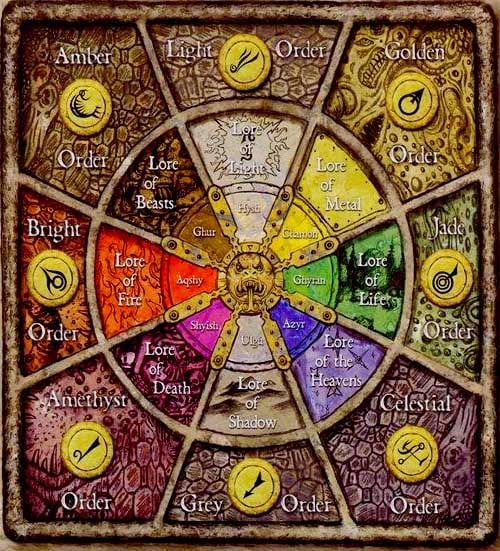 Eight Mortal Champions are destined to fight the Chaos Powers as demi-gods – Today the list is revealed.
Where we left off…
In the aftermath of End Times Khaine, we at last can see the great plan and final battle starting to take shape.
The great Chaos Vortex over Ulthuan has been splintered, and it's 8 winds scattered.  Teclis admitted that his great plan was started by Nagash who himself took the wind of Death and poured it into himself, making him effectively an immortal demi-god. The great plan of Teclis was to take the 7 other winds and put them into 7 mortal vessels, creating 8 champions of the mortal world who can stand on an equal footing and throw back the Ruinous Powers once and for all.
The Fate of the Winds
Here is how things have gone down up to End Times: Khaine:
Lore of Fire (Aqshy) – Escaped the great Vortex and "flew into the clouds" out of Teclis' grasp.
Lore of Beasts (Ghur) – Escaped the great Vortex and "flew eastward" out of Teclis' grasp.
Lore of Metal (Chamon) – Escaped the great Vortex and "flew into the clouds" out of Teclis' grasp.
Lore of Light (Hysh) – The last wind to escape the Great Vortex as it collapsed, and drawn into Teclis staff.  Teclis was last seen holding his dead brother as the waves swept over them both claiming Ulthuan forever.  No one thinks Teclis is really dead…
Lore of Life (Ghyran) – Alarielle Incarnate of Life, wind harnessed and bound to her by Teclis.
Lore of Heavens (Azyr) – Escaped the great Vortex and "grounded itself somewhere in the Empire of Man" out of Teclis' grasp. Teclis sensed a "familiar yet alien" presence at work in the wind and was "filled with wonder".  This wind is assumed to be grounded in the resurrected Karl Franz Exalted.
Lore of Shadow (Ulgu) – Malekith the Eternity King, wind harnessed and bound to him by Teclis
Lore of Death (Shyish) – The first wind to be claimed by Nagash, bound to himself.
So here's the big question:
Who Are the Remaining Incarnates?
It's not so simple. Captain Citadel has been Talking End Times: Archaon and brings us this list of the Incarnates facing down Chaos:
+++SERIOUS SPOILERS+++
+++You've Been Warned!+++
The ones we know:
Malekith – Incarnate of Shadow
Alarielle – Incarnate of Life
Karl Franz – Incarnate of Heavens
Nagash – Incarnate of Death
And the new ones:
Grimgor – Incarnate of Beasts
Balthasar Gelt – Incarnate of Metal
Caradryan – Incarnate of Fire
and last but NOT least
Tyrion – Incarnate of Light
Which raises even more questions, as End Times: Thanquol has a different Incarnate appearing for Fire. Perhaps an Incarnate can be killed and the winds moves (or can be directed) to another. To me, Tyrion isn't the shocker (I can just see Teclis ahem-elbowing Nagash to get him to raise his brother) so much as Teclis NOT being an Incarnate. He had a wind in his staff. Teclis' original plan in End Times:Khaine was to make all the Incarnates Elves, and Captain Citadel's list has 4 of them as Elves. Maybe Teclis is playing kingmaker and giving them out and moving them around in some grand design.
~So who do you think is going to survive the FINAL BATTLE?