Unboxing: Dreamforge Keilerkopf APC (On SALE!)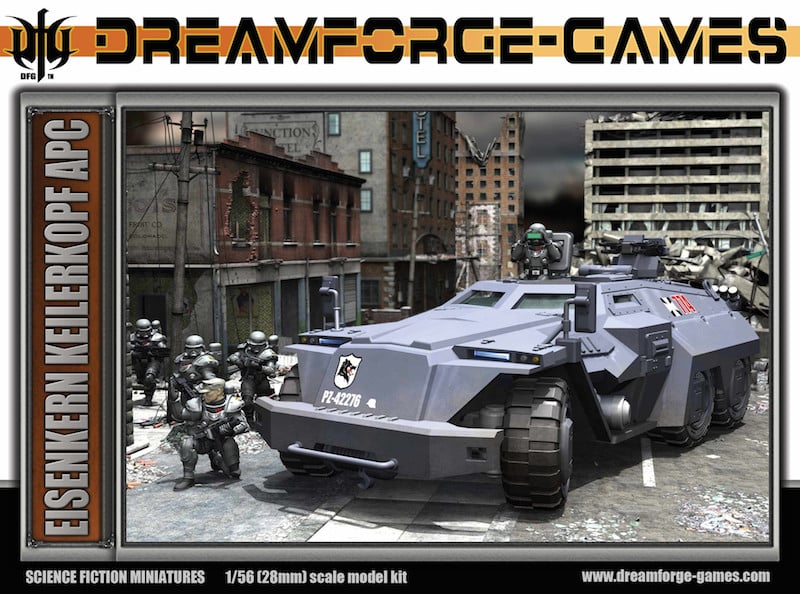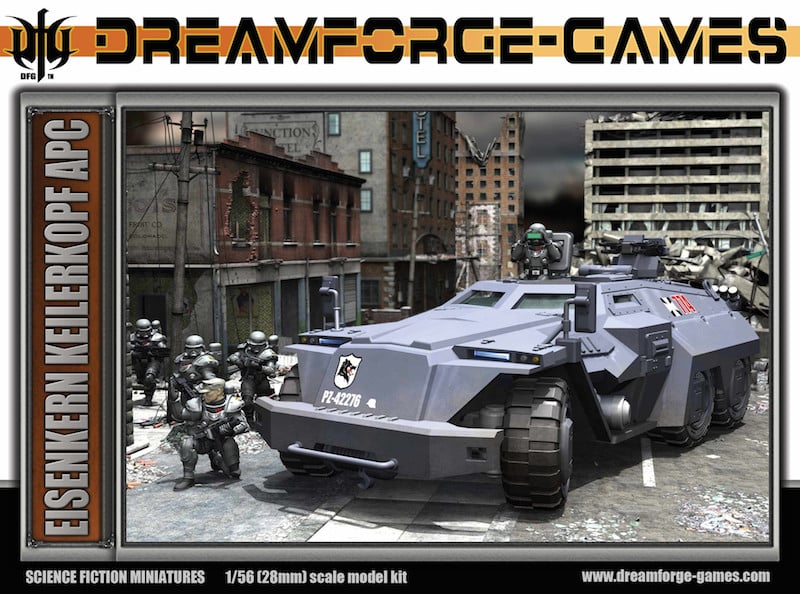 Today we pull the awesome Dreamforge Keilerkopf APC kit out of the box. This is one AMAZING kit – we haven't seen anything like this level of quality!
Ok, when I tell you this on one impressive kit – I'm not kidding.  This thing has real rubber tires, a FULLY detailed interior, engine compartment, and more.  This is really a high quality scale model similar to what you would expect from Tamiya or Bandai, instead of the typical wargaming fare out there.  Heck, it even has an optional full set of 12 seated passengers! Other companies would probably make that a whole separate kit.
28mm (1/56) scale. 7.5 inches long by 3.5 inches wide, when fully assembled.

Designed to allow the modeler to customize the final pose of the assembled kit.

Features:

Linked movable front steering
Rotating soft plastic wheels
Green tint see through windows
Working doors hatches and hood
Movable defense gantry
Detailed crew compartment
12 seated crew

This vehicle is as heavily armored as a main battle tank, riding on six solid tires, each with an independent drive system that allows this vehicle to spin in place, in the same manner as its tracked brethren.

The nose section is taken up by the reactor, this is the same full size reactor found on the Leviathan Crusader and Mortis, allowing the APC indefinite range and access to impressive speed… The reactor in this vehicle is capable of recharging equipment and the super capacitors found on lighter vehicles and Leviathan, in this way, the 'Keilerkopf' becomes a central part of any forward unit's logistics. Everything you need for planetary conquest.

Subscribe to our newsletter!

Get Tabletop, RPG & Pop Culture news delivered directly to your inbox.
Here's the details from some other Dreamforge kits while we have you here:
Valkir Assault (5 models): $20
Valkir Support (5 models): $22
Valkir Heavy (20 models): $59
As an added bonus, dont forget about Dreamforge's ongoing May sale on these and more kits:
MAY MECHA MADNESS!
We are celebrating the release of our Eisenkern Panzerjägers with a sale.
20% off the new release Panzerjägers.
30% off our infantry, support weapons, accessory kit and APC.
40% off all Leviathans and their components.
I can think of whole lot of cool uses for all of these minis.  Great style, lots of optional  bits.  What's not to like.  Also, that is a great pricepoint for these, and it a plain STEAL with the sale going on.
Go pick some up at a discount and tell them BoLS sent you 🙂