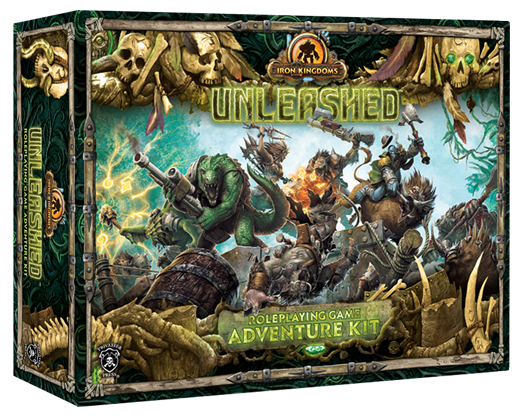 Privateer Press has released a self-contained game kit for the Iron Kingdoms: Unleashed Roleplaying Game that is a great introductory tool for new roleplayers.
We have had the Iron Kingdoms: Full Metal Fantasy roleplaying game for a few years now, but jumping into it for someone new to the setting or roleplaying in general can prove a challenge, particularly given that there are not many fully-realized modules for the game, save for the digital release of Bitter Medicine and the short quick-start scenario Fools Rush In. For those new to roleplaying or to the Iron Kingdom's system, the Iron Kingdoms: Unleashed Roleplaying Game Adventure Kit is a perfect entry-level product.
What's in the Box?!
The Adventure Kit comes with everything a group of five people will need to get a good taste of not only Privateer Press's roleplaying system, but of the flavor of its setting, specifically from the more feral, backwater perspective of Western Immoren. Included is a quick-start rulebook, a scenario book, four pre-generated character sheets, 14 plastic figures, and loads of map tiles.
Quick-Start Rulebook
The quick-start rulebook contains a surprising volume of the games normal rules. While it is certainly not the complete rulebook, it offers quite a substantive sampling of what is possible within the system. It covers the rules for both types of spellcasters (Will Weavers and Harnessers), a wide selection of spell, skill, and ability options, and a quite thorough explanation of combat. While the box only contains a single quick-start rulebook, Privateer Press has made this available for free both through DriveThruRPG as well as through the Privateer Press Digital App for iOS and Android, so all people involved in your game can have free, quick-and-easy access to it.
Scenario Book
The scenario book, a short module entitled Hogwash, is replete with a short story, character information, branching paths, and several combat scenarios ending in an exciting "final boss"' showdown. It does a fine job of incorporating the four player characters and giving them their own unique reason to be involved. Gullin, the pygmy troll, is seeking to rescue his lost tribesman. Zocha, the tharn, is looking for personal redemption for herself and her tribe. Longchops, the gatorman, is looking for new hunting grounds due to the drought that has struck much of the Arrowhead River. Lurk, the bogtrog, is pursuing a personal vendetta against someone who slighted him. The scenario itself is fairly well-done where introductory modules are concerned with plenty of room for things like skill checks, character interaction, and even a few choices to make along the way that will have an impact on future events within the module. The scenario book additionally contains character sheets for the various farrow antagonists that you will be facing off against. This document is also included in the free download with the quick-start rulebook for game masters who wish to have a peak before investing.
Character Folios
There are four player characters to use in the base set of Hogwash. Each character has their own folio replete with backstory, history of interaction with other player characters, and a pre-generated character sheet. The character sheets contain all the information a player needs to know about their character's abilities with full mechanical descriptions, all of the statistical math done in advance, and a reference for feat point usage and generation.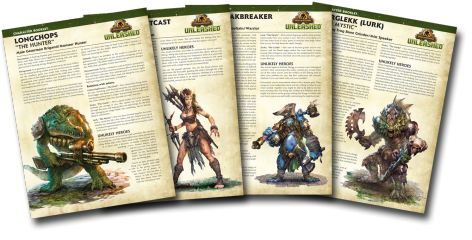 The characters themselves represent a variety of different combat archetypes with the pygmy being a melee fighter, the gatorman being a ranged combatant, the bogtrog being a spell slinger, and the tharn a mixed melee/magic hybrid. While some of the choices would have normally struck me as strange or even less-than optimal, I was surprised to see how effective all of the characters were on the table. Longchops, the rifle-wielding gatorman was a particularly odd choice to me considering that their innate toughness and generally low ranged stat makes them seem like more of an up-and-close fighter-type. However, use of a long-ranged weapon, scope, and the Virtuoso archetype benefit made him a monster with that big gun of his, picking off at least one enemy combatant every single round of fighting.
It is also worth noting that Privateer Press has made available two additional character folios for groups wishing to run Hogwash with five or six players. These characters are the Runehide brothers, Fargas and Dolen. If these characters are added, game masters need only add a few more brigands to every combat encounter.
Models
The plastic figures represent every model you will need for Hogwash, including the four player characters and ten farrow non-player characters. Those familiar with Hordes will find many of these models familiar, since most of them are either direct copies, like the Farrow Brigands, or slight modifications to existing models within the Hordes line, like the Warlord Morgg, which is a modified version of Rorsh. The miniatures themselves are a bit different from what we have seen from Privateer Press.

The models are all single-piece and of a flexible, almost rubbery quality. This has softened the edges on the models a bit, leading to some features and details being less sharp than they might have otherwise been. Privateer Press has published short articles on both the hero and antagonist models for those wishing for a better look.
Map Tiles
Included in the Adventure Kit are nine double-sided map tiles and 28 double-sided terrain tokens. Many of the map tiles are barren grass on one side, making them completely customizable, with the other sides featuring detailed features such as rivers, dams, or cliff sides.The quality of these tiles is quite high, comparable to the thick tile sets that Wizards of Cost sold throughout the 4th Edition era of Dungeons and Dragons. While they were specifically designed for Hogwash, the scenario itself is generic enough in its setting for these tiles to be applicable to a wide variety of campaign types, so the usefulness of these tiles should stretch well beyond Hogwash itself and have personally made a fine addition to my extensive collection of tiles.
Final Thoughts
With the character sheets, rulebook, and scenario book all available for free online, spending $45 on the Adventure Kit is really an investment in the 14 miniatures and the map tiles. While those with already-large collections of map tiles and Hordes miniatures might consequently find the Adventure Kit to be a redundant purchase, people who are new to game mastering or role-playing in general will likely find the Iron Kingdoms: Unleashed Adventure Kit to be a great purchase. I ran the Hogwash with a mixed group of Iron Kingdoms veterans and people who were largely new to Privateer Press products in general, and they found the presentation of the rules and setting to be easy to grasp and follow, again, making this a fantastic entry-level product for fledgling role-players or people new to the Iron Kingdoms system.
Stay tune to Bell of Lost Souls for my Iron Kingdoms coverage.
*All images are the property of Privateer Press Digital. Used with permission.