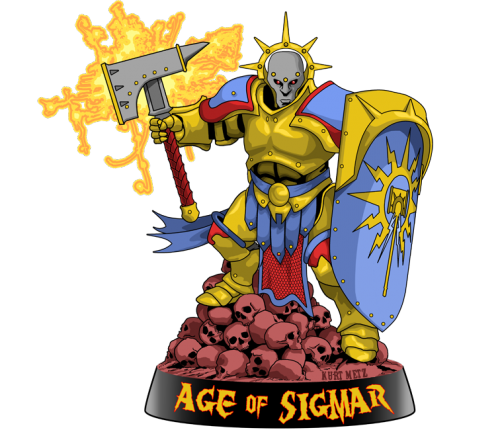 There are reports of a new set of add-on rules for Age of Sigmar that balance the game and allow mismatched sized armies to fight on an equal footing!
The New Rules
Sources tell BoLS the new rules are described as "Laws of War" and work as follows:
– There are still no points
– Both sides will deploy forces as normal then check against a list of criteria for "mismatches" including things such as :
a) does one side use more factions?
b) does one side use more spammed warscrolls?
c) does one side use more special characters?
d) does one side use more monsters?
e)… There are several more
Both players tally up their total points and determine the difference in who has the most "mismatch" points.
The player who has the lowest total gets a number of free "Law of War" warscrolls based on a chart.
These "Law of War" warscrolls are themed after the 8 Realms and grant a variety of game altering effects.  Some make your army harder to kill, some do damage to the enemy, some make casting magic more difficult for opponents, and so forth.
Thoughts
The entire ruleset is designed to lay atop the existing Age of Sigmar rules, so it is not a set of "advanced rules".  Instead, it is a rules framework to directly address mismatched armies which can occur all the time in the game and balances out the underdog with a "no-points" set of bonuses.
Not a bad start and it sounds like the entire ruleset is a realization from GW that players want a bit more structure to their games.  It is also a set of rules that seems to tie into the "keywords" that all warscroll units, have, so it may have been planned long ago as part of a slow rule expansion rollout.
There is not a timeframe on these, but I would expect them to arrive much sooner than later.
~ Baby steps, people, baby steps. The game is expanding…