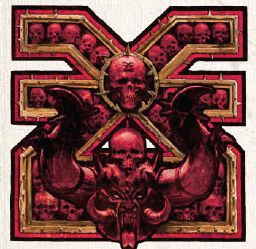 It looks like Khorne is still ramping up the releases this august.  Here's the latest Chaos fans, from a pair of rumormongers:
Here's today's latest rumors from two different sources:
via Darnok on Warseer 8-11-2015
"I was told there was a new big kit for Khorne coming. "Exalted Deathbringer" sounds about right.

When corrected that this was the name of the new smaller Khorne mode he had this to say:

Ah, okay. In that case this model is not the one I just mentioned. Think Bloodthirster size."
via Lucky Shot 8-11-2015
"Summer of Khorne started with a Thirster. It will end with a Thirster."
Now compare this with the earlier "August of Chaos" rumors we had last month:
Khorne Release Rumors
via Bird In the Trees 7-29-2015
Early August:

Khorne Lord blister @$35

Plastic Khorne Blood Reavers, 10 w/ new weapon for @$55

Mid August:

Plastic Flesh Hounds, 5 for @$45  

Late August:

Plastic Chaos Chosen/Blood Warriors, 5 models w/ new weapon options @$55
And some much earlier Tzeentch rumors from back in May.
via bird in the trees 5-26-2015
Codex

Codex is same size size as Khorne Daemonkin

Lord of Change

Release is centered around the new plastic Lord of Change

LoC is same size as the Bloodthirster

Has 2 head options, 2 staff options, hurling a fireball option.

Only comes with an oval base.

Tzeentch Sorceror

Clampack sorceror – Tzeentch

Chaos Marine styled

Has 2 head options

Has bits to allow Thousand Sons version.
We have been seeing non-stop Age of Sigmar for about 6 weeks from GW.  We should start to see what September holds in a week or so, and I think everyone is ready for a bit of the Grimdark to come shining through.  Come on Tau Empire!
~ So what do you think the mystery "large Khorne kit" will be?