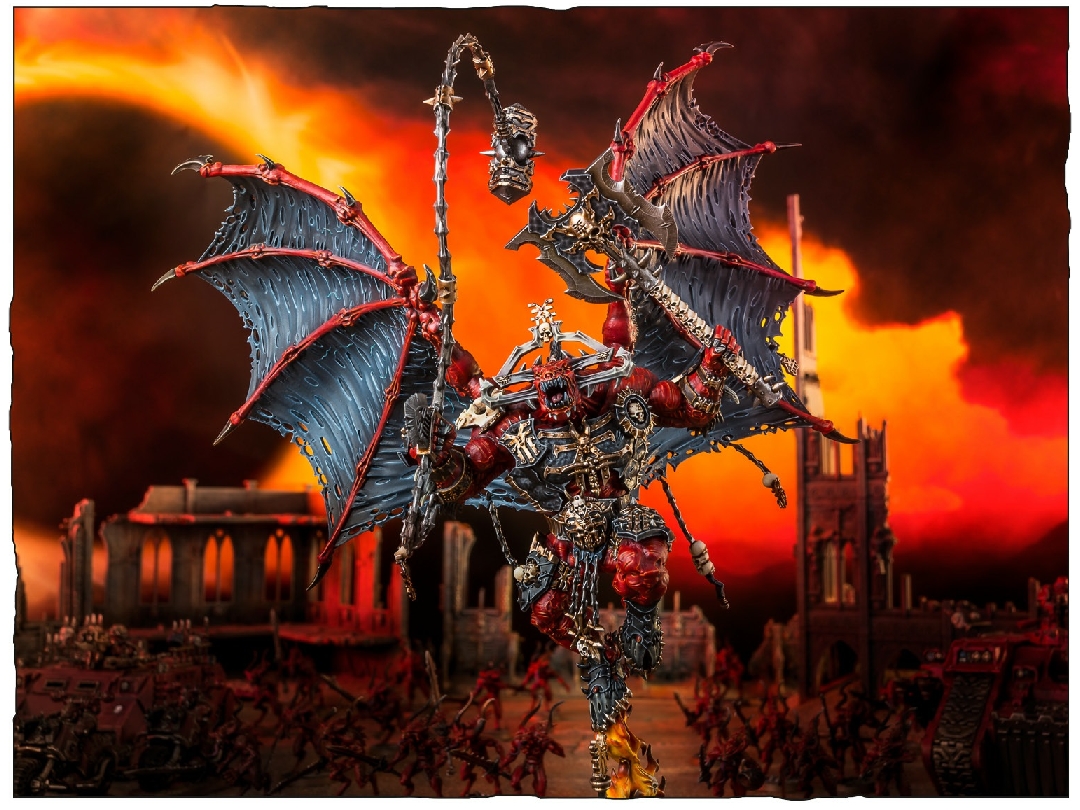 The Badasses of the Khorne Daemonkin! Today is all about the Goreguard Formation! Get ready for another installment of Tactica Khorne Daemonkin.

Hey guys! In this installment of Tactica Khorne Daemonkin I will be discussing the one of the Formations available to the Khorne Daemonkin and ways in which I feel it can be used to its utmost potential! I will do a separate article for each Formation so I can go into detail on army composition and tactics execution.
The Goreguard
 
This formation is absolutely insane, it is another formation that combines Imperial Armour 13 units and Khorne Daemonkin units in a single formation, An'ggrath the unbound has the Chaos Daemons faction while the Bloodthirsters have Khorne Daemonkin faction, I cannot think of any other formations that combine multiple factions… can you?
I see this as pretty much an apocalypse only formation as the absolute bare bones cheapest way to field it is 2888pts I mean yeah if your opponent is happy to play to 3000+ points you could squeeze one in I suppose, but it would be a jerk move! I mean 8 bloodthirsters and An'ggrath would be hard enought to take down as is, let alone after they all pick up formation special rules!
Special Rules
Formation wide Feel No Pain! Save your blood tithe for other rewards because these bad arse bloodthirsters come with FnP as standard! Use your blood tithe to gain extra attacks 🙂
Rampage! When outnumbered all units in this formation gain an additional D3 attacks! That is on top of charge benefits, other blood tithe boosts etc! All of these rewards can really stack up 🙂
The Chosen of An'ggrath, this is insane, it gives all Bloodthirsters within 18″ of An'ggrath Adamantium Will, counter attack and +1 attack! If you have an insensate rage bloodthirster charge a unit of 2 or more you could strike with up to 13 strength D attacks at WS 10 that is enough to reliably destroy almost everything!
Fear made manifest, this is less exciting but still pretty cool, if an enemy unit fails a fear test caused by one of the units in this formation it immediately suffers a number of wounds equal to how bad it failed the test with no saves allowed.
An'ggrath the Unbound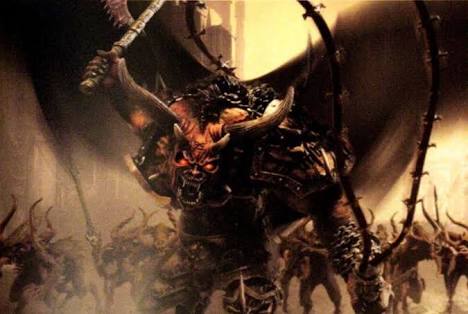 Lets take a look at An'ggraths rules, he is a Flying Gargantuan Creature with Toughness and Wounds characteristics of 8 meaning without Gravition weapons he is very hard to drop, poison will not help you, force will not help you…. you really need specialist weapons to take him down. He also has a 2+ armour save with a 3++ invulnerable save that can be boosted to a 2++ with the grimour of true names or cursed earth. So yeah he is harder than nails.
He strikes at Initiative 5 with up to 16 strength 10 attacks at weapon skill 10. He has 7 attacks on his profile, gains +D6 when charging instead of +1 and thanks the the formation gains a further +D3 if he is outnumbered. While he is not strength D i am sure the sheer number of Strength 10 attacks makes up for it 🙂
He also has a Bloodlash of Khorne which is 12″ range strength 7 Ap3 assault 3, nothing special really, kinda pointless since whatever he charges is going to die anyway but whatever.
Also worth mentioning, he has assault grenades so cover will not help your opponents hide and he can deny the witch on a 2+, so no using Banish or Enfeeble to make him more manageable 🙂
The Bloodthirsters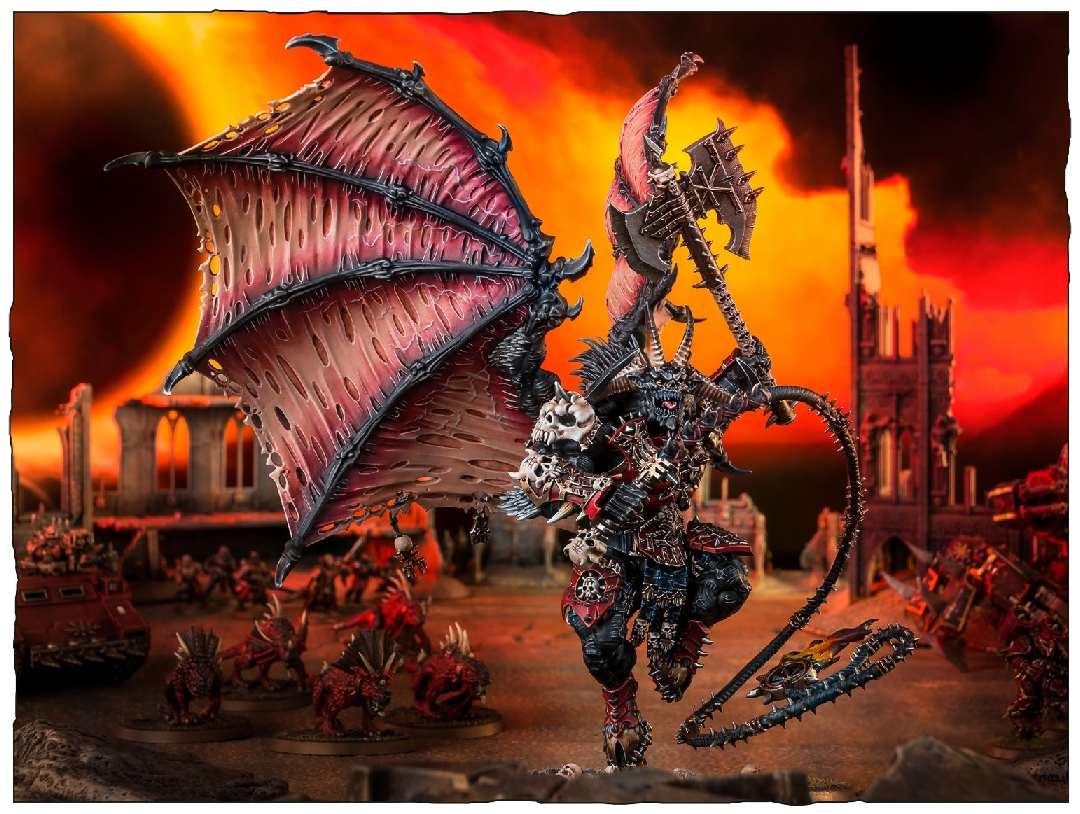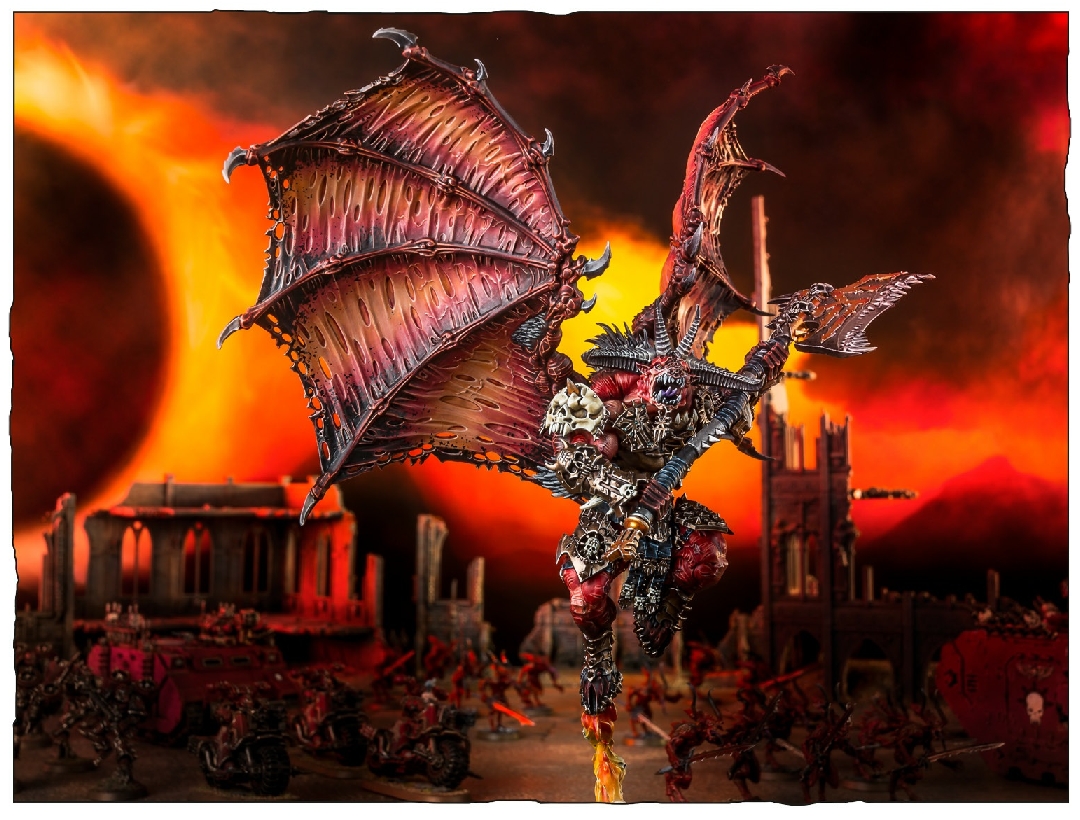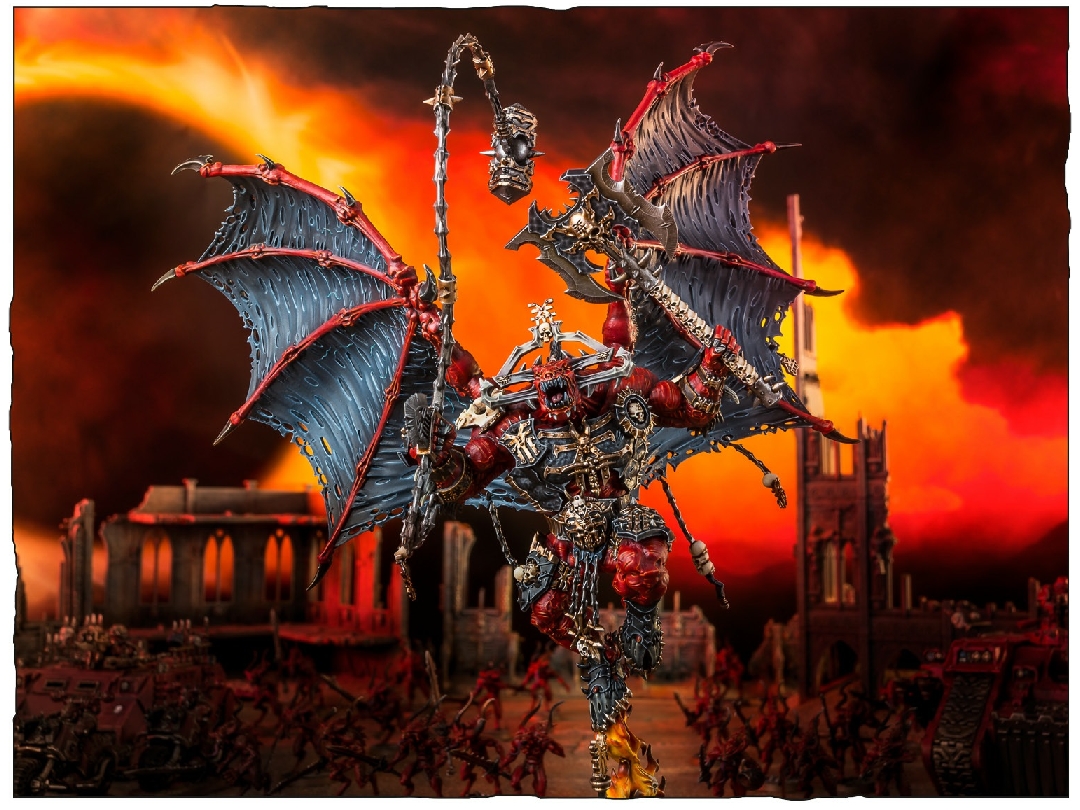 In this formation you get to field 8 Bloodthirsters in any combination, my advice is to get as many Bloodthirsters of Insensate Rage as you can afford points wise, I did an in depth analysis of the bloodthirsters here. The exception in this formation is you have no anti-horde, so if you do not plan to bring in another detachment / formation as support you may want to add a couple Wrath of Khorne Bloodthirsters for those flamer attacks.
In my opinion this formation is way too powerful to be used in standard games, especially when combined with other elements like say allying a Chaos Space Marine CAD with 2 Sorcerers and a bunch of cultists, you have sorcerers for cursed earth and cultists for ObSec then Bloodthirsters to wreck stuff up! You could add Be'lakor and throw invisibility on your Bloodthirsters or even An'ggrath… the list goes on. Unless your opponent tailors his army to counter this he will struggle. Thats just my opinion, i would love to hear yours in the comments below or over on my facebook page!
 Thanks again for tuning in! Make sure you keep your eyes peeled for the next instalment of Tactica: Khorne Daemonkin! and while you are at it head over to Blog for the Blood God, give me a like, and join in on the other great content! Everything from Battle Reports to Hobby Tutorials, Rules discussions and tactics to Animated movies and 40k based comedy.