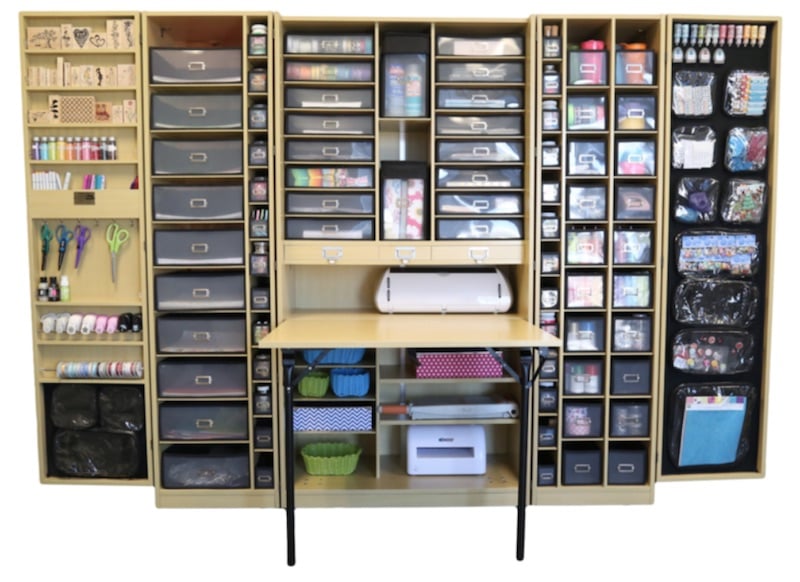 If you suffer from a lack of hobby space/storage you have to take a look at this!
Ignore the crafting and scrapbooking focus… there's a lot of organized hobby possibilities within.
The WorkBox 2.0 is a nifty solution for hobbyists in small spaces. It measures 3 feet wide, 3 feet deep, and 6 feet tall when closed; and it's on casters, so it can be moved easily. And unlike buying a storage cabinet from a furniture store, it comes with a bunch of bins/bags/pockets standard:
3 drawers with silver labels.
74 sturdy fabric totes included, either black or gray
All vertical adjustable shelving
Easily movable on 10 caster wheels
Fold out table – measurements in chart below
Additional storage shelving under fold out table included
Right felt Velcro door for 10 clear zipper totes
3 additional clear zipper totes for left-swing door
Panels for white magnetic boards
7 shelves with acrylic dividers for easy organization
3 zipper totes on felt velcro square
6 large hooks for tools and scissors
3 pockets for pens, markers, etc.
Pre-order can be secured with a $250 deposit; full price ranges from $1,295 – $1,910 depending on chosen features.
If you want something smaller they have a desk height cabinet (36″ x 32″ x 32″) with a similar storage bin load out…
Thanks to Darrell Impey for the head's up on our FB page!
Have you seen a better hobby desk than this? Share in the comments!