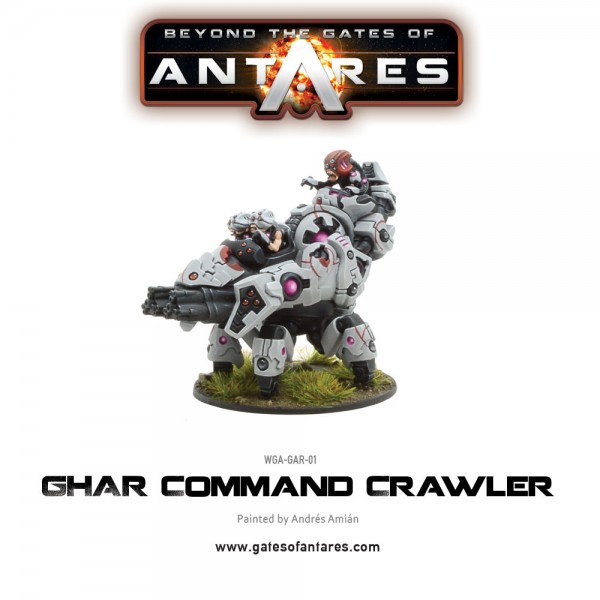 Warlord games has some awesome new Ghar Units up for Pre-Order – the Battle Beyond the Gates of Antares is Heating up!
The Ghar are getting some major models to fill out their roster and you can pre-order them now!
via Warlord Games
Following last week's release of the Algoryn, Boromite, and Freeborn Combat Forces – this week we have EVEN MORE Antares forces on their way in the form of Support Force bundles for the Concord and Ghar!

We've designed this Support force as a perfect add-on to the Ghar Starter Army box sets. This force introduces the brand new Command crawler, which packs some fearsome firepower, helps you order other units on the battlefield, and allows you to take support options in the form of the also brand new Ghar Disruptor Bomber wielding battlesuits!
Ghar Support Force
AAARRGH what a set! The big thing about this set (apart from the Command crawler of course) is that we've included an extra plastic Ghar Bomb Trooper. This additional Bomb Trooper can be added to the new Bomber Squad box set to make two squads each with two models – maximising the number of those Disruptor Bomber weapons! Add in the extra outcast command and you should easily be able to expand your army to a sizable 1500 point 'Offensive Force' to crush all opposition!

1 x Bomber Squad Box Set
1 x Individual Bomber Sprue
1 x Command Crawler Box Set
1 x Outcast Command Squad
Look out for more individual models soon!…
I've slowly been working on my Ghar Army and now that I've seen what "the next step" is going to be, I'm even more excited to finish these bad-boys up! I'm really digging that Command Crawler and the extra fire power from the support squads looks great. Here comes the Ghar Empire!
Gates of Antares – Which faction have you started?