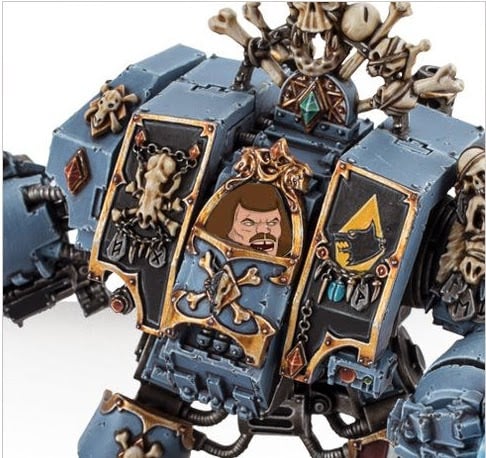 Come see the $380 exclusive formation for the Space Wolves and Wulfen – that you missed out on!
Not many gamers got thier hands on this one before it sold out, but no fear – the rules have been sighted on the web.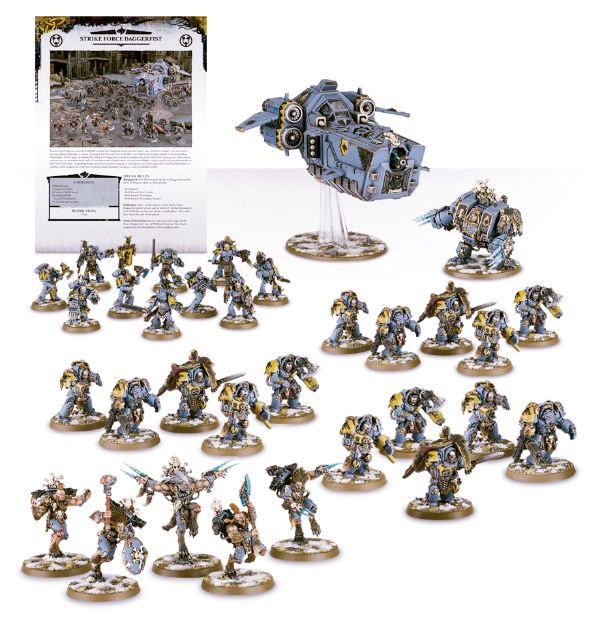 Strike Force Daggerfist $382 Out of Stock
Ferocious howls ring out across the battlefield as Strike Force Daggerfist storms into the enemy's lines. Feral fury crackles in the air around this elite infantry formation, a current of savagery that flows out from the Wulfen at its heart to lend animal strength to the surrounding Wolf Guard. At their head, the redoubtable Pack Leader Daggerfist leads the formidable ranks of the Great Wolf's Kingsguard. These veteran warriors form an inviolable shield wall of Terminator armour behind which lurk the bestial Wulfen, ready to attack with frenzied abandon as they close on the enemy. Murderfang brings atavistic fury to this savage force, ever eager to rip his foes apart with a brutality that borders on madness, while overhead the Strike Force's gunship strafes relentlessly, acting as a swift and deadly outrider.

This awesome bundle grants you all the miniatures needed to field the Strike Force Daggerfist, along with an exclusive rules formation for use in games of Warhammer 40,000! With it, you'll receive one Murderfang, one set of Wulfen, two sets of Wolf Guard, one Stormfang and three sets of Wolf Guard Terminators.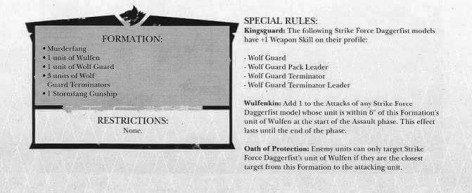 So the wulfen are already lightning fast and now if they go up front, you can only shoot at them.  Yup, you're not getting out of assault with this formation They got you!