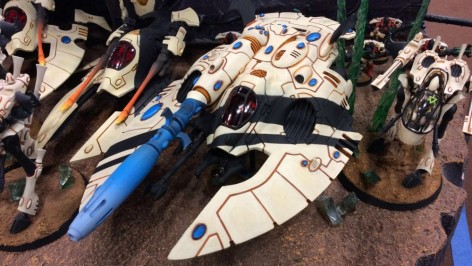 The LVO has come and gone, and the top finishers didn't seem to fool anyone.  Come see that and some new Chaos Daemon tech below!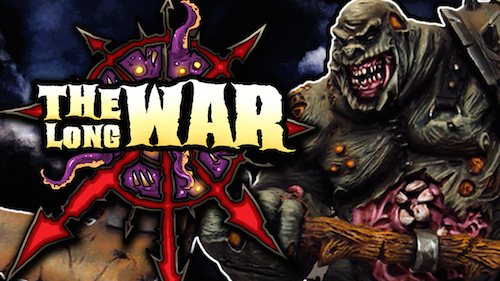 Another Long War Two-Fer is HERE – Checkout our fantastical webcast and new and exciting podcast of table-top wargaming awesomeness.
Podcast:
Eldar took the top two spots at LVO this year, which really didn't seem to surprise anyone. Checkout our tactical breakdown of the brutal lists and checkout out newest Chaos Daemon tech from the new Curse of the Wolfen supplement!
Eldar CAD
Autarch Sky Runner, Jetbike, Haywire Grenades, Forceshield, The Path of Command
Windriders X 3, Scatter Lasers X 3
Windriders X 3, Scatter Lasers X 3
Windriders X 3, Scatter Lasers X 2
Warhost of the Pale Courts (From the FW Doom of Mymeara book) – Aspect Lord Shrine (means has to take – 3 Aspect Units of the same type) Craftworld Trait: Disciples of Vaul
Farseer, Jetbike
Warp Spiders X 5, Exarch
Warp Spiders X 5, Exarch
Warp Spiders x 5, Exarch
Vaul's Support Battery – Dcannon
Vaul's Support Battery – DCannon
Wraith Construct – Skatach Wraithknight, Deathshroud Cannon
Aspect host
Warp Spiders X 5, Exarch
Warp Spiders X 5, Exarch
Warp Spiders X 5, Exarch
Aspect host
Warp Spiders X 5, Exarch
Warp Spiders X 5, Exarch
Warp Spiders X 5, Exarch
Ordos Xenos Inquisitor (2x servo skulls)
Eldar CAD
Autarch
Windriders X 3, Scatter Lasers X 3
Windriders X 3, Scatter Lasers X 3
Windriders X 3, Scatter Lasers X 3
Warp Spiders X 5, Exarch
Void Shield Generator
Warp Hunter
Aspect host
Swooping Hawks X 8, Exarch
Swooping Hawks X 8, Exarch
Swooping Hawks X 8, Exarch
Corspethief Claw Formation
Talos X 5, Splinter Cannon X 5, Ichor Injector X 3
LVO Results Will Shock You? – Long War Episode 38