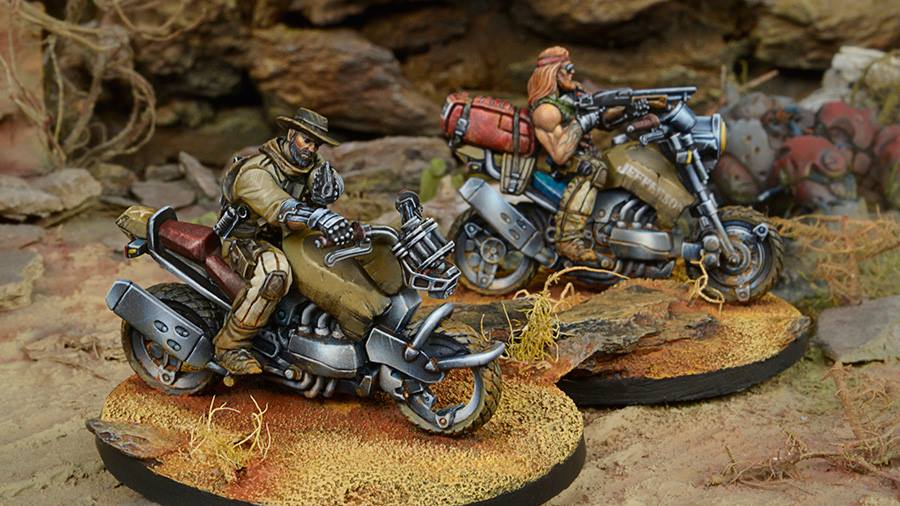 Corvus Belli has some awesome new minis to show off this week.  Take a look Infinity players!

Hunting is the stellar sport of the Morats. It is their training for war. However, in order to hunt down the enormous, extremely dangerous predators of Ugarat, their native planet, the Morats have developed a system of hunting with scouts, where cooperation among several teams of hunters allows them to overpower prey that would be impossible for a single hunter to handle alone.
In the first days of the Hassassin Society, the Old Man of the Mountain personally created a covert ops group whose mission was to investigate and uncover potential threats to the newly-founded Haqqislamite nation. This team, classified as Alpha Level Top Secret, operating strictly off the grid. Their actions went entirely unnoticed by the intelligence community up until less than a decade ago.
The name of the Hac Tao Special Intervention Unit can be translated as "Black Magic", and refers to the camouflage and thermal emission dampener technologies of their armors.
Nisses are mythological creatures traditionally believed to protect Scandinavian farms. Friendly-looking but superhumanly strong, they are depicted as quick to anger and easily offended.
Wild and violent groups of Antipodes infest the Southern region of USAriadna, and what is the local authorities' solution? To send a group even more wild and violent to put an end to them. Very well, and when they have done it, who will free us of these Desperadoes?
Thoughts
Ok, some thoughts on these.  As usual these are dripping in detail and keep up the high quality we expect to see out of Corvus Belli.  I do think they ma be making the best metal minis still out there.
Now that out of the way – about the USAriadna.  Yes I appreciate the wild west theme – but that's because BoLS is based out of Texas – not becasue I think it's appropriate for anything trying to represent a future sci-fi American military.  Can we please, please, please get way more of the stereotypical high-tech aspect of the United States warmachine into the miniatures please. Long story short – more Zero Dark Thirty – less Easy Rider.  
~Which one is your favorite?