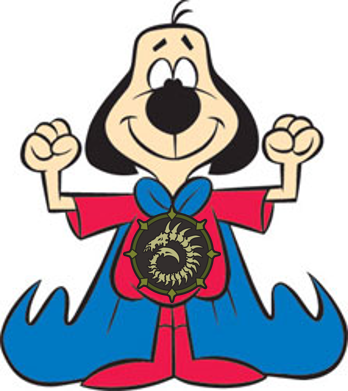 What's the least-used model/unit in Cryx? Can a list highlight them?
Chalkboard here from Chalkboard War, with the start of a new series of articles where I explore the "least used" model in each faction and try to find a way to make a list that revolves around them that might make them worth another consideration.
So I love underdog stories. Those feel good moments when the overlooked, the under-appreciated, the bench-warmers, the corner-cases get a moment to shine and prove that they can do it too. It may be a huge trope in media, but it's a fun one that rewards us as viewers and consumers: when Rocky wins the bout, we cheer all the harder because he's not supposed to win.
So I wanted to chase that notion in Warmachine and Hordes. We can go on and on about the models that are most-used and supposed to win (cough Stormwall cough). But it's worth thinking about models and units that would be underdog stories. They're sitting the bench (the cabinet) painted but never played, they don't show up in lists, they're on the back rack in your LGS covered with dust.
So I started by seeking feedback on the Warmachine and Hordes forums with a simple question: is there consensus on the least-used model in each faction, if so, why is that model least-used? And I was quickly deluged with answers. The "why" component was most interesting. A model could be over-costed or it could be under-effective. There could be another model that does its job better in lists. There could be a meta reason why certain options aren't worth going for, or pervasive rule-driven ineffectiveness for certain types of models (I think that every Light Artillery piece in the game got at least one vote from someone). It could also be that a model is a pain to assemble, has an ugly sculpt, or doesn't fit with the fluff of the faction. It may also vary on regional location–maybe there's a player in your area that has made a least-used nationally model sing and you see it a lot.
So this is the first entry in a multi-part series where I address that "least used" consensus (admittedly non-scientific) model for each faction. I'll detail why Warmachine and Hordes community members expressed that it seemed least used, and then try to come up with an underdog list that highlights the model or unit and gives it a chance to (maybe) be a star. I'll then add an "underdog" score at the end of the list–a sort of likelihood that this list could actually be successful.
I'll start out with Cryx, as they and Circle of Orboros had the most consensus on which model was least-used.
Least Used Cryx
Winner: The Corruptor.
I imagine this comes as little surprise to most players. If you play Cryx, you understand why this model isn't used often–and if you only play against Cryx, the odds are that you haven't seen this model hit the table. The conventional story is that you can have three separate models in your list that accomplish all three different things the Corruptor can do all in a single turn (rather than having to choose one)… for roughly the same number of points. With abilities that cut against effectiveness in certain situations, and rely heavily on opponents' placement of infantry to be just-so, the Corruptor carries a heavy price tag that few people are willing to pay in a faction that generally runs with few heavy warjacks. And existing heavies all seem to have a better claim. Want a helljack to project spellcasting from a large base? Deathjack. Want a heavy that can burn through infantry? Harrower. Want a Helljack that can heal your caster? Take a Slayer and use the spare points to bring along a Necrosurgeon for that purpose, for the same points as the Corruptor.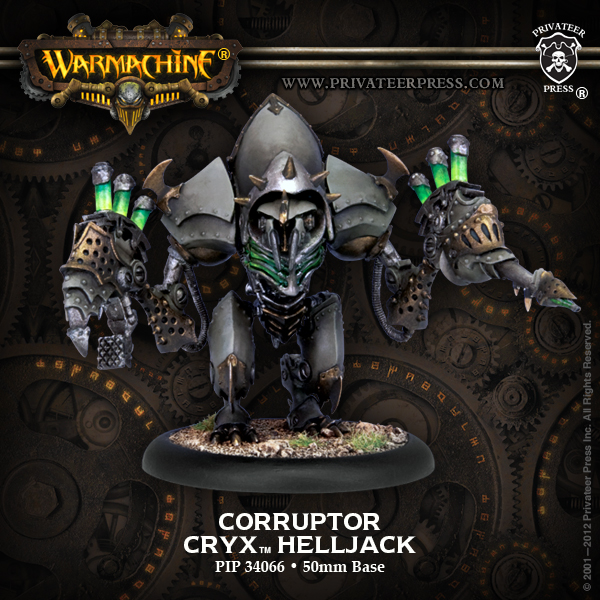 No wonder you're sitting on the bench, Corruptor
Runners Up: The Revenant Cannon Crew and Black Ogrun Boarding party were both strong contenders in the informal polling. However, the Black Ogruns are likely to get some more table time soon as they are part of the Company of Iron spring campaign event. And while the Revenant was considered by many as plenty as never making the table, the Corruptor was far and away the top vote getter for Cryx.
Building a Corruptor List
Okay, so let's think through if/how the Corruptor could get an underdog story of its own. Is there a way to build a list that revolves around the Corruptor as the main tool for victory?
I was tempted to go with Mortenebra as a warcaster to anchor the list and taking her tier to run as many Corruptors as possible. The problem with that is that it's really inefficient at infantry clearing even with its distillation attack type that causes targets to explode and hurt those around them. A mass of them would just be a focus-hungry inefficient mess.
So I decided that another ability would be likely the best to give a go at showcasing the Corruptor's abilities. My sense of the Corruptor is that the Psycho Venom ability through a ranged attack really is the most interesting and defining feature of the helljack. And I realized that there may be a way to adjust the limitation: that it's dependent upon the facing of the model, so entirely controllable by the opponent. But for a caster with Telekinesis, suddenly you can control the facing of opponent's models. Enter Scaverous.
The List: "Betrayer Conveyor"
Lord Exhumator Scaverous
Skarlock
Corruptor
Corruptor
10 Mechanithralls with Skarlock Commander
Necrosurgeon and Stitch Thralls
6 Bile Thralls
10 Bane Thralls with UA
Withershadow Combine
3 Scrap Thralls
Warwitch Siren
Warwitch Siren
Ogrun Bokur (Client: Scaverous)
Corruptor Tactics: Telekinesis may be the best friend of the Corruptor here. The model hit by the Psycho Venom attack heals a point and remains in play. The Skarlock could use Telekinesis to move and face them as well as Scaverous: hence conveying the "betraying" model to the right position. With the ability to turn any model around (somewhat reliably), it gives Scaverous much more flexibility for his spell targets using enemy models in the midst of things. It's overly complex, but think about a Corruptor getting a model in the second row, the Skarlock using telekinesis to get that model faced around and two inches closer to the back ranks, and then Scaverous getting his turn of blasting at weaker foes or an open/under-protected caster. Many times players know the ranges on scampering bonejacks, but they may not be ready for a surprise model in the midst of them becoming the source for TK shenanigans. Use the new Arc nodes to clear a path to the unwary caster, turn them around for the +2 backstrike bonus, damage them and reduce their armor with a Feast of Worms and finish with some charging options (Bane Thralls hopefully). It's one of Scaverous' usual plans for assassination, but the Corruptor makes it someone more stealthy because the offending arc node could potentially be any model in the opponent's force. With ample Warwitches to give the Corruptors a single focus to boost their attack rolls on their decent range gun to set it all up, it could be worth a thought.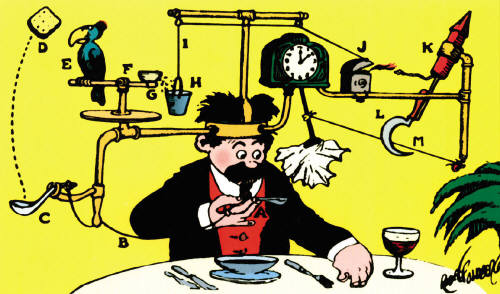 It wouldn't be Scaverous if it wasn't an overly complex plan. 
Underdog Grade: Shoeshine Boy. Scaverous himself is often unseen in Cryx lists. One big limit is that the Corruptor-created Arc Node cannot target itself for the Telekinesis, so you'd have to have some set-up effect. Having two Corruptors Psycho Venom-ing two models next to each other, so one can be the origin of a Telekinesis to set up the other seems excessive, but moving the Skarlock to get up into the range of a single Psycho Venom target is certainly risky of that critical utility piece. It strikes me that this would highlight the Corruptor, and when it worked it would be the coolest thing to witness. But as always with complicated Warmachine and Hordes plans, it would be tough to actually pull off successfully. Scaverous may love Rube Goldberg "tough to pull off" moments, but if that's what it takes to get the Corruptor a "critical piece in my victory" win status, that may be too high a price to bear considering.
Thanks to the huge number of Cryx folk who chimed in: sletchman, Bitt_Player, DivideBy0, jandrese, SlenderBurrito, IceShadow, lululu_42, grungolah, and Cannotcope.
~ What would you pair with the Corruptor to make it better? Is there any chance for an underdog story on this one? 
Interested in what underdogs the author is fielding? Check out Chalkboard's blog at www.chalkboardwar.com