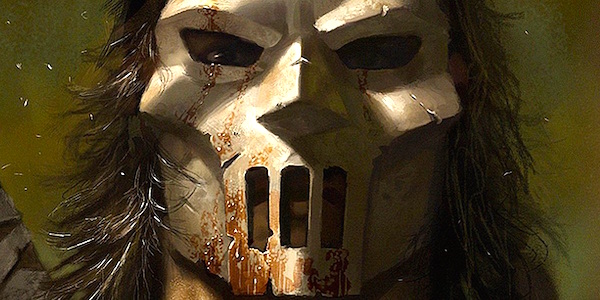 WizKids points you to a taste of streetwise vigilante Casey Jones from the highly anticipated upcoming Teenage Mutant Ninja Turtles expansion.
The upcoming Teenage Mutant Ninja Turtles Gravity Feed features more than 30 characters from the 32-year history, based on both the comics and animated tv series.
Today, we're taking a look at 
the greatest ally the Turtles ever had – the vigilante with a love of sporting goods, Casey Jones!
The new series was announced with a target release this month, February and with 4 initial product ranges according to ICv2:
The Mouser Mayhem Starter Set will include popular characters from the Teenage Mutant Ninja Turtles. 

MSRP is $24.99.

The Teenage Mutant Ninja Turtles HeroClix Fast Forces Pack will offer an easy starting point for new players.  MSRP is $16.99.
Players can also add individual models with the Foil Packs, each of which contains a single figure.  Foil Packs are sold in 24-piece countertop gravity feed displays.  MSRP is $2.99 a pack.
A TMNT-themed game accessory will also be offered:  the Teenage Mutant Ninja Turtles HeroClix Dice & Token Pack will include two custom dice with TMNT logos and six action tokens for use with the game.  MSRP is $9.99.
via WizKids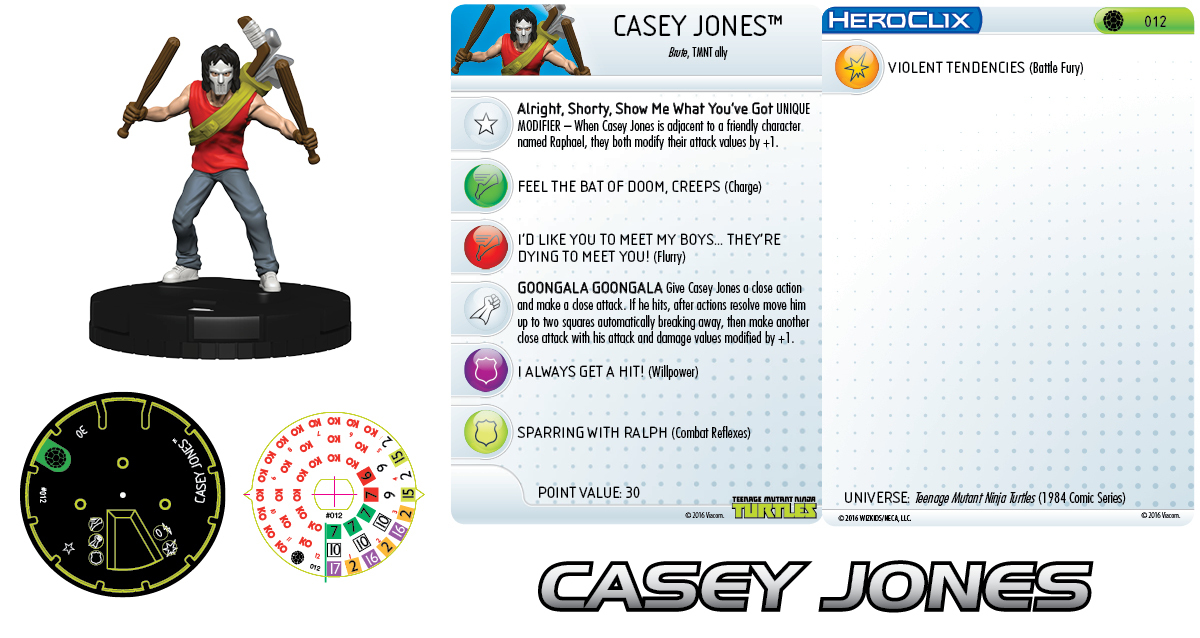 Here's the basics on Casey Jones #012: 
"Casey is a 30-point piece, with 5 clicks of life, and the keywords of Brute and TMNT ally. 

His intense (and frequently confrontational) bromance with Raphael is represented by his trait, Alright, Shorty, Show Me What You've Got. This trait gives Casey a Unique Modifier which allows him and a friendly character named Raphael, a +1 attack modifier when they're adjacent to each other. This boosts Casey into double digits across the board for attack if you're able to keep him and Raphael adjacent to each other and working in harmony to kick Foot Clan butt!

Alongside that trait, Casey Jones sports some good standard powers, with Charge, Flurry, Willpower, Combat Reflexes, and Battle Fury. With that, he has a special power called Goongala Goongala, which states that when you give Casey Jones a close combat action and he makes an attack, should he hit with that attack, you would then be able to move him up to two squares away, allowing him to break away automatically. At this point, you're then able to make another close attack, with his attack and damage values modified by +1!"   
Have at it HEROCLIX fans – Who's your favorite turtle BoLS fans?